Chambers Crisis and Risk Management is an invaluable guide for identifying and differentiating leading crisis response and risk advisory professional service providers in key markets. Their annual rankings are built on rigorous independent research, including analysis of the evidence provided by clients, peers and independent market sources. Feedback given to Chambers and Partners praised Dragonfly for its capacity to offer insights on complex political environments and high-risk markets worldwide, lauding its analysis as "typically highly nuanced, showing significant expertise and grounded in a robust methodology".
Dragonfly, now part of FiscalNote, a leading AI-driven enterprise SaaS technology provider of global policy and market intelligence, has increased its size and scale over the past year. The company has strengthened its range of platforms and advisory services, providing real-time critical intelligence about potential and ongoing security risks to global clients, which range from multinationals and banks to multilateral agencies and NGOs. Dragonfly's flagship SIAS platform is a trusted resource for global industry leaders, including three of the top 10 biggest banks in the world, six of the 20 largest technology enterprises, and four of the top 10 largest oil and gas companies.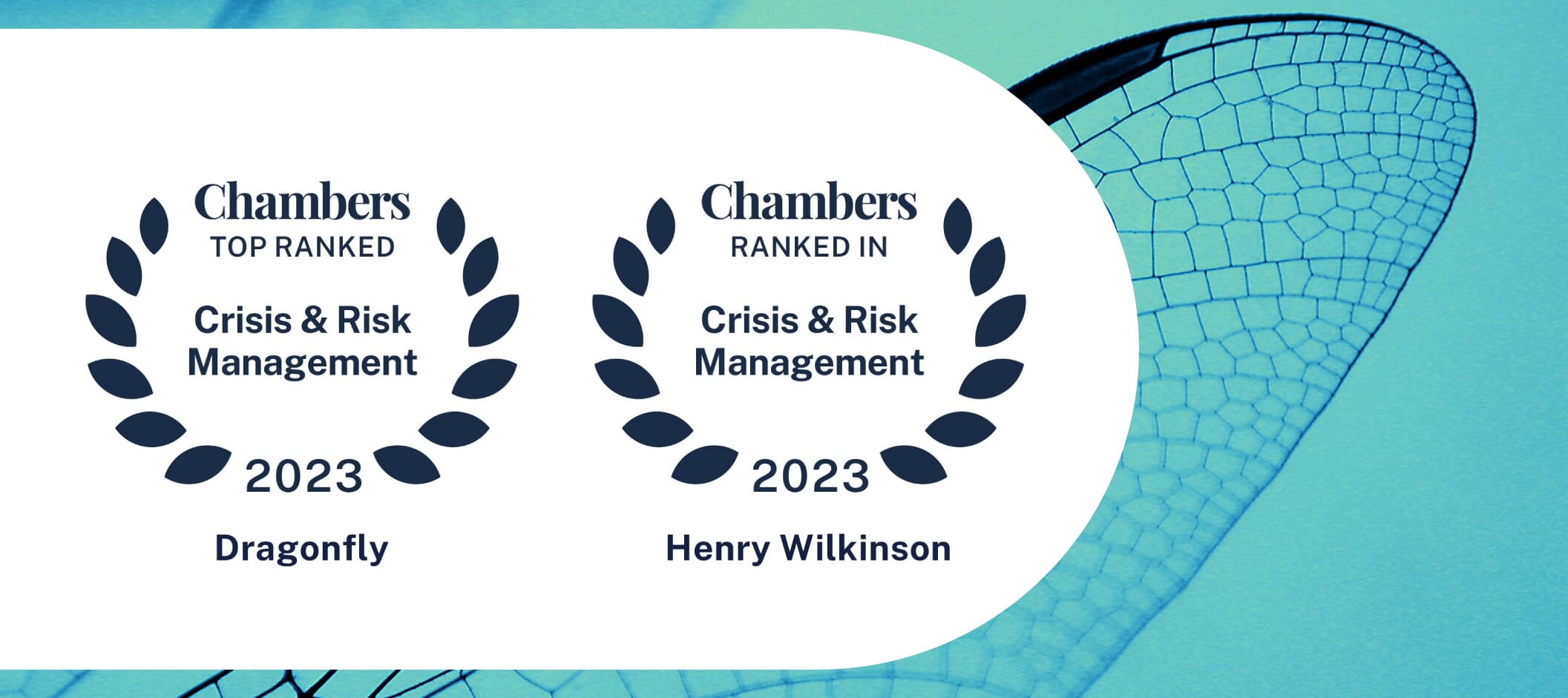 In addition, the company has an experienced management team, led by CEO David Claridge, CIO Henry Wilkinson, and Head of Advisory Cvete Koneska. Together, they've successfully guided a robust team of analysts who consistently provide actionable data and intelligence that meet client needs, maintaining a net customer retention rate of an outstanding 95%.
"We're honoured to once again be selected by Chambers and Partners as a leading provider of security, crisis management and advisory services", said David Claridge, CEO of Dragonfly. "Organisations face unprecedented threats and risks to business operations, and we're proud that clients continue to find strong value in our forward-looking intelligence and actionable analysis. We remain committed to delivering exceptional services and driving confidence and stability for our clients in an ever-changing global landscape."
Henry Wilkinson, CIO at Dragonfly, commented: "To be recognised amongst the leaders of our industry again is a testament to the dedication and expertise of our talented team of analysts who work tirelessly to provide valuable insights and analysis to our clients. I am proud to lead such a dynamic and skilled team that continues to deliver exceptional intelligence that helps our customers meet their commercial objectives while protecting their interests in a time of volatile geopolitical conditions."  
See the full Chambers and Partners Crisis & Risk Management Guide Rankings and find out more about Dragonfly's political risk services.
– Ends –
For further details or to speak to a Dragonfly spokesperson, please contact:
David Butcher / Cameron Cote / Peter McCarthy – Four Agency Worldwide
Dragonfly@fourcommunications.com
+44 (0)7825 095 130
Notes to Editors
About Dragonfly 
Dragonfly is a geopolitical and security intelligence service for the world's leading organisations. From the highest-risk environments to the boardroom, Dragonfly enables its clients to make confident decisions and put them ahead of risks to achieve their goals. Dragonfly goes beyond the limits of real-time information to deliver early warning intelligence, by fusing the multiplying power of knowledge, data, technology, service, capability and human expertise. 
Its flagship Security Intelligence & Analysis Service (SIAS) provides bespoke, forward-looking and actionable all-source security intelligence, including in-depth assessment, risk modelling and analytics. 
Dragonfly has a global presence, with offices in London, New York, Washington, D.C. and Singapore.
Image: Riot police advance through smoke bombs thrown by Leftist demonstrators during "Day X" protests in Leipzig, Germany, on 3 June 2023. Photo by Sean Gallup via Getty Images.