This assessment was issued to clients of Dragonfly's Security Intelligence & Analysis Service (SIAS) on 9 June 2023.
The current pace and frequency of drone and missile strikes on Ukraine will probably continue over the near term
Ukraine's air defences are likely to intercept the majority of drones and missiles that Russia fires over the next three months
Russia seems to be trying to exhaust Ukraine's air defences, forcing Kyiv to balance the protection of its military, civilians and infrastructure
In our analysis, Russia is aiming to exhaust Ukraine's air defences, amid what seems to be the early stages of the latter's offensive. Such attacks also test the resolve of Western military aid to Kyiv. But with continued Western focus on bolstering Ukraine's air defences, we assess that a major degradation of these is improbable (40-50% chance) in the next three months.
Renewed strikes probably tied to Ukrainian offensive
Russia has stepped up missile and drone strikes. In our analysis, this is to try and degrade Ukraine's air defences to undermine its offensive. The early stages of this seem to have begun in the past week. But attacks through May appeared to rely mainly on drones. And while Ukraine intercepts the majority of these, there is little sign that this has deterred Russia. This also seems to indicate that Moscow's aim is to make Ukraine expend expensive air defence munitions.
Exhausting air defences would create a major dilemma for Ukraine; should it prioritise the protection of cities, infrastructure or the military? Any gaps in the defence of each of those that emerge would provide opportunities that Russia can exploit. For example, through intensifying targeting of cities and infrastructure or stymying Kyiv's offensive with air strikes on and around the frontline.
Missile and drone strikes probably also aim to test Western arms' commitment to Ukraine. Kyiv has repeatedly asked Western countries to donate air defence systems over the past year. It has received many of these. But such systems are often extremely expensive and come with finite munitions. This indicates that it would be in Russia's interest to try and continuously force Western allies to backfill shortages in Ukraine's air defences, testing the durability of external aid to Kyiv over the medium term (a year).
Increase in attacks likely to continue in the near term
We forecast that the current pace of around a few attacks a week will persist over the coming months. We have seen little sign that Russia is running out of missiles, in contrast with previous such suggestions by Western and Ukrainian officials. A senior member of Ukraine's Defence Intelligence said in late May that Russia could still produce 67 missiles a month. And a body of independent, reliable open-source reporting suggests drones – often Iranian-made or imported – are far cheaper to produce or import than missiles. This makes a months-long shortage of these improbable.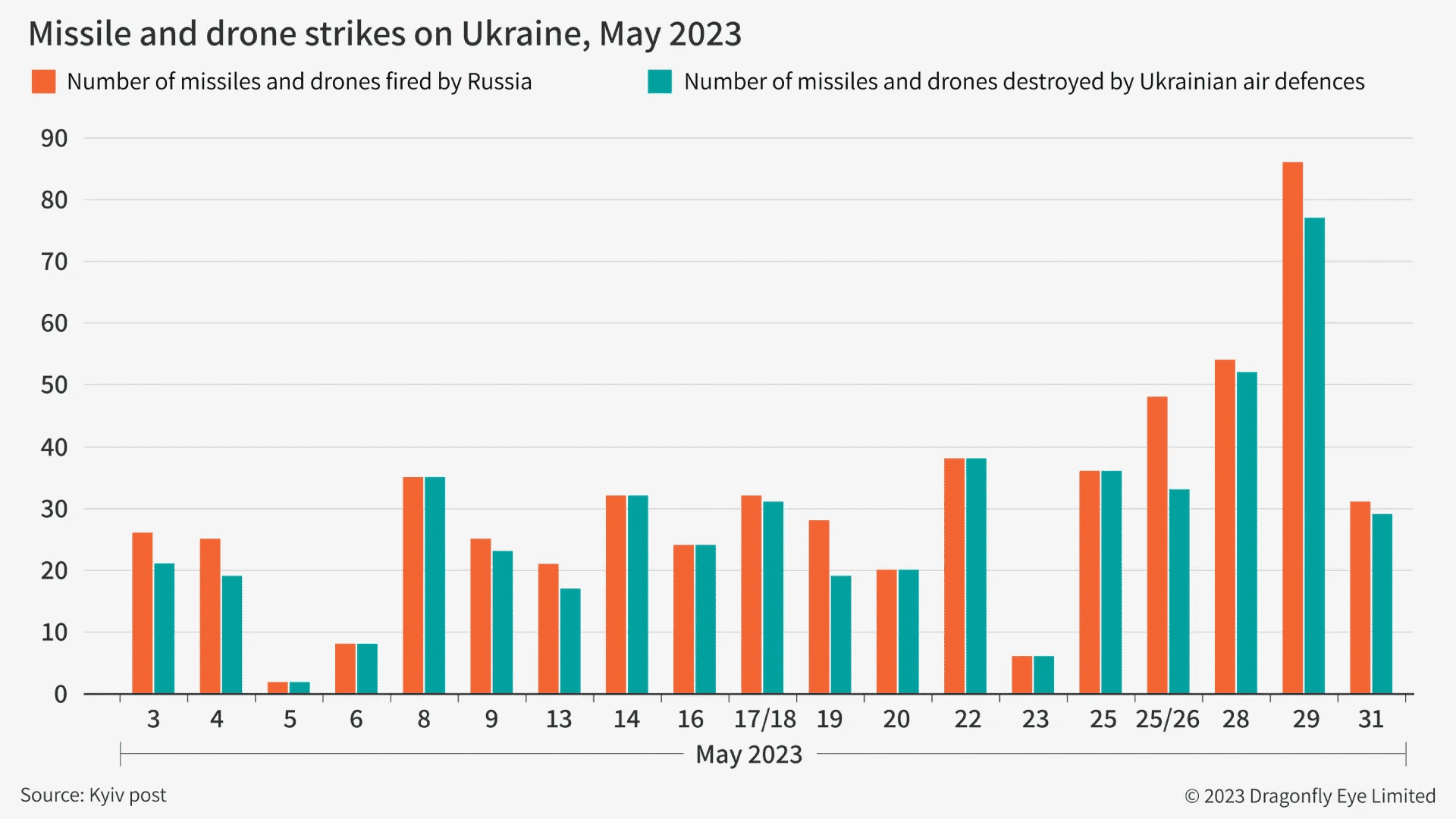 Ukraine's air defences are likely to remain resilient in the coming months despite Russian efforts to degrade those, as Ukraine's offensive plays out. Kyiv's allies have prioritised donating air defences throughout 2023 and we do not anticipate the interception rate significantly dropping in this period. There is also little sign that Russia can destroy air defence systems. Moscow has threatened to destroy Western military aid in Ukraine since the invasion but has not done so at scale.
The high interception rate of Ukraine's air defences appears insufficient to eliminate the risk to life and assets entirely. A Ukraine-based NGO worker told us on 2 June that the unpredictability of when and where debris from intercepted missiles fell was posing a 'huge problem'. There appears no obvious way to mitigate the issue either. And in an indication of the way this is disrupting life there, there is widely-publicised footage of the remains of a missile falling on a busy road in Kyiv earlier in June.
Monitoring points for deteriorating air defences
There are three probable signs that Ukraine's air defences would be deteriorating. These are reports that Russia is intensifying air strikes along or near the frontline in Ukraine, that it has increased sorties deeper into Ukraine than it is currently operating and any signs that Russia is consistently and effectively destroying air defence systems. But so far, none have been met. The Russian air force's ability to fly deeper into Ukraine has appeared limited since the early months of the war and the steady stream of air defence donations to Kyiv will almost certainly only drive down this ability in the near term.
Image: A German soldier drives an M983 HEMTT carrying a Patriot launcher module on an open field in Zamosc, Poland, on 18 February 2023. Photo by Omar Marques via Getty Images.