This assessment was issued to clients of Dragonfly's Security Intelligence & Analysis Service (SIAS) on 2 May 2023.
Jihadist groups and some Kurdish militants are probably highly motivated to conduct attacks around the upcoming general elections on 14 May
The security forces appear mostly capable of mitigating the threat; these groups probably lack the capability to conduct complex attacks in major cities
While the PKK is likely to adhere to a ceasefire until the elections, it will probably resume attacks in southeastern Turkiye beyond then
The militant Kurdistan Workers' Party (PKK) is likely to adhere to a ceasefire until after the elections. Still, jihadist and Kurdish militant splinter groups are probably motivated to mount attacks in the run-up to and around the polls. This is even though these groups probably lack the capability to execute complex attacks (such as multiple shooters), including in major cities such as Ankara and Istanbul.
Established threat ahead of elections
Militants have tried to mount attacks in Turkiye ahead of past elections. In the lead-up to the parliamentary election in November 2015, an apparent IS-linked double suicide bombing killed at least 96 people at a pro-Kurdish peace rally in Ankara. The security forces disrupted several plots targeting elections in Ankara and Istanbul in more recent years. Examples include the arrest of:
Two suspected PKK members allegedly plotting an attack during the local elections in Istanbul in March 2019
A total of 20 suspected Islamic State (IS) members in Ankara and Mersin plotting an attack ahead of the general election in June 2018
Neither the Turkish nor Western authorities have publicly revealed specific threat intelligence of potential attacks ahead of upcoming elections. Nor have they reported on any disrupted plots. But there have been repeated calls for attacks against President Erdogan's government in jihadist propaganda in recent months. We have not identified a notable surge in hostile chatter discussing attacks around the elections on the extremist channels that we monitor. But militants on such channels will probably increasingly focus on the elections and threaten to attack closer to the polls.
Jihadist threat around elections
We assess that jihadist groups, primarily IS, are probably highly intent on mounting attacks ahead of and around the election. This presents an opportunity for such militants to mount highly visible attacks. And Erdogan announced on 1 May that Turkish security forces killed suspected IS leader, Abu Al-Hussein Al-Qurayshi, reinforcing such motivation. They have been active in planning attacks this year; the Turkish authorities in January announced several counterterrorism operations targeting jihadists, including a group that allegedly planned to target an unnamed Western consulate.
IS and other jihadists appear capable of mounting fatal attacks. But they will probably struggle to mount complex or coordinated attacks around the polls. These include those involving multiple attackers in various locations or mass casualty bombings. The last major attack in Turkiye attributed to IS was a mass shooting at a nightclub in Istanbul in 2017. And the Turkish security forces have foiled several plots during periods where they were on a heightened threat posture earlier this year.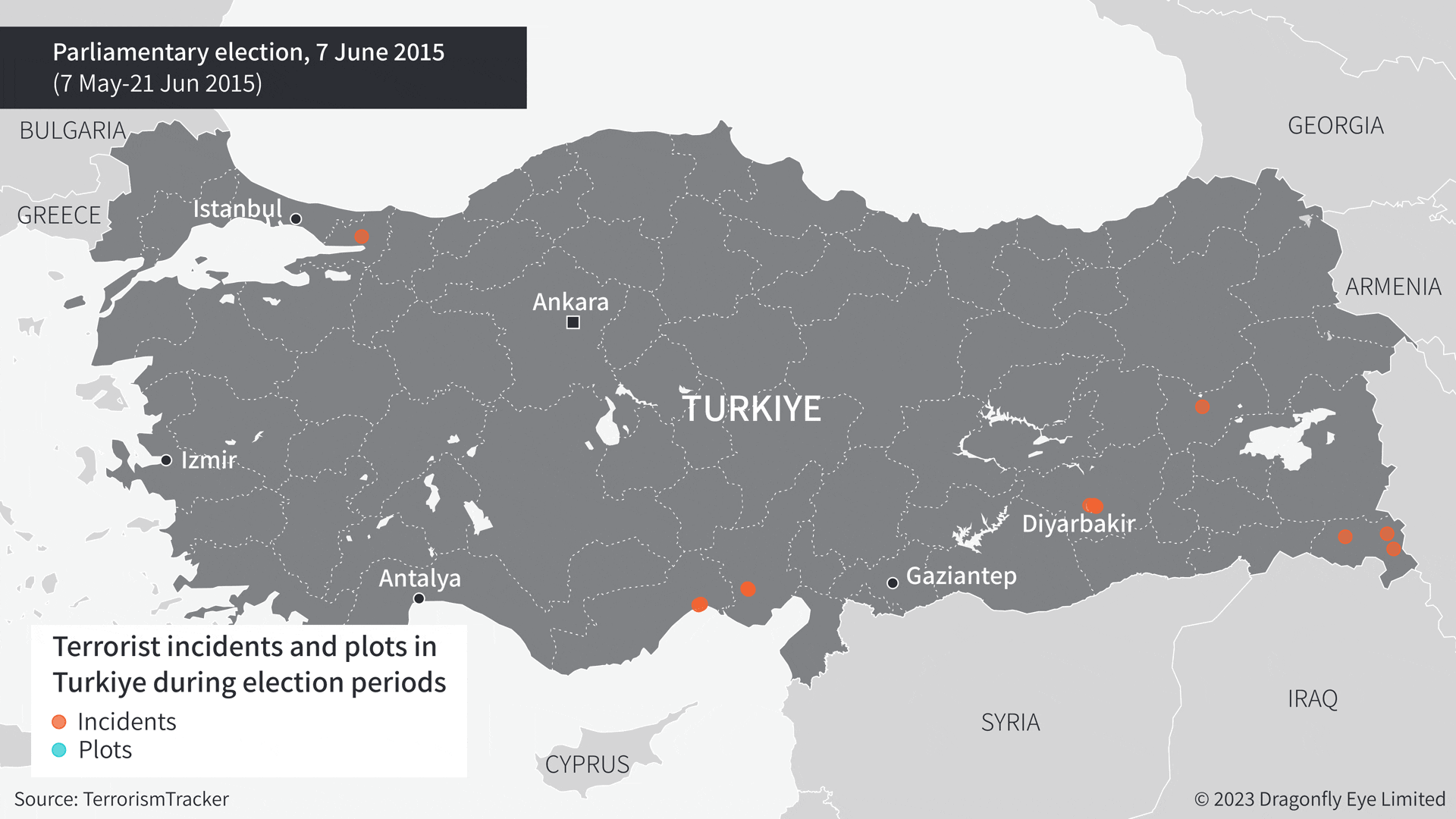 Ceasefire with PKK likely to hold until after elections
The PKK is likely to largely adhere to a unilateral ceasefire until after the elections at least. It had declared the ceasefire to facilitate rescue efforts following the 6 February earthquake, and extended this on 27 March until after the elections due to their 'historic significance'. PKK militants in Turkiye have so far adhered to the ceasefire, despite Turkish attacks on Kurdish targets in northern Syria and Iraq – a condition of the original ceasefire. They also have not mounted retaliatory attacks following the arrests of more than a hundred alleged PKK sympathisers earlier this month.
Members of Kurdish militant splinter groups are probably motivated to mount attacks in major cities, however. Groups such as the Kurdistan Freedom Hawks (TAK), which is loosely affiliated with the PKK, operate largely autonomously and so are unlikely to observe the ceasefire. The elections provide them not only with an opportunity for highly visible attacks, but also a chance to undermine the electoral process. While attacks by the TAK are infrequent, we suspect that the group was behind a bombing of a tourist area in Istanbul last November. The government attributed this to the PKK.
Probable form of attack
We assess that any attacks by jihadist or Kurdish-affiliated groups around the elections would most likely target busy public spaces, security forces or political party offices. These include in major cities such as Ankara or Istanbul, or in the southeast of the country, where bombing and shooting attacks by Kurdish groups occur frequently. A successful attack by jihadist militants would most probably be crude, such as a lone-actor shooting or stabbing, based on their capabilities and recently foiled plots. But even crude attacks in busy areas have previously led to a high number of casualties.
Outlook beyond elections
Beyond the elections, we assess that the PKK will probably renege on the ceasefire and resume attacks. These would most likely occur in southeastern Turkiye. And the group and its more radical offshoots will probably remain intent on mounting these in major cities such as Ankara and Istanbul. The motivation of PKK militants to mount more frequent attacks, particularly in the southeast, would be particularly high in response to any Erdogan election victory or an escalation of Turkish airstrikes on Kurdish targets in northern Iraq and Syria.
Image: Turkiye President Recep Tayyip Erdoğan attends a rally in Ankara, Türkiye, on 30 April 2023 ahead of the 14 May presidential elections. Photo by Yavuz Ozden/Dia Images via Getty Images