This assessment was issued to clients of Dragonfly's Security Intelligence & Analysis Service (SIAS) on 6 April 2023.
 A stability-threatening crisis after the elections is highly unlikely, but a contested result and a delayed transition of power are probable
Accusations of election irregularities are probable, with opinion polls suggesting a close race in the parliamentary and presidential elections on 14 May
We assess Erdogan will probably remain president
With the margin of victory appearing very likely to be tight, a run-off vote for the presidency on 28 May is probable. There is also a high chance of isolated violence, such as scuffles at protests, harassment of identifiably partisan people, and political violence, such as shootings of politicians and activists during this period. The losing side will very probably challenge the election outcomes. If Erdogan and his AK Party are defeated, they are particularly likely to do so.
Narrow margin of victory for Erdogan
The 2019 Istanbul mayoral elections provide the most recent example of how a challenge might play out. Shortly after the results, the Supreme Electoral Council (YSK) granted a recount and then annulled the vote entirely. This was after pressure from Erdogan, who accused the opposition of gerrymandering and of unlawful voter registrations from outside the city. The dispute lasted 18 days, and prompted large rallies and protests by opposition and ruling party supporters in several Istanbul districts. The ruling party eventually lost the vote by a greater margin than in the first round.
President Erdogan appears likely to retain the presidency. The margin of victory will most probably be tight, polling suggests. So an opposition victory is far from implausible. Erdogan and his AK Party have come under strong public scrutiny in recent years, particularly over the state of the economy; the state's response to recent earthquakes has intensified such criticism. The opposition is also more organised than it has been for several years. But the alliance bloc standing against Erdogan is ideologically diverse and nationalist divisions in particular remain.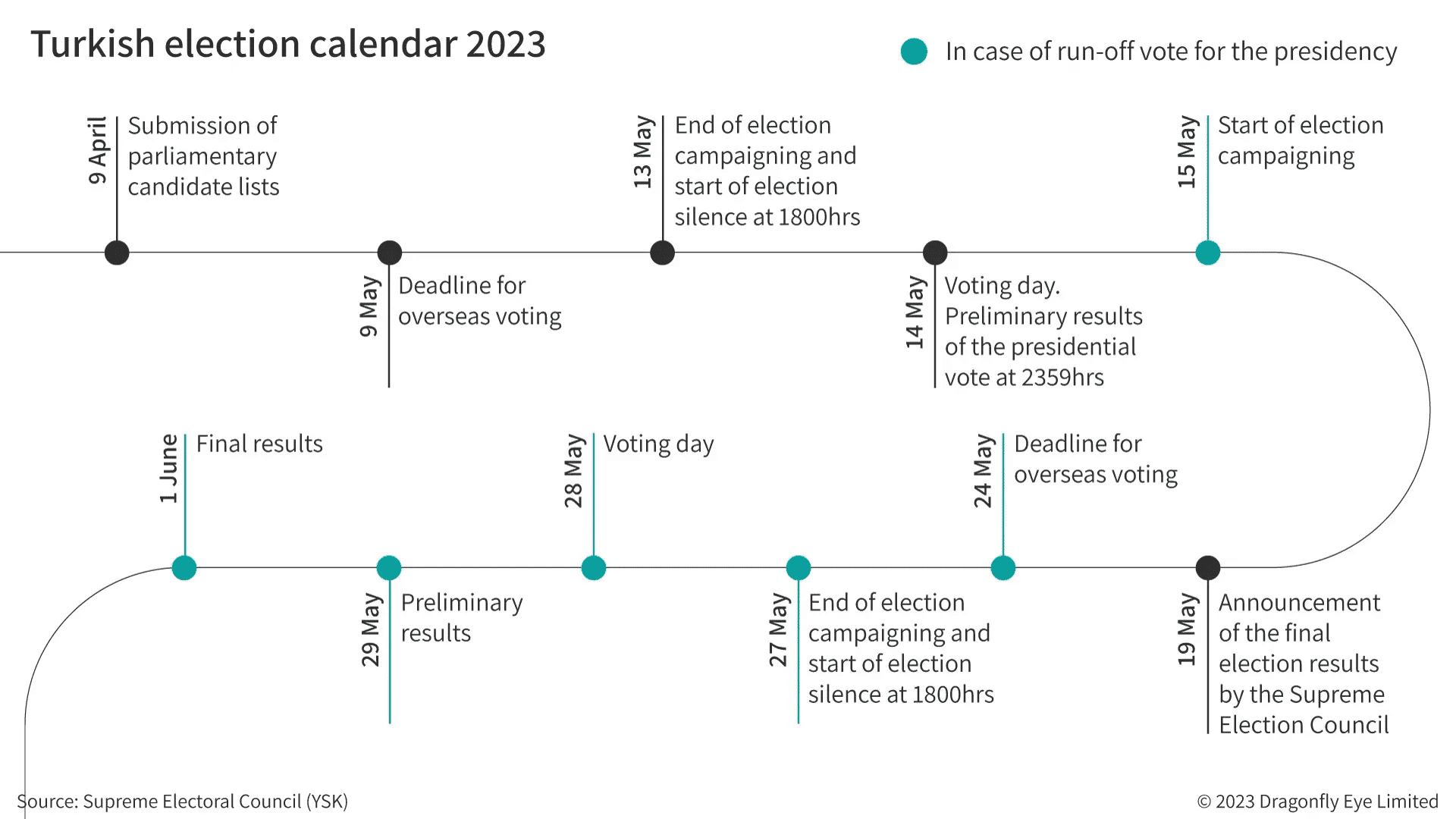 On current indications, a run-off vote (on 28 May) for the presidency is likely. This would happen if no candidate wins more than 50% of the vote in the first round. The main opposition candidate, Kemal Kilicdaroglu, seems unlikely to capture the entire anti-Erdogan vote. The CHP leader has widespread support, but the candidacy of Muharram Ince, the CHP's former leader and 2018 presidential candidate, will probably split the opposition vote in the first round. Ince's strong nationalist politics means he is well positioned to take some votes from Erdogan too, although not enough to make it to the second round himself.
Outlook for unrest in the lead-up to the vote
Large protests of several thousand people in major cities are likely in the lead-up to the vote. These would largely be political rallies held by both the ruling party and the opposition to mobilise voter enthusiasm ahead of the election. We do not anticipate that these will be particularly violent, but isolated scuffles and moderate traffic disruptions in central areas of major cities are probable. The police in Turkiye often use tear gas, stun grenades and kettling tactics to contain and disperse participants.
We doubt that protests will become widespread or result in unrest in the lead-up to the vote. It is not in the interests of political parties to disrupt polling day. However, contacts in Turkiye with deep knowledge of election politics told us last week that if Erdogan senses defeat ahead of the election (through opinion polls or mass resignations from his party), it is plausible that he would call on his supporters to go out and rally in large numbers as a show of strength. But also to lay the foundations for a period of post-election unrest in the event that he and the ruling party were to challenge the result.
Isolated incidents of violence are a reasonable possibility in the lead-up to the vote. That would include assassination attempts against activists and politicians. The headquarters of the IYI party in Istanbul was shot at last week, and in January a prominent nationalist activist was killed in Ankara. The perpetrators of both incidents have not been established, despite some arrests. Political violence of this kind appears to be largely tied to dynamics between nationalist parties – namely the far-right MHP and the centre-right IYI. The latter broke away from the MHP in 2017 to form a moderate version of the party to oppose Erdogan.
Scenarios for unrest
Clients have asked us about the potential for widespread civil unrest during the election period and the scenarios that would result in a stability-threatening crisis – for example, in the event of a contested result. We have outlined several scenarios for security planning in the coming months, particularly in the days after the vote and in the event of either side contesting the results.
These scenarios stem from several outcomes at parliamentary and presidential elections, therefore they are not mutually exclusive; one has the potential to lead to another, neither does any scenario preclude another scenario, particularly as new information comes to light and probabilities shift over time. This is also why the percentage probabilities together add up to more than 100%.
Smooth transition (55%)
This scenario would most likely take place in the event that either Erdogan or Kilicdaroglu wins the presidential election with a margin of 3% or more. And it would also be more probable in the event Erdogan wins in the first round or the ruling coalition wins a parliamentary majority. A clear victory would mean that both the ruling party and the opposition would have little grounds to challenge the results. Recounts and accusations of fraud would be limited to rhetoric, with little to no meaningful legal action.
We do not anticipate large or disruptive protests in this scenario. This is even though both sides would probably hold political rallies in major cities as a show of strength, either in victory or defeat. But a margin of victory of more than 3% would be highly likely to prompt the losing side to concede defeat shortly after the preliminary results on 19 May, and so limit the likelihood of large crowds gathering to contest the results. In the event of an Erdogan victory, we anticipate that the largest opposition rallies would be in central Istanbul.
Contested but completed transition after several days of protests (70%)
The most likely scenario post-election is a narrow margin of victory after a run-off vote and a contested result on 29 May. Both sides have the means and motive to challenge a narrow defeat both through legal channels and with street protests. Accusations of ballot-stuffing, media bias, and intimidation at polling stations have been common in recent years. This scenario would resemble the outcome of the 2019 Istanbul mayoral elections when the ruling party cited electoral irregularities and a series of enumerating errors in vote counting.
This scenario would probably involve larger and more disruptive protests in central areas of major cities, albeit most likely in Istanbul, Ankara, Izmir and Bursa. These would involve gatherings of several thousand people by both the opposition coalition and ruling party, including several Islamist and nationalist fringe groups from both sides. This would probably result in severe traffic disruptions in the days following the vote, with a higher chance of more violence than in the first scenario.
Any legal challenges and recounts are likely to take several weeks, but this will depend on who is challenging the result:
1. Erdogan challenge 
In the event of a narrow Erdogan and AK Party defeat, we anticipate the incumbent president will call for a recount of the vote. Erdogan would still have a lot of influence over the state institutions overseeing the elections, including the media, and so such a request would likely be granted. The recount would take several days at least, during which Erdogan would attempt to organise and attend large rallies in Ankara and Istanbul in particular. A parliamentary defeat would probably mean Erdogan is unlikely to call for an annulment of the vote. Counter-protests would also be likely in this scenario.
2. Opposition challenge 
In the event of an opposition defeat, we would anticipate challenges from the CHP and its leader. However, any calls for a recount are likely to be legally problematic for the opposition, with Erdogan almost certainly intent on blocking any such attempts. Erdogan's incumbency and influence over state institutions mean it is reasonably likely that the YSK does not grant a recount. The opposition would therefore view protests as the most effective way to put pressure on state institutions. However, Erdogan's grip on domestic security means he would likely call for the police to violently disperse protesters.
Constitutional and security crisis no longer than two months (20%)
A crisis after the results remains a plausible, but highly unlikely scenario. This would most likely occur only in the event of Erdogan and the ruling party losing the presidential race by a small margin but performing well in the parliamentary vote. Other signs that this scenario is playing out would be Erdogan quickly calling for an annulment of the vote, rather than a recount, citing irregularities. This would be followed by large and disruptive protests across cities in Turkiye, including smaller AK Party strongholds in the southeast. It is also reasonably possible that supporters would participate in large sit-ins in the government districts of Ankara.
The incumbency of Erdogan means he would probably be able to convince the electoral council and supreme courts to investigate his challenges. And during such investigations, Erdogan would probably use street protests as a show of strength. But an initial result showing an opposition victory would also embolden the opposition to call for their supporters to protest. As such, violence between rival groups and the police, and severe disruption in major cities would be a reasonable possibility. This is also because of Erdogan's influence over the police.
However, we doubt that such a crisis would last more than two months after the vote. Support for Erdogan has long been rooted in strong patriotism, so we assess that Turkiye still has several state institutions – albeit being dominated by Erdogan loyalists – that would intervene in the event of a protracted crisis. A sense of national pride and duty is widespread across the political spectrum in Turkiye. Some of our contacts in Turkiye have even suggested that in this eventuality, it is plausible that the military would facilitate a lawful transition of power.
Image: Supporters of the ruling Ak Party attend a stadium rally for Turkish President Recep Tayyip Erdogan in Istanbul, Turkiye, on 27 November 2022. Photo by Ozan Guzelce/Dia Images via Getty Images.