This assessment was issued to clients of Dragonfly's Security Intelligence & Analysis Service (SIAS) on 11 May 2023.
LGBTQ+ discrimination risks appear to be worsening in Sub-Saharan Africa
Social stigma is already pervasive in the region, but officials in many countries are now actively encouraging citizens and officials alike to engage in anti-LGBTQ+ behaviours
A recent spate of incidents suggests that organisations perceived to be LGBTQ+ friendly are likely to attract public criticism or be targeted by anti-LGBTQ+ groups in acts of vandalism
There are heightened and worsening risks for LGBTQ+ discrimination in Sub-Saharan Africa. Social stigma is pervasive, even in countries that do not criminalise same-sex relations. Amid adverse economic conditions this year, we have seen some politicians exploit anti-LGBTQ+ sentiments for political gain. We assess that countries where the risks are worsening include: Burundi, Cameroon, Kenya, Nigeria, Mali, Senegal, Liberia and Zambia. There are political and/or civil society groups in these countries that intentionally target LGBTQ+-friendly organisations.
Hostile rhetoric on the rise
LGBTQ+ discrimination risks appear to be on a worsening trend in Sub-Saharan Africa. A clear sign of this has been a rise of hostile rhetoric this year. Prolonged hardship seems to have encouraged politicians to exploit relatively low acceptance levels towards LGBTQ+ people for political gain. Some politicians in Ghana and Senegal have used this to mobilise disenchanted voters. And authoritarian governments in Burundi and Uganda appear to have done so to deflect public criticism and justify crackdowns on NGOs there. Beyond the medium term, a periodic rise in anti-LGBTQ+ politics is probable as foreign religious groups appear intent on funding such activities, according to rights groups.
Political grandstanding signals that LGBTQ+ people are more likely to be harassed (both verbally and physically). Last year the ascent of an anti-LGBTQ+ politician in Senegal seems to have coincided with an increase in civilians assaulting LGBTQ+ people, based on our monitoring of local press reporting. Hostile rhetoric also affects policing; it raises the likelihood that in Uganda, for example, police officers would actively enforce a new bill that penalises landlords for renting to homosexuals.
Even in the absence of hostile laws, widespread stigma against LGBTQ+ people means police are less likely to protect LGBTQ+ people. And that victims are less likely to report crimes, making them attractive targets for criminals. For example, in South Africa, the law explicitly protects LGBTQ+ people from discrimination. But LGBTQ+ activists have long said that police officers are reluctant to help gay people. South African rights organisations now report that scammers on same-sex dating sites deliberately target men because of social stigmas. They are vulnerable to extortion and kidnap schemes.
We have not seen specific cases of foreigners being targeted so far. This is based on our monitoring of local press reporting and foreign government travel advisories. But in our analysis, it is now reasonably likely that state authorities would target discreet LGBTQ+ events and harass attendees, including if foreigners were present. In Ghana, police earlier this year physically assaulted several people at a private birthday party in Jamestown, according to local press. Such police interventions typically occur with little warning.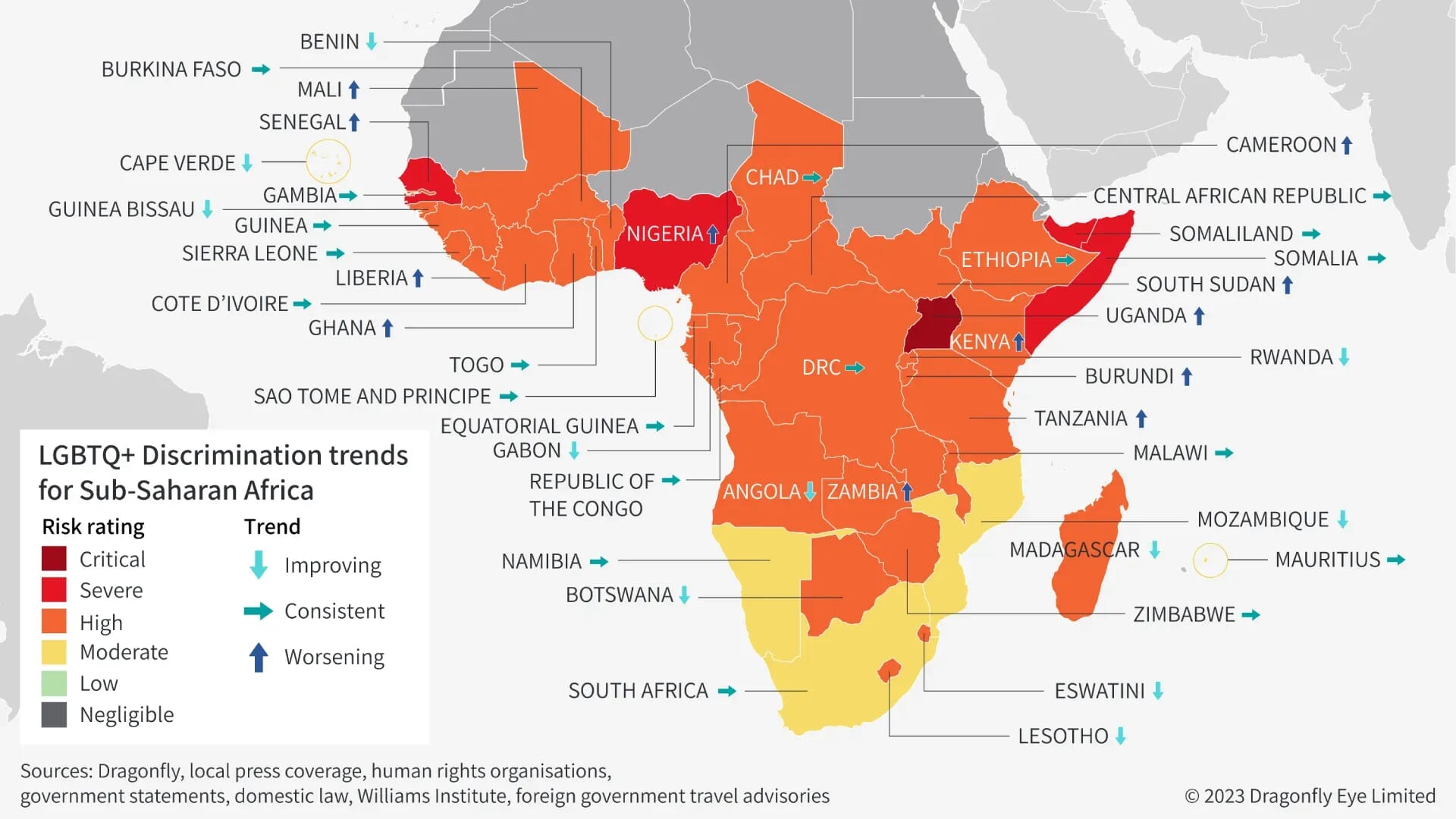 Anti-LGBTQ+ behaviours
There is a low but rising chance that anti-LGBTQ+ activists would publicly criticise or vandalise organisations perceived to be LGBTQ+ friendly. Statements from anti-LGBTQ+ activists suggest that they particularly object to organisations that campaign against or publicly oppose legal and other discrimination. There have been a handful of such incidents in recent months. Anti-LGBTQ+ activists in Uganda reportedly vandalised billboards carrying the advertising of companies perceived to be LGBTQ+ friendly. And a foreign telecommunication company also faced public criticism in Cote d'Ivoire recently for using colours associated with the LGBTQ+ flag in its advertising.
In a further sign of this trend, LGBTQ+ activists have suggested they would lobby tech companies in Accra, Ghana. Their objective is to have these weigh into a public debate over a bill criminalising LGBTQ+ relationships. It is unclear if they have already done so. But this would raise the chance of anti-LGBTQ+ activists protesting outside the premises of these specific companies, given that perceived LGBTQ+ advocacy has previously prompted counter-protests. For example, the US Vice President's visit to an NGO-run skatepark in Accra led to a counter-protest there by activists who said this signalled it to be an 'LGBTQ space'.
Image: More than 1000 people take part in the annual Cape Town Pride Parade through the centre of the city, which takes place to celebrate and raise awareness on the issues affecting Cape Town's LGBTI+ community, on 26 February 2022, in Cape Town. Photo by Rodger Bosch/AFP via Getty Images