This assessment was issued to clients of Dragonfly's Security Intelligence & Analysis Service (SIAS) on 28 April 2022.
The increase in vessels in the SCS means that the risk of a naval accident is comparatively greater than it was last year; but this remains highly unlikely. And even if there were a naval incident, both sides would almost certainly seek to swiftly de-escalate any crisis to avoid a conflict and minimise disruption to crucial trade routes.
Expanding naval presence
China is actively expanding its naval capabilities. Its navy last week announced it will commission six powerful warships and anti-submarine helicopters and is in the process of constructing a new aircraft carrier. Last month, the US Indo-Pacific commander said that China has 'fully militarised' three islands in the disputed Spratly Island Chain, enabling it to 'expand the offensive capability' of its navy. According to pictures taken by a US reconnaissance aircraft, China has seemingly completed the construction of runways and seaports on those islands. The map below shows the conflicting maritime claims of regional states and the three purportedly 'fully militarised' islands.
In recent months, the US has seemingly demonstrated its formal rejection of Chinese maritime claims in the SCS by bolstering its military posture in the region. In particular, it has sent warships through disputed water in what it calls Freedom of Navigation Operations (FONOP), carrying out four missions in the past 12 months. The US also held its largest military drills with the Philippines in several decades earlier this month and last year it signed the Aukus security alliance with Australia and the UK in which it agreed to provide Australia with nuclear-powered submarines.
Clients have asked us about the impact of the conflict in Ukraine on US-China competition, but we have seen no indication that this has affected naval deployments in the SCS. Over the past few years, China has adopted a 'salami slicing' strategy to militarily change on-ground realities in the SCS and force other states into a tacit acceptance of these new arrangements. We doubt that the war in Ukraine will lead it to change that strategy. The recent naval deployments most probably point to the US and China adopting a more proactive and assertive stance, rather than an overall shift in their strategies.
Conflict assessment
A military conflict between the US and China in the SCS would be highly disruptive, given the importance of the region for shipping, but is very unlikely in the medium term. We continue to assess that a naval accident, a miscalculation or misinterpreted incident followed by a series of swift retributive actions and accusations by both sides is the most probable cause of military conflict in the region. This would severely disrupt major shipping routes in the SCS, particularly through the straits of Malacca, the East China straits and the straits of Lombok and Sunda, as set out in the map below. A conflict in the SCS would also likely involve military aircraft, which would severely disrupt overflights in the region.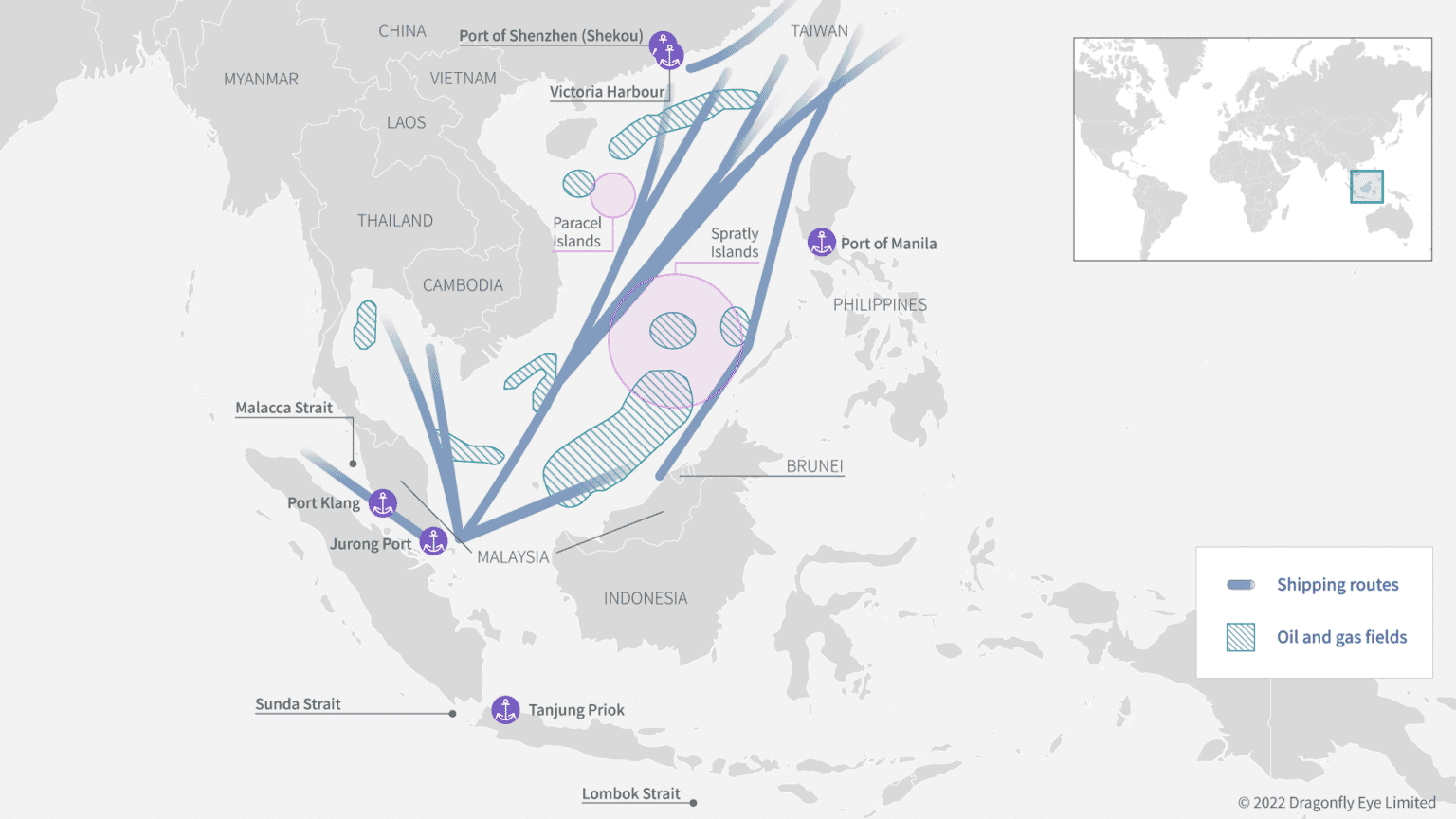 The rising number of vessels in the SCS has increased the likelihood of a naval accident or other unintentional escalation, but this still remains low. There is a reasonable possibility of close encounters between US and Chinese vessels, and that these will occur more often simply because there are more of them. Chinese naval vessels have closely trailed US ships carrying out FONOP and frequently came into close contact with naval vessels of rival claimant states.
The US and China have a clear interest in de-escalating any crisis in the SCS and ensuring that a naval accident or miscalculation does not lead to military conflict or prolonged disruption to commercial shipping. The SCS has substantial oil and gas resources and around one third of global maritime trade passes through it. Moreover, communication channels between the US and Chinese militaries remain stable.
Image: A Philippine amphibious assault vehicle lets off smoke as it maneuvers toward a beach during a joint amphibious assault exercise as part of the annual 'Balikatan' (shoulder-to-shoulder) US-Philippines war exercises; Ezra Acayan/Stringer via Getty Images