This assessment was issued to clients of Dragonfly's Security Intelligence & Analysis Service (SIAS) on 20 April 2023.
Johannesburg is usually a safe and secure environment for business travel and operations when routine mitigation measures are taken
Petty theft is very common with criminals either using the threat of violence or snatching visible valuables from pedestrians and vehicles
Criminals are often opportunistic in carjacking attempts, exposing victims to risks involving kidnap and sexual assault
Our security and safety rating is moderate because basic mitigation measures are effective at reducing the likelihood of being exposed to risks. But opportunistic, petty and violent crimes, such as carjacking, remain common in the city.
Theft hotspots
Petty theft is still the main day-to-day security risk in Johannesburg; our general crime rating for the city is severe. The risk is particularly high in the Central Business District (CBD). The US State Department advises that 'theft can be bold and in broad daylight' and notes that people have had phones snatched from their hands, as well as wallets, taken while paying at stores. Anecdotal evidence suggests that such incidents occur commonly in upmarket shopping malls and at tourist sites. Criminals also mount smash-and-grab robberies against motorists in heavy traffic. Based on local press reports, the N3/Marlboro offramp and the N1 William Nicol drive are hotspots for this tactic.
People arriving at O.R. Tambo airport face a high risk of 'follow-home' robberies. Local press outlets have reported a spate of cases in recent weeks in which gangs identified victims at the airport and later robbed them at their residences. For now, police statistics on this type of crime are not available. But Western governments have warned of criminals using this tactic for several years. These have also occasionally involved assailants disguised as police, stopping tourists from going to their hotels to rob them.
Criminals frequently use guns and knives to intimidate victims. They often physically harm (with or without the use of weapons) and/or tie up uncooperative victims. While Western governments generally advise of a high risk of violent crime, the French and Canadian advisories specify that there is a 'high risk of violent aggression' in the tourist areas of Melville and the township of Soweto. They both recommend that travel be avoided in inner-city areas Hillbrow, Berea, Yeoville as well as Alexandra township. See these areas on the map below.
Carjacking on the rise
Anecdotal evidence suggests that carjacking is a major concern among residents and travellers in Johannesburg. The number of such incidents is on an upward trajectory, according to police statistics. Crime now seems to be occurring more commonly than before the Covid-19 pandemic emerged. Prior to the pandemic lockdowns, between the months of July and September 2019, there were 2,320 cases. This compares with 2,945 cases during the same period in 2022 – a rise of 25%.
Carjackers tend to target indiscriminately. Local press outlets have reported that criminals have access to signal-jamming technology, preventing victims from locking their vehicles during such robberies. Local contacts suggest this tactic is common in quiet and poorly-lit parking areas or at the driveway of the victim's destination. The German government specifically advises of carjacking risks when stopping at street crossings at night. Criminals often operate in the CBD and Sandton (see the map for further hotspots).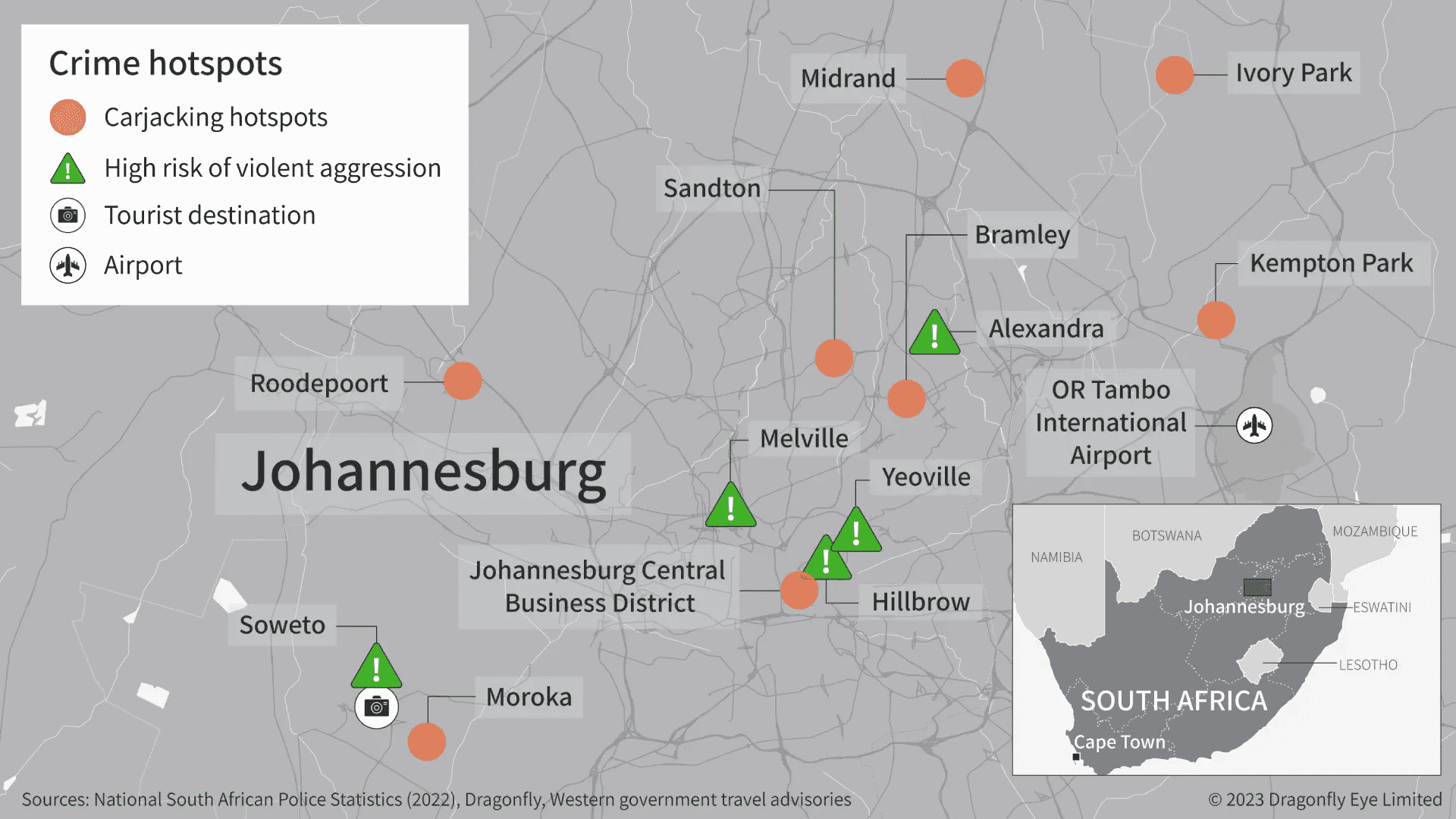 Kidnap
There is a high risk of kidnap in Johannesburg. Police statistics do not specify statistics for express kidnapping. But publicly reported cases suggest that such incidents often start as other forms of crime, such as carjacking. Criminals typically drive victims to ATMs to force them to withdraw money. Some assailants have also sexually assaulted female victims in isolated areas. The authorities have warned since last year that individuals on dating apps, sometimes linked to organised crime groups, have attempted to kidnap and extort money from LGBTQ+ people.
Kidnap-for-ransom is a low but growing risk. The police recorded 205 cases nationwide between July and December last year; the highest proportion occurred in the Gauteng province (115 cases). For the same period in 2021, there were 80 reported incidents in that province. Criminal syndicates usually target South African nationals or owners of small businesses of Somali or Pakistani heritage in low-income areas. They tend to kidnap these victims in their cars outside of the victim's business or home, demanding cash from their families. We have seen little signs of sophistication in these schemes.
Poor policing standards
Policing is overstretched and poorly resourced, particularly in low-income areas. This means that the city is unlikely to become safer anytime soon. City security forces have shown some positive results in patrolling major roads as well as in apprehending criminal syndicates and affiliates of terrorist organisations. But the ease with which criminals can hide in shanty towns, as well as poor lighting and road infrastructure in other impoverished areas hampers police operations. Anecdotal evidence suggests prolonged outages over the coming months are likely to make private security systems vulnerable to malfunction.
Image: South African Police Services (SAPS) officers remove stones from a thoroughfare in the CBD, Johannesburg, on 16 January 2023 as residents look on from a building during disturbances with residents following the death of a drug dealer during a police raid. Photo by Marco Longari/AFP via Getty Images.