Military and diplomatic tensions between Saudi Arabia and Iran are likely to persist over the medium to long term. This is despite an announcement on 10 March that the two would restore full diplomatic ties within two months.
This assessment was issued to clients of Dragonfly's Security Intelligence & Analysis Service (SIAS) on 20 March 2023.
Security in Gulf waters is likely to improve in the coming weeks, and prospects for a truce in Yemen between the Houthis and Saudi Arabia will probably improve
Saudi Arabia and Iran agreed to restore full diplomatic ties and reopen their respective embassies within two months
The deal does not address the entrenched rivalry between the two countries, so is unlikely to lead to a major improvement in the security environment
The deal will probably significantly improve security in Gulf waters and help with truce negotiations in Yemen in the coming weeks and months. But it is unlikely to transform the region's security environment altogether. This is because the recent agreement does not appear to address or resolve entrenched rivalry in their respective objectives for regional influence.
The two countries have announced a two-month roadmap to fully restore ties and reopen their respective embassies. This follows several rounds of talks between Riyadh and Tehran mediated by Iraq and Jordan since 2021. The announcement on 10 March was brokered by China. In our analysis, this means both sides, particularly Iran, are likely to adhere to any commitments (none have been made public) in the coming months to avoid a diplomatic or economic fallout with China.
In light of the latest developments we have revisited and refined our conflict scenarios for Saudi Arabia and Iran (we set these out fully below). The key changes are:
We now assess that formal ties between the two will probably be the new status quo
We have amended indicators for our scenarios that provide early warnings and confirmation that these ties are worsening, improving, or stalling
We have added a new outlier scenario that outlines a significant and material improvement of relations resulting in a major shift in regional dynamics
Still, our current assessment is that the rapprochement is unlikely to signal a major improvement in security across the Middle East. That is even with China's uncharacteristic involvement. The opening of a communication line between Riyadh and Tehran, however, will probably help avoid unintended escalations between the two. The deal fails to address the entrenched rivalry, including Saudi Arabia's security ties with the US and Iran's coordination with regional actors hostile to Washington and Riyadh.
Riyadh motivated by security in Gulf waters and exiting Yemen war
Security in Gulf waters will probably improve in the coming months. Based on statements by Saudi officials during previous rounds of talks, Riyadh is highly likely to have conditioned the agreement on Tehran reducing hostile actions in these waters. Iran and its proxies in Yemen and Iraq have mostly targeted US and Israeli vessels in recent months, and Riyadh has long been concerned with the impact of such attacks on its trade and status as a safe investment destination. China has echoed these concerns.
We do not anticipate a total cessation of Iranian hostilities in Gulf waters this year. Attacks against commercial vessels are likely to remain a key tactic for Iran to pressure the US and Israel in particular. This is in the context of failing nuclear talks with the West, tit-for-tat attacks between Tehran and Tel Aviv, and Iran's long-standing objective of driving a wedge between Washington and Riyadh. All of these will probably continue to drive such incidents.
It is also plausible that the deal is a precursor for a truce between Saudi Arabia and the Houthis in Yemen in the coming weeks. An exit from the war in Yemen has been a key priority for Saudi Arabia this year. Talks to renew a UN-brokered truce that expired in October 2022 have been positive, and they recently developed into broader negotiations for a lasting peace agreement. Saudi Arabia has even signalled a preparedness to commit to key Houthi demands such as the reopening of Yemeni ports and sharing oil revenues.
Longer-term diplomatic signals
For Iran meanwhile, the restoration of ties is probably about two things. First, the deal furthers Tehran's long-term objective of driving a wedge between Saudi Arabia and the US to limit the latter's presence in the region. Secondly, improved relations – particularly concerning trade – with Gulf countries will support Iran's economy. Both objectives appear unlikely to yield significant benefits this year, in our analysis. US-Saudi security ties are too entrenched to reverse anytime soon. And investment opportunities in Iran will probably take some time as Saudi firms evaluate their exposure to secondary US sanctions.
The optics of the latest announcement will probably concern politicians across the spectrum in Washington. This is despite a general welcoming of the deal in public by the US last week. The involvement of China raises questions about Beijing moving beyond being an economic and trade partner in the long term. But we doubt China is able – or willing – to provide Saudi Arabia with the security guarantees that it seeks from the US due to the integration of Saudi Arabia's defence inventory with US supplies and technology.
Meanwhile, for Saudi Arabia, it appears to be embarking on a non-aligned-type approach to its diplomacy. It has expanded economic cooperation with China and has so far refrained from totally isolating Russia since the latter's invasion of Ukraine. Saudi Arabia's finance minister also said this week that investment and trade with Iran could 'start soon'. Although we anticipate that US sanctions will limit the volume of trade in the coming year, the announcement signals greater divergence between the US and Saudi Arabia over Iran. Riyadh will probably be able to replicate the trade engagement of other Gulf countries, such as the UAE and Qatar, with Iran.
Scenarios for bilateral relations in the next two years
We have set out our current scenarios and indicators for Iran-Saudi relations. For each, we have outlined how we anticipate the current conditions will evolve into that scenario, as well as timeframe projections and a set of indicators. The convergence of several of these indicators – rather than one in isolation – would suggest that the scenario is becoming more likely.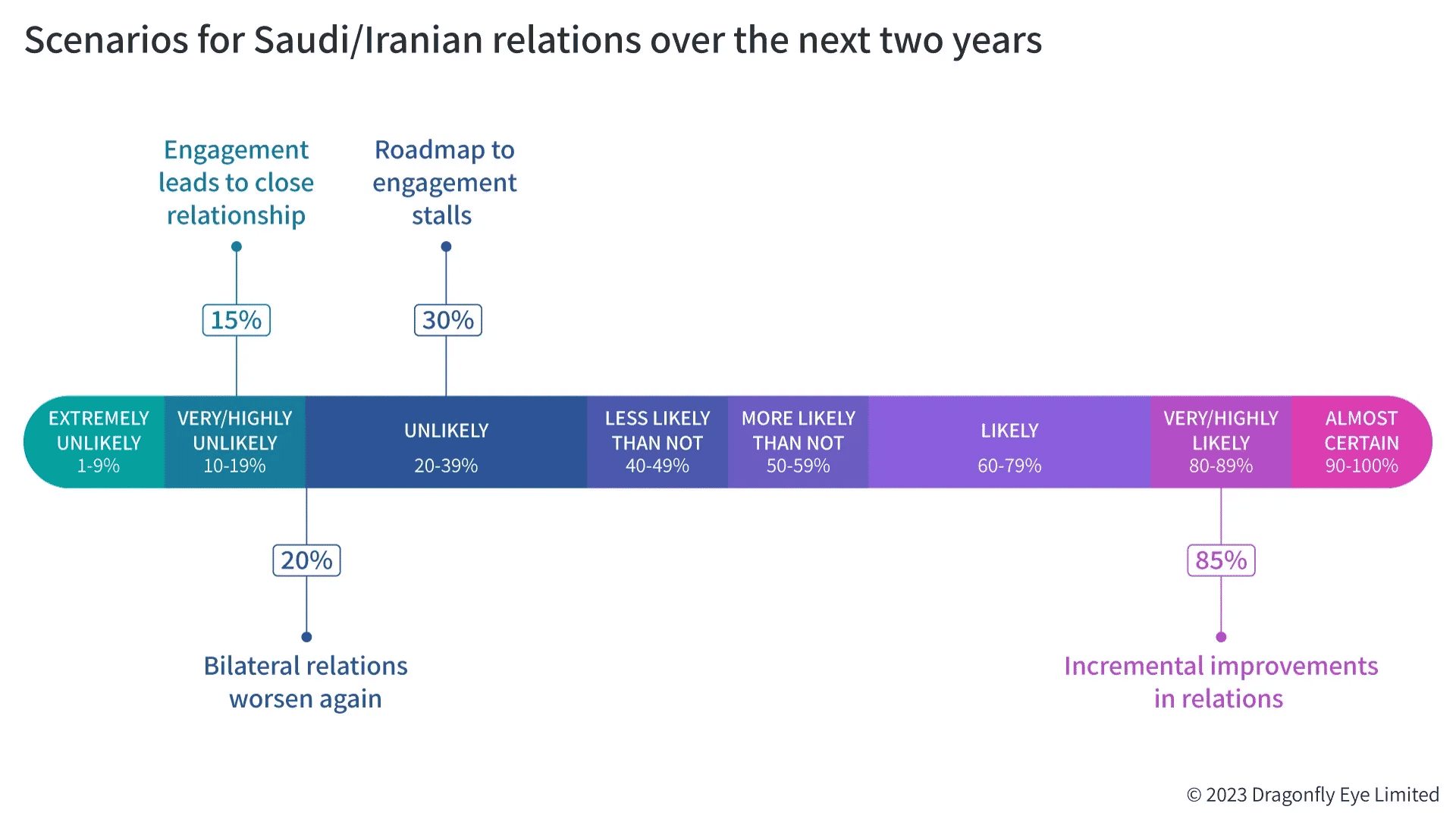 These scenarios are also not mutually exclusive; one has the potential to lead to another, neither does no one preclude another scenario, particularly as new information comes to light and probabilities shift over time. This is also why the percentage probabilities together add up to more than 100%.
1. Incremental improvements in relations (85%)
In this scenario, both sides commit to the two-month deadline to fully restore ties and open their respective embassies. This would probably be followed by announcements of some bilateral trade between the two countries, despite restrictions caused by US sanctions on Tehran. Both sides would probably make significant efforts to come to an agreement with Kuwait regarding a maritime border dispute in the northern Gulf (with proven gas reserves) as a sign of improving relations, but this would still likely take several months of negotiations before a final settlement.
This scenario would very likely fall short of establishing a comprehensive security framework for the region. Still, within this scenario, a lasting truce between Saudi Arabia and the Houthis in Yemen would become highly likely. We are confident that improving diplomacy between Tehran and Riyadh would diminish the risks stemming from hostilities in Gulf waters, particularly the threat of attacks on Saudi interests. But Iran in particular would be likely to continue using actions in Gulf waters as a lever of pressure against Israel and the US, with Saudi interests also vulnerable.
Early indicators 
Few public signs of delay or prevarication around the two-month deadline to fully restore ties
Both sides continue to make consolatory and positive remarks in public
Saudi Arabia and the Houthis announce a truce extension and/or bilateral peace agreement
Confirmation indicators 
Full restoration of ties is completed on schedule (by 10 May)
Both sides announce trade deals
An announcement on an agreement relating to the divided zone between Saudi/Kuwait/Iran
2. Roadmap to engagement stalls (30%)
Further steps of cooperation and security integration would be unlikely in this scenario. It would broadly resemble relations pre-2016, when they last had formal ties. Entrenched divergence between Tehran and Riyadh's regional objectives would remain unresolved. And China's role in facilitating the restoration of ties would be highly likely to prompt the US to revisit its relationship with Saudi Arabia as a security guarantor for the region. This would play out against a backdrop of stalling nuclear deal talks between Iran and the West.
In this scenario, Saudi Arabia would struggle to achieve a clean exit from the Yemen war. And Iran's hostile actions in Gulf waters, particularly during nuclear deal negotiations, would continue unabated. Both sides would continue to use the other as a useful enemy for domestic audiences. But maintaining a limited communication line would continue to help avoid serious escalations. Their new ties would be particularly strained if Riyadh begins to signal possible normalisation with Israel, although we still assess this as unlikely this year. Trade relations would remain limited too.
Early-warning indicators 
There are delays to the two-month deadline to fully restore ties and open embassies, but not an abandonment of the deal
Iran raises concerns over the alleged Saudi funding of media outlets critical of the regime in Tehran
A truce extension between the Saudi and Houthis is announced but falls short of a lasting bilateral ceasefire
The US expands the sale of its air-defence systems to Saudi Arabia after leaks in the international press hint at increasing chances of Saudi normalisation with Israel
Saudi Arabia adopts a more cooperative approach to OPEC production quotas bringing it more in line with UAE and US expectations
Confirmation indicators 
Saudi Arabia and Iran exchange hostile rhetoric, particularly over Yemen and Israel
Iran conducts low-impact hostile actions in Gulf waters that inadvertently target or disrupt Saudi interests
Iran accuses Saudi Arabia of interfering in its domestic affairs
3. Bilateral relations worsen again (20%)
It remains plausible but highly doubtful that the latest efforts to restore ties fail to press ahead as planned. In this scenario, the two-month deadline would be significantly delayed and possibly abandoned. This would be prompted by major expansions to security cooperation between the US and Saudi Arabia, especially on air defence and maritime security. An indicator of worsening relations would be a total collapse of truce negotiations with the Houthis, with Riyadh blaming Iran for their failures.
In this scenario, tensions over the divided zone in the northern Gulf would also resurface and so too would hostile actions by Iran against Saudi and Kuwaiti interests there. The threat against Saudi interests would also extend to other theatres of conflict – namely pro-Iran militias from Iraq. Iran would probably also be intent on demonstrating to Saudi Arabia that rapprochement offers greater security guarantees (from cross-border attacks and Gulf waters) than the US.
Early-warning indicators
Open-ended delays to the two-month deadline to open embassies
Saudi Arabia signals normalisation with Israel after extracting more security guarantees from the US
Western intelligence warns of imminent attacks on Saudi interests on land and at sea from Iraq-based groups
A truce extension in Yemen fails, although cross-border attacks do not resume
Confirmation indicators 
Saudi Arabia accuses Iran directly of a maritime attack on Gulf waters
Saudi Arabia conducts military drills in Gulf waters that result in Iranian ships being seized and attacked
Pro-Iran militias in Iraq threaten to attack Saudi Arabia's cities and oil facilities
Saudi Arabia accuses Iran of prompting the Houthis to resume cross-border attacks on its territory
4. Engagement leads to close relationship (15%)
In this outlier scenario, a new era of regional cooperation between Tehran and Riyadh emerges. A security pact from 2001 would be revisited and a broader framework for regional security agreed, including cooperation on maritime and air defence. The impacts of this scenario would extend beyond security in Gulf waters and the war in Yemen, but to Iraq and Lebanon. Saudi Arabia would financially support these countries, which were previously hostile to it. This would almost certainly signal a significant decline in US influence in the Middle East.
Early indicators 
Saudi Arabia explicitly rules out any normalisation with Israel
Saudi/Iran trade deals press ahead in defiance of US sanctions
Saudi Arabia begins to remove US defence systems, replacing them with Iranian and Chinese technologies
Image: Newspapers in Tehran feature news on their front page about the China-brokered deal between Iran and Saudi Arabia to restore ties, signed in Beijing on 11 March 2023. Photo by Atta Kenare/AFP via Getty Images.