This assessment was issued to clients of Dragonfly's Security Intelligence & Analysis Service (SIAS) on 2 November 2023.
High oil prices and the waning effectiveness of Western oil sanctions have improved the previously negative outlook for Russia's economy in the coming year
This is likely to allow Russia to increase its military spending, and so extend the war in Ukraine
We also assess that this development makes the prospect of widespread civil unrest arising from economic hardship unlikely in the near term (up to one year ahead)
Russia's budget revenue has risen in recent months because of a rise in global oil prices and a narrowing of the discount that Russia offers on its own oil exports. Sustained high oil prices and the limited impact of Western crackdowns on the evasion of its oil sanctions on Russia are likely to support Russia's plans to increase military spending. The improved economic outlook also makes it doubtful that political instability in Russia in 2024 will be driven by hardship protests.
Russia to raise military spending by 70%
Russia's draft budget for 2024 suggests that its leaders are preparing for a protracted war in Ukraine. Defence spending is to rise by almost 70% next year, to Rb10.8 trillion (about $110 billion; see chart box below), according to this plan, taking it to the equivalent of 6% of estimated GDP for 2024. This is very high in international comparison. In contrast, planned spending on health and education is likely to fall in real terms next year, further underscoring the authorities' priorities. But the impact of the latter is likely to be less noticeable to the population than a widespread fall in incomes would have been had the economy remained in recession.
Russia's discount to rising global oil prices narrows
Recent economic developments would support Russia's military spending plans in the now-probable event they are sustained. A rise in global oil prices from mid-year 2023 is linked to a cut in output, led by Saudi Arabia and backed by Russia, and from October to war in the Middle East. Meanwhile, Western energy sanctions on Russia have become much less effective, owing to Russia assembling a 'ghost fleet' of oil tankers that operate outside Western shipping insurance markets. This means that Russia no longer has to sell its oil at as much of a discount as before (see chart).
As a result, rising exports have boosted Russia's budget revenue. Russia's US dollar earnings from oil exports rose in September to one of the highest monthly totals since the spike in world energy prices in mid-2022. Meanwhile, the weaker ruble has meant that Russia's foreign currency earnings are worth more at home. Raising the government's ruble revenue has, in turn, helped to bring the budget deficit back on track to meet its target for the year (as shown in the chart below).
High oil income likely to support war spending
Economic conditions will probably continue to remain broadly favourable to Russia next year. Most forecasts anticipate that global oil prices will stay high by historical standards over the coming year. In our assessment, moreover, the US is likely to carefully weigh up further crackdowns on sanctions evasion, such as its sanctioning in October of two shippers for breaching the oil price cap. This is for fear of the knock-on impact on oil prices, and so on global economic growth – and especially US growth – in the run-up to the US presidential election in November 2024. Thus, the West's ability to re-widen Russia's oil price discount in the near term appears limited.
It follows that Russia's oil export earnings are likely to remain high over this period. That would support its military spending plans and extend its capacity to prosecute the war in Ukraine. In our analysis, Russian leaders calculate that, in time, Western military and financial support for Ukraine will wane, so a long conflict works in their favour. There are already some signs of that. In late October, a new Slovak prime minister said his government would not back military aid to Ukraine, while in the US Congress, Republicans elected a speaker who has often voted against the same.
A sustained high oil income would also probably mitigate the risks of civil unrest and consequently regime instability – currently both moderate for Russia. That is because an improved outlook for public finances relieves the authorities of having to choose between spending on the war or protecting the population from its economic effects.
But many risks to domestic political stability remain
That said, many of the factors associated with regime instability have been in place in Russia since early 2023 and have not gone away. Those include the strikingly poor performance of the Russian armed forces in Ukraine, high military casualties and the unpopularity of military mobilisation, alongside still-tougher media and political repression at home. Moreover, Russia's invasion of Ukraine has turned many of the world's most economically advanced states against it. Those countries dominate global trade and finance, even as Russia's political security reach across former Soviet space has diminished.
Nor are these factors likely to diminish. The open rebellion by Wagner paramilitaries in June demonstrated serious divisions within Russia's coercive apparatus, a backbone of regime stability. And in October, Russia was forced to withdraw naval vessels further east from the strategically important Black Sea port of Sevastopol in occupied Crimea. Later in the month, police in Dagestan briefly appeared to lose control of a large crowd of protesters chanting antisemitic slogans. The latter raises questions about the capacity of the central state to maintain its authority across all of Russia's territory in wartime.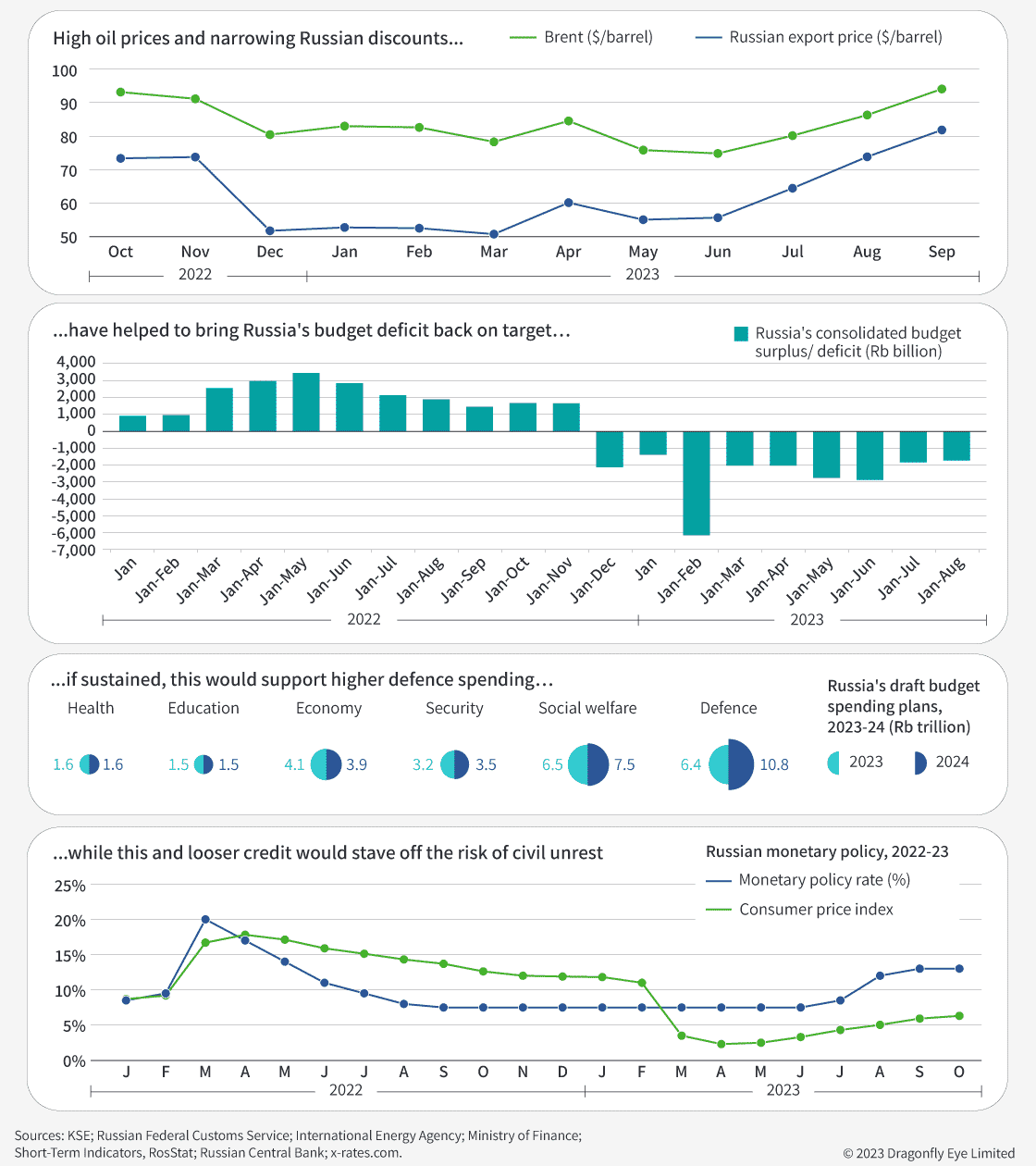 Image: Russian armed forces take part in the "Indestructible Brotherhood 2023" joint military drills by the Collective Rapid Response Forces of the Collective Security Treaty Organisation (CSTO) member states in Balykchy on 11 October 2023. Photo by Vyacheslav Oseledko/AFP via Getty Images.