This assessment was issued to clients of Dragonfly's Security Intelligence & Analysis Service (SIAS) on 14 March 2022. The report uses data from Dragonfly's TerrorismTracker database.
Islamic State (IS) has claimed three such attacks in recent months, seemingly as part of its 'economic war' in the country. These, and attacks on the construction sector, are likely to happen more frequently in the coming months. But they will continue to occur in relatively low numbers, and mostly in remote parts of the country, such as southern parts of Mindanao.
There has been a noticeable increase in jihadist attacks against critical infrastructure and construction in the Philippines in recent months, albeit from a low baseline. Based on our TerrorismTracker data, there have been at least five attacks against the energy and construction sector over the past six months compared with only one during the same period prior. All of these took place on the southern island of Mindanao. They targeted electricity transmission towers and pylons, as well as construction project sites.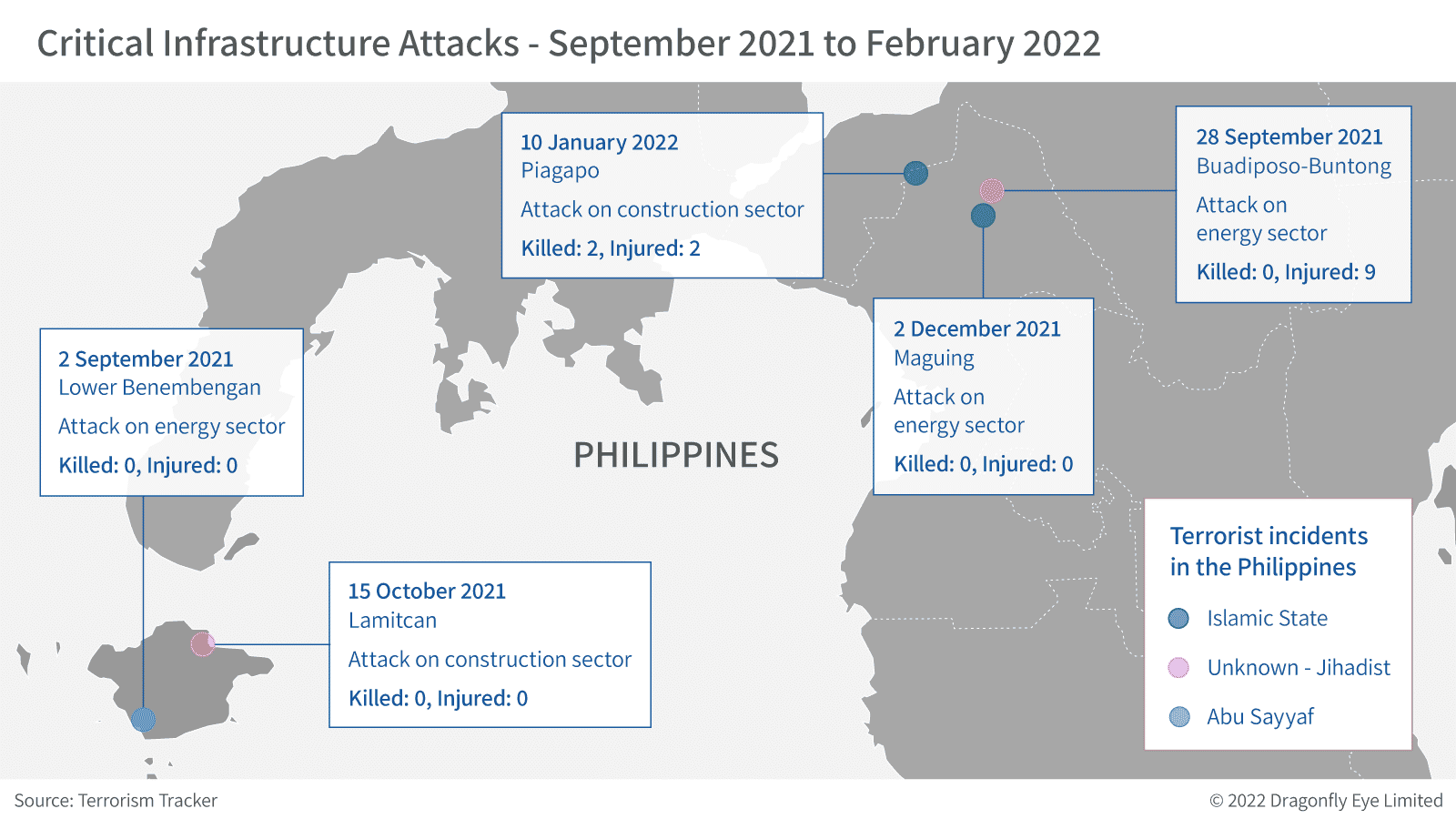 The recent attacks appear to be part of what IS calls an 'economic war' in the Philippines. Based on similar campaigns in Afghanistan and Nigeria, the group is seeking to weaken the state by mounting attacks on and disrupting critical infrastructure, particularly electricity pylons and transmission lines. The group first cited its 'economic war' in the Philippines in an attack claim on 30 November 2021 and has mounted three such attacks since. Most recently it reportedly mounted an IED attack against an electricity pylon in Lanao del Sur.
There is a high chance that IS and other jihadists will further increase the frequency of their attacks on critical infrastructure in the coming months. But these are unlikely to result in a significant change to the overall threat. Based on locations of recent attacks these are highly likely to mainly occur in remote parts of Mindanao in the southern parts of the country where IS and other jihadists already operate. And IS does not appear capable of mounting more than occasional attacks. Other militants will probably continue to struggle to carry out attacks that would inflict disruption beyond temporary or isolated power outages.
As a part of their strategy to undermine the state, jihadists are also likely to continue to mount attacks against other commercial targets. Construction is a well-established target; there have been three attacks against the sector in recent months. Although jihadists also seem to have financial motivations as local police said in 2018 that jihadists threatened several construction projects and asked for 'protection money'. Two recent attacks on such sites give police claims credence. In any case, these will probably be contained in Mindanao.
Image: Moro Islamic Liberation Front (MILF) troops stand along a road inside Camp Darapanan in Sultan Kudarat, Maguindanao on 23 April 2022, ahead of the upcoming presidential elections in May. Photo by Ferdinandh Cabrera/AFP via Getty Images.