This assessment was issued to clients of Dragonfly's Security Intelligence & Analysis Service (SIAS) on 6 February 2023.
Protests are likely, particularly in southern Nigeria immediately after the electoral results are published
A runoff is a less-than-likely (45%) scenario but would probably prompt a prolonged period of disruptive protests
Even in the case of prolonged protests, the military appears able to contain these and limit economic disruption
There seems to be a broad consensus that the governing party's presidential candidate, Bola Tinubu, is likely to win. This would probably lead to protests of several hundred people in major cities by opposition supporters following the election results. But we doubt these would become particularly violent.
That said, there is a moderate risk of pockets of unrest in areas where the opposition candidate Peter Obi is particularly popular. This includes Wuze district and the airport road in Abuja as well as Lekki and Ikeja districts in Lagos. But even if unrest becomes more widespread in the less than likely (45%) scenario of a runoff, the military appears to have the capability to contain these and resulting disruption. We assess that interference by the military in the electoral process is very unlikely on current indications.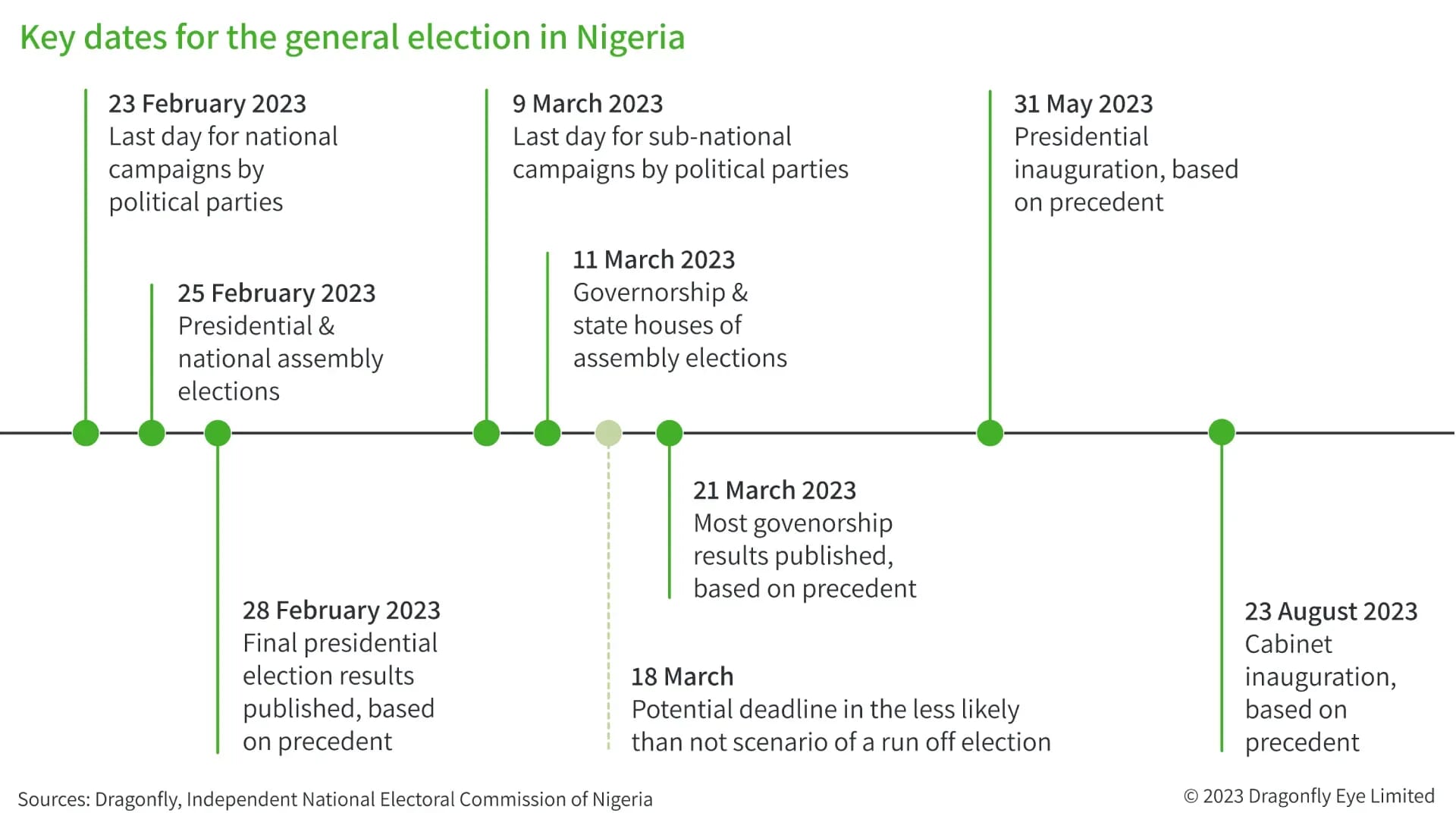 Protests around election day
Bola Tinubu is likely to be Nigeria's next president. This is in part because the current president– also a member of the ruling party – has distanced himself from Tinubu's campaign, inadvertently shielding him from public criticism. Recent unpopular government moves include a local currency swap. Opinion polls tend to favour the competitor, Peter Obi, but these appear to be skewed towards youth or city-based demographics, according to a local researcher we recently spoke with.
Sporadic and largely peaceful protests over electoral issues are likely countrywide on election day. But we doubt these will be particularly disruptive. Fervour around Peter Obi's candidacy suggests a higher-than-usual youth turnout is probable at the polls this year. Therefore we anticipate that a few hundred people will protest in areas where they perceive to be manipulation of voting (such as bribes) by local officials. In states like Anambra or Borno where local militants operate, smaller groups of people will also probably protest when they cannot access polling stations.
Tinubu likely to win
In a likely scenario of Tinubu winning the election, we would anticipate protests of several hundred people in major cities countrywide. These would most likely be organised by opposition parties. But we doubt these would last longer than a few weeks. This is because the opposition will almost certainly seek litigation. That process would probably be swift with the opposition likely to abide by the outcome. Any litigation would probably favour the announced electoral winner.
We still assess there is a moderate risk of isolated unrest in parts of Nigeria where Obi is popular, particularly among youth voters. Those appear to be 'increasingly radical'. Protesters typically gather around government sites or major roads and often throw stones at security forces or burn tyres. However, secure business and residential compounds are rarely affected, except by localised travel disruption. Such protests are probable in Lagos, Onitsha, Abuja as well as to a lesser extent in the north, Kanu and Sokoto.
The security forces appear capable of dispersing large crowds and containing riots. In the past year, they have been proactive in deterring large gatherings by intimidating protest organisers who have made protest calls. That said, where protesters have gathered spontaneously in previous years, security forces have used live ammunition and tear gas to disperse crowds. Should demonstrations of this kind occur in central or upmarket areas, there is a high risk of foreigners being caught up in any clashes between security forces and groups of protesters.
 A runoff scenario
A runoff, quite possibly between Obi and Tinubu, is a less-than-likely (45%) scenario, in our assessment. In the 21 days this would take, protests would highly likely become more widespread and raise the risk of unrest to high. This is because the electoral commission has little funding available, meaning procedural delays of several days are probable. Even in this scenario, we would anticipate security forces to be capable of stabilising the situation in economic hubs; Abuja and Lagos have multiple military bases so soldiers would most likely ensure major roads to the airport and other upmarket areas remain clear.
There is a low, but not insignificant chance (15%) of military interference in this runoff scenario. President Buhari himself was first installed through a military coup in 1983. But in recent decades, the military has distanced itself from the state's political arm.
The military is also probably very intent on keeping the current political elite in power to limit any economic disruption, in our analysis. Military leadership interests appear to lie in extractives; it appears to benefit both directly and indirectly from the oil sector. And as a potential Tinubu government would probably follow an economic policy that is similar to the previous government, the military would likely back him as a candidate.
Triggers for a deteriorating situation
For now, we assess that a rapidly deteriorating situation in which emergency protocols would need to be employed is unlikely. However, there are several developments that, if materialised, would lead us to reconsider this assessment.
A prolonged runoff process
A coordinated attack by separatists or jihadists on key polling stations in cities
The separatist leader, Nmandi Kanu, dies in state custody
The military  intervenes in the electoral process
These are in descending order of probability.
Image: Campaign poster of Bola Ahmed Tinubu and running mate Kashim Shettima at a bus stop in Lagos on 13 January 2023. Photo by Pius Utomi Ekpei / AFP via Getty Images.