This assessment was issued to clients of Dragonfly's Security Intelligence & Analysis Service (SIAS) on 2 June 2023.
We have lowered our terrorism threat level for Nepal from high to moderate. Attacks in the country have been rare in the past few years. This seems to be a result of a decline in the intent of Maoist militants to mount attacks; the leader of the country's most active faction (called Biplav) renounced violence in early 2021. Attacks occurred fairly frequently before then, especially in rural areas but also in Kathmandu. We now assess that there is only a reasonable chance of an attack in Nepal and the capital, and that any incidents would probably be crude and have a low impact.
Improved security
The pace of attacks in Nepal has fallen significantly over the past four years. According to our data, there have only been two attacks countrywide since May 2021, the last of which occurred the following May. This is compared with 101 terrorism incidents during the two years prior (see graph). In an apparent response to this trend, the UK FCDO on 24 May amended its advice about the terrorism threat in Nepal to state that 'terrorist attacks…can't be ruled out' there. It previously advised that 'terrorists are likely to try to carry out attacks' in Nepal.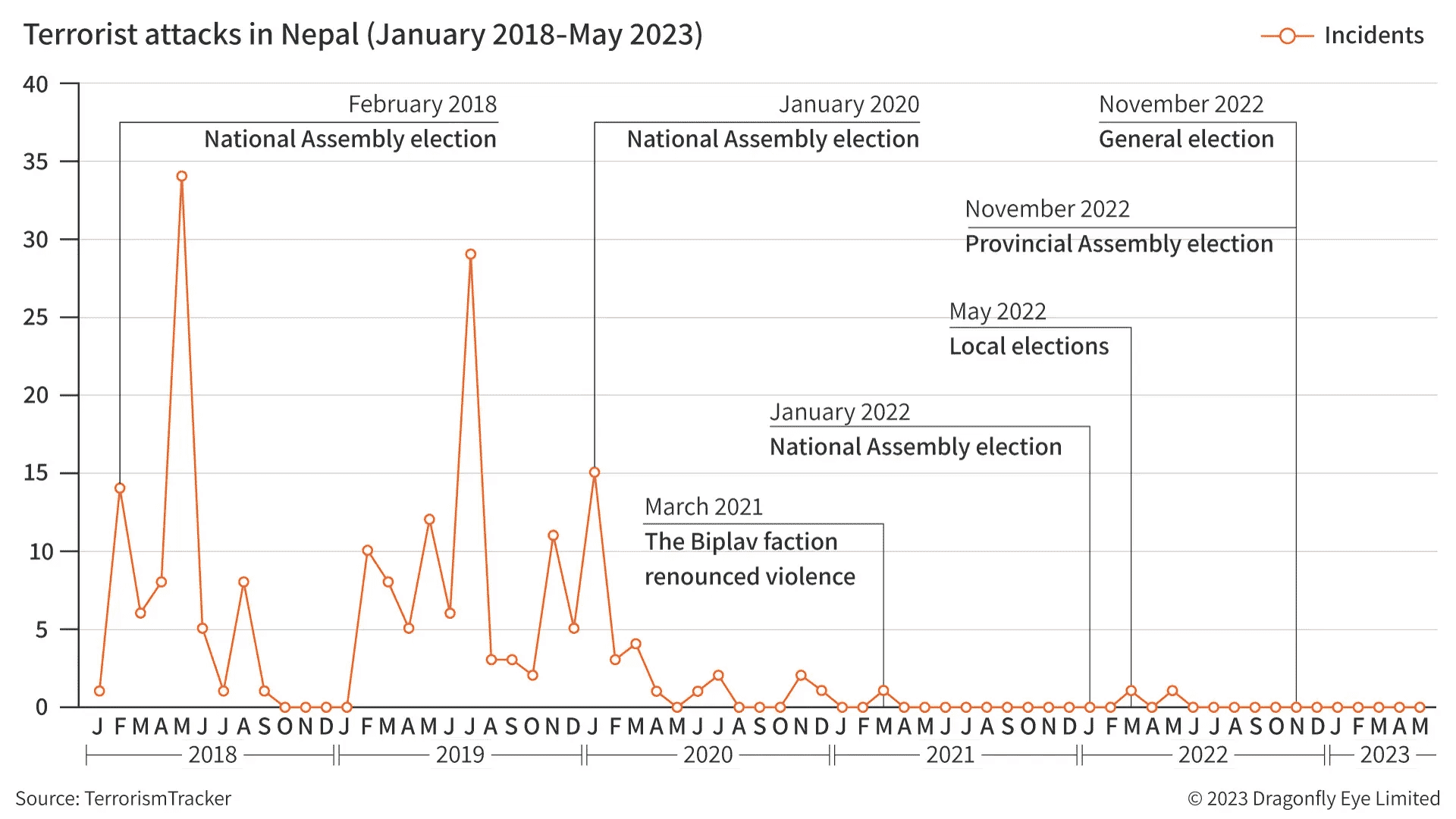 The Biplav faction has largely upheld its commitment to ending violence. Its leader signed an agreement with the then-prime minister in March 2021 to join 'peaceful politics', in return for the removal of a ban on the group and the release of its imprisoned members. The faction was responsible for a spike in the number of attacks in 2019. It mounted frequent crude bombings (often using pressure cookers) and arson attacks in rural areas, but sometimes in and around Kathmandu. These mostly resulted in minor material damage. Militants were also fairly brazen in their targeting then. Its highest-profile attacks include:
A bombing outside the office of the private mobile company Ncell in Lalitpur (south of Kathmandu) in February 2019, killing a civilian and injuring two others
Three bombings at the site of an India-funded hydropower project in February 2019, causing damage to the generator of the plant
Three consecutive bombings in and around Kathmandu in May 2019, killing four people who were all apparent militants involved in the attacks
Frequent arson and bomb attacks against telecom towers countrywide in 2019-2020
Threat outlook
Some factions are probably still intent on pursuing violence, in our analysis. This is based on the long-standing ideological resentment among hardline factions over Nepalese politics and what they view as the exploitation of domestic resources by politicians, companies and foreign states. In May 2022, there was a split among the Biplav-led Maoist political party over his decision to participate in local elections. In the last attack, we recorded in 2022, suspected Maoists left a leaflet at the bomb site urging people to boycott local polls. Given this and past attack trends, elections are likely to motivate militants to mount attacks.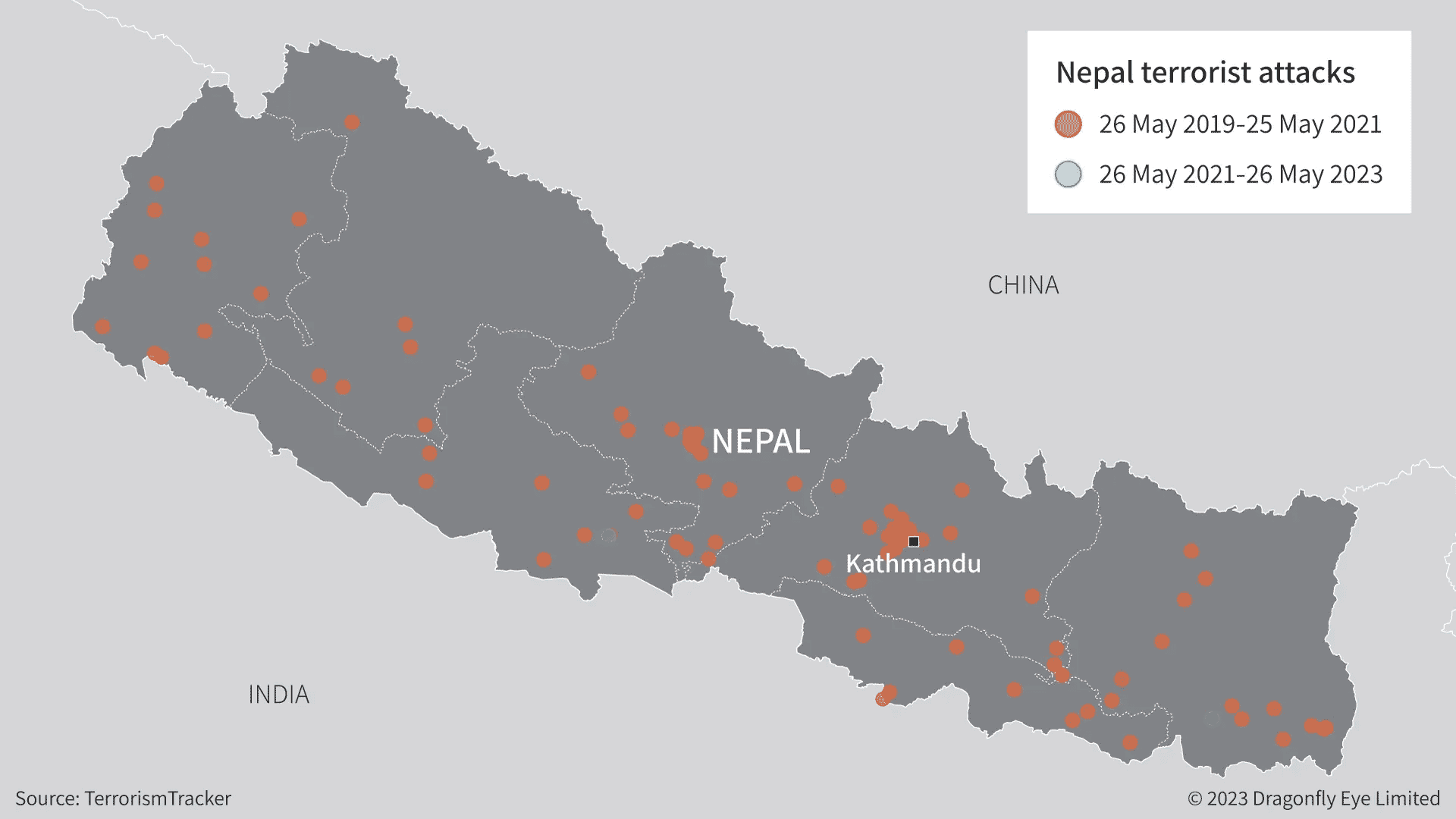 Based on their proven capabilities, any attacks by Maoists would probably involve arson and crude bombings. These have been consistent features of attacks in the past several years at least. Any attack would probably target state-linked sites (such as local government offices), as well as infrastructure and assets in the construction, energy and telecom sectors (such as telecom towers). This includes those owned or funded by foreign companies or states, based on past attacks. They have also used guns and knives against rival political figures or the security forces.
Despite several bombings inflicting civilian casualties in 2019, Maoist militants have in most cases refrained from deliberately targeting civilians. During strikes by militant factions, particularly between 2019 and 2020, they frequently planted pressure cooker bombs on streets in cities such as Pokhara. But groups had often called for people to shut down businesses and to stay at home prior to planting the devices. And the security forces often defused the majority of these during those strikes.
Image: Nepal's former guerrilla leader Pushpa Kamal Dahal gestures to media representatives in Bhaktapur on the outskirts of Kathmandu on 25 December 2022 as he leaves for the president's office to claim majority for his appointment as the new prime minister. Photo by Dipesh Shrestha/AFP via Getty Images.