This assessment was issued to clients of Dragonfly's Security Intelligence & Analysis Service (SIAS) on 8 September 2023.
The main risk to foreign travellers in Mexico City is likely to be petty crime
Officials have repeatedly claimed the city is becoming safer, citing a decline in violent crime
But robbery rates are likely to remain high throughout the city, aside from some neighbourhoods that are particularly frequented by foreigners
Officials have repeatedly claimed that Mexico City has become safer in recent years, citing a decline in violent crime rates. Anecdotally, some neighbourhoods frequented by foreigners have become safer, but violent robberies remain a risk in many neighbourhoods close to central areas, especially in the central Cuauhtemoc borough. And government data shows robbery rates remain high across the city, including in central areas. Our general crime risk rating for Mexico City is high.
Robbery rate remains high
Official data shows that violent crime rates are dropping across Mexico City. Last month, the head of the city government said there has been a 56% reduction in 'high-impact crime' in the first seven months of this year compared to the same period in 2019. This includes homicides, kidnappings and violent robberies. Citing this data, officials claimed violent crime dropped from 137.4 incidents a day in 2019 to 60.3 a day this year. And President Andres Manuel Lopez Obrador claimed last month that Mexico City is 'one of the safest' cities in the world.
People living in the city appear to be feeling safer too. A poll from the National Institute of Statistics and Geography found that the percentage of the population who felt insecure dropped 6.8 percentage points from June 2022 (61.3%) to June 2023 (54.5%). The boroughs where people felt the least insecure were Benito Juarez (19.8%), Cuajimalpa de Morelos (20.4%) and Miguel Hidalgo (38.4%). The boroughs where people felt the most insecure were Iztapalapa (75%), Xochimilco (72%) and Gustavo A. Madero (71%).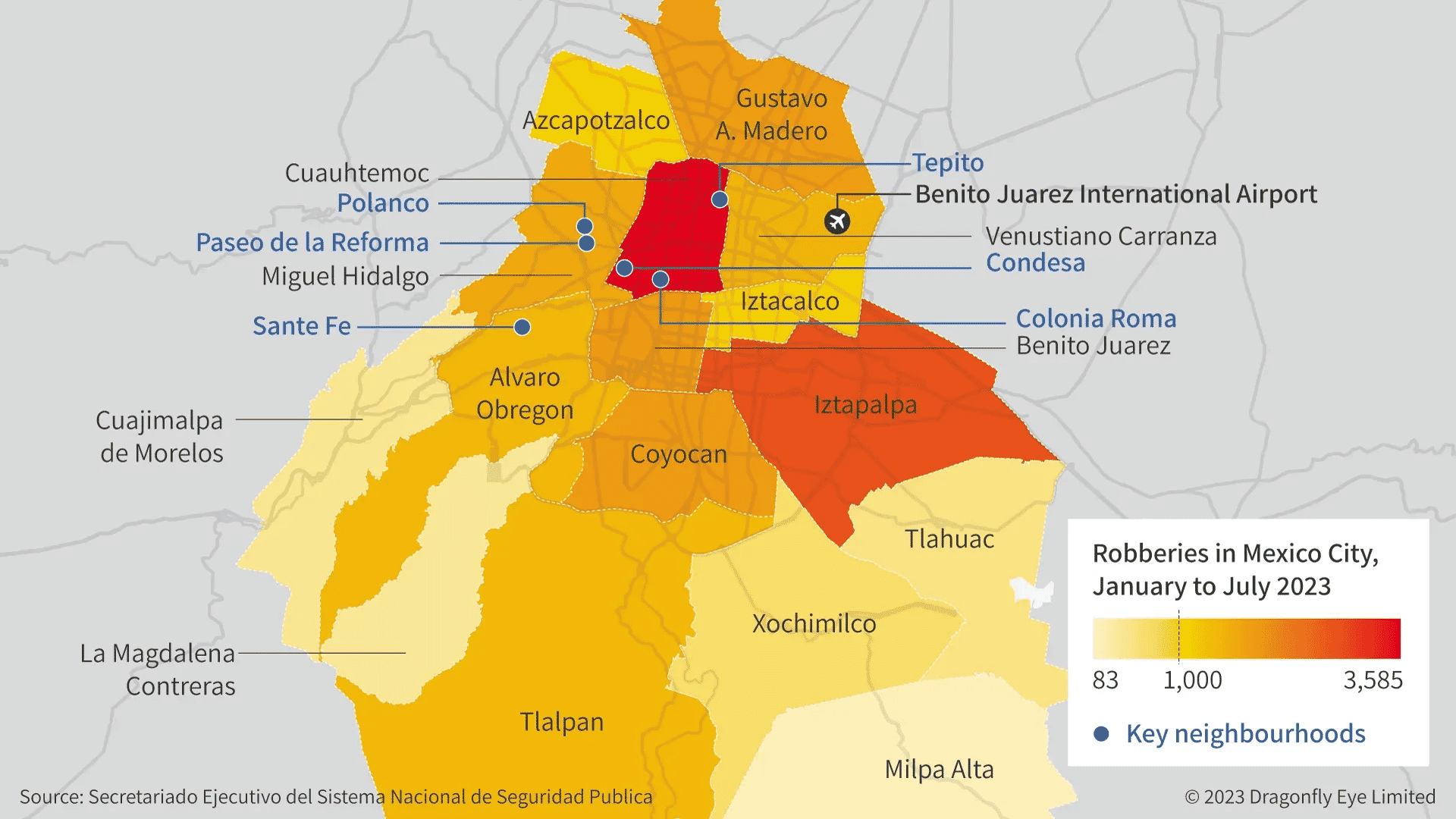 But official data shows that the frequency of robberies is rising citywide. Despite government data from earlier this year indicating that overall crime rates have been declining, data from July shows an increase in the frequency of robberies in all boroughs in the city. The highest rises were in Azcapotzalco (21%), Iztacalco (19%) and Cuajimalpa de Morelos (17%). The boroughs with the highest robbery rates were Cuauhtemoc, Iztapalpa and Benito Juarez.
Petty crime in central areas
Crime rates in neighbourhoods frequently visited by foreign travellers are likely to remain low, despite citywide trends. This is based on our analysis of the available data, supported by both anecdotal evidence and Western travel advisories. Those areas include Colonia Roma, Condesa and Paseo de la Reforma (Cuauhtemoc), Polanco (Miguel Hidalgo), Coyoacan Centre (Coyoacan) and Sante Fe (Cuajimalpa and Alvaro Obregon). Many of these neighbourhoods are adjacent to low-income areas where crime is high, but police patrols in tourist areas seem to keep robbery rates low.
For example, risks in the Cuauhtemoc borough are extremely varied depending on the neighbourhood. A Mexico City-based contact working at a major international hotel told us in July that muggings of foreign travellers around Reforma, Roma and Condesa are extremely rare, and the main risk in those areas is pickpockets. But robbery rates in the borough are nevertheless the highest in the city. Based on conversations a Dragonfly analyst had with local residents during a recent visit to Mexico City, violent robberies are common throughout other neighbourhoods. And the French government warns against travel to neighbourhoods in the north of Cuauhtemoc, such as Tepito.
Criminal tactics likely to remain the same
We have not seen any information to suggest that criminal tactics in Mexico City have changed in recent years. Most Western governments continue to warn mainly against wearing expensive clothing or jewellery. Some governments also warn of petty theft on public transport. Aside from the French government's warnings about neighbourhoods in Cuauhtemoc, most Western governments do not warn against travel to particular neighbourhoods. The US State Department only warns of caution to areas 'outside of the frequented tourist areas where police and security patrol more routinely'.
Image: A policeman speaks on his mobile phone outside Mexico's Casa de Moneda in Mexico City on 6 August 2019. Photo by Alfredo Estrella/AFP via Getty Images.