This assessment was issued to clients of Dragonfly's Security Intelligence & Analysis Service (SIAS) on 31 March 2022. The report uses data from Dragonfly's TerrorismTracker database.
Over the past five years at least, there has not been a marked increase in terrorist attacks during Ramadan according to our data. This trend is likely to continue. We only recorded a notable increase in the frequency of attacks during the holy month in 2020. But even then, attacks were mainly concentrated in countries where we assess there to be a critical terrorism threat, as in Iraq and Syria, as well as a severe threat, as in Mali.
So far, neither Islamic State nor Al-Qaeda have released any specific statements about Ramadan. This is not unusual. These groups typically publish messaging about the month once it begins. Last year, IS affiliates welcomed Ramadan as the 'month of jihad and conquests', and released more frequent messaging during the month. We recorded 184 claims of attacks by the group across the Middle East and North Africa region during Ramadan last year, up from 71 such claims in the month prior. IS itself claimed to have mounted '361 operations', mostly in Iraq and Syria, during Ramadan 2021.
It is unclear what was behind the spike in the frequency of terrorist attacks during Ramadan in 2020, as shown in the graph below. Attacks had already been rising in the two months before and dipped again after Ramadan. Although the difference appears drastic, fluctuations in the frequency of attacks are not unusual over the course of each year. And despite the spike in attacks, these still followed longer-term trends – most attacks occurred in countries with critical terrorism threats, specifically Iraq and Syria, followed by Mali where the threat is severe, and in areas of those countries where attacks are typically more common.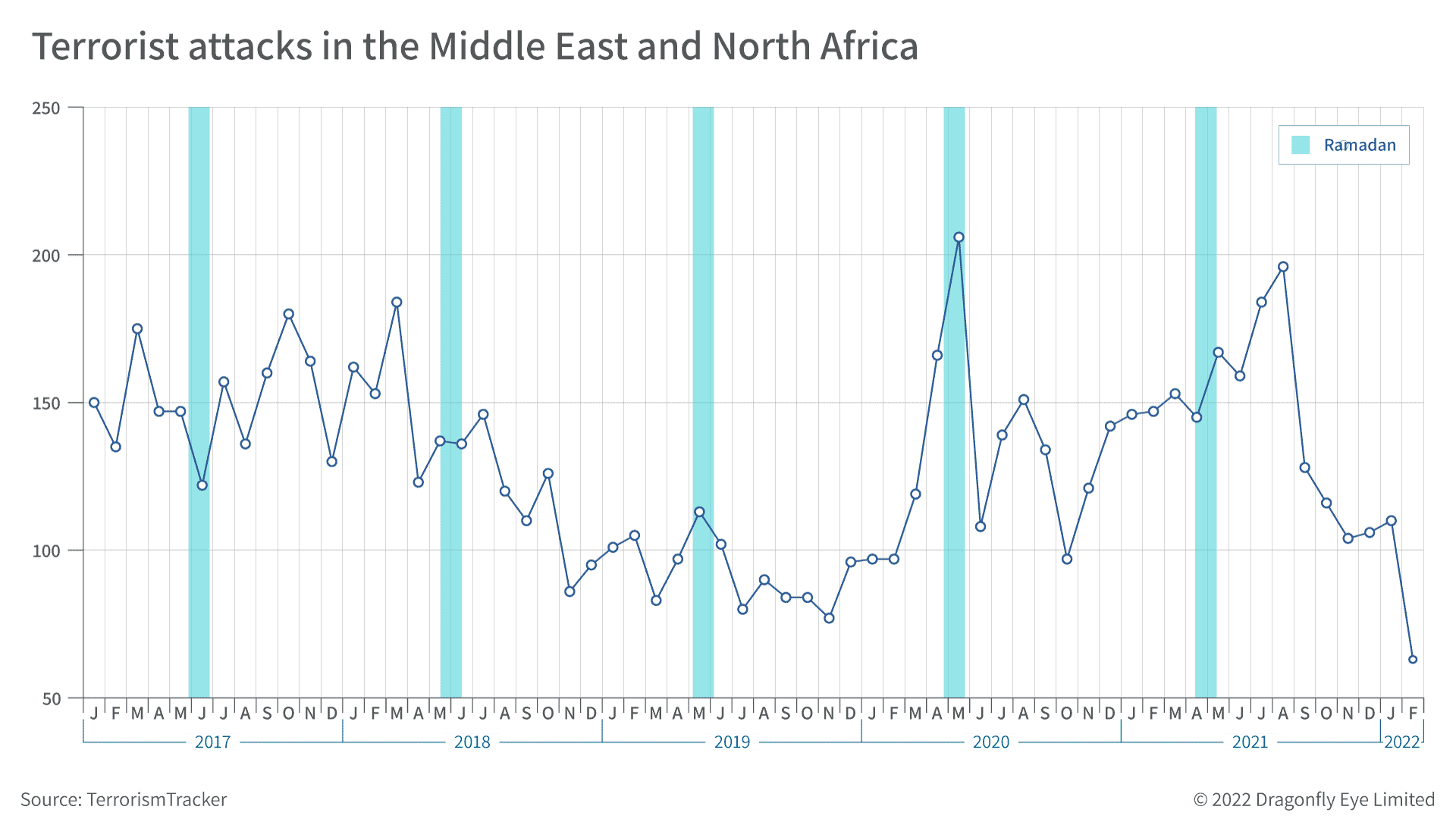 We have seen nothing to suggest a pattern of terrorist attacks being higher impact or more complex during Ramadan. For example, IS claimed responsibility for a bombing at a market in Baghdad's Sadr City on 15 April during Ramadan last year, which killed four people and wounded 17 others. But the group has proven generally capable of mounting attacks of this scale in Baghdad – a bombing at a market in the same neighbourhood killed 35 people and wounded 60 others on 19 July.
A substantive shift in location and targeting is also unlikely during Ramadan. Based on longer-term trends and observable patterns, most attacks will probably continue to be concentrated in Iraq, Syria and Mali, with several highly likely in Egypt's North Sinai province. We assess that terrorist groups in these countries have little reason to change established methods and tactics during the month. As such they will probably continue to use arms and bombs to target busy areas where large gatherings are likely, such as markets. They have previously also capitalised on lapses in security as well as targeting security forces around dusk when Muslims break their fast during Ramadan.
There is also a strong possibility of terrorist attacks in other countries in the region where we consider there to be a severe or substantial threat. This includes Algeria, Egypt, Israel, Palestine, Lebanon and Libya. Militants have had a persistently high intent to mount attacks in these countries in recent years. These will probably remain infrequent, however, with terrorist groups largely restricted to certain geographical areas and with limited capabilities. This trend is unlikely to change during Ramadan.
Image: Members of Iraq's Rapid Response military unit take part in a "counter-terrorism" training at a military base inside Baghdad International Airport. Photo by Ahmad Al-Rubaye via Getty Images.