Baringo and Elgeyo Marakwet counties, northeast of Nairobi have been the most affected this year. The increase this year is probably linked to the general election on 9 August, and we forecast that the pace of incidents will drop next year.
Amid a high pace of violent incidents so far this year, we forecast a spike following the general election on 9 August. The frequency of such events has typically risen during election years, our analysis of historical ACLED data shows. This is probably because during these, there have usually been more incidents of targeted political violence. And also because intercommunal conflicts have been particularly acute during these periods. Local politicians often incite such violence and campaign around these issues in election years.
The aftermath of the election this year is unlikely to be any different; the losing side will probably challenge the results. In recent months, the frontrunners Railia Odinga and Wiliam Ruto have made statements that have either cast doubt on the electoral commission's ability to run a fair vote or allege that the state apparatus plans to rig the results. A challenge by either side would be likely to lead to an increase in violent incidents, although we doubt that there would be widespread ethnically motivated violence similar to the 2007 election.
Our analysis of ACLED data has excluded all incidents conducted by Al-Shabaab.
Probable drivers for violence
The reason for the spike of violent incidents this year is probably due to the security forces' struggle to contain cattle rustling and activities by organised criminal gangs. Baringo, Elgeyo Marakwet, Isiolo, Laikipia and Turkana counties have been most affected by violence this year. ACLED attributed about 40% of all incidents this year to the ethnic Pokot militia (the highest amount for a single actor), who are mostly involved in armed attacks on rural villages, herders and security forces. In Marsabit, Mombasa and Nairobi, most violent incidents appear to be connected to organised criminal gangs.
Violence seems to have had a limited impact on the business operating environment. Over the past ten years, ACLED recorded only 17 incidents of reported targeted attacks against businesses. The real number is probably higher, given that ACLED data relies only on incidents reported in media outlets. Almost all of these involved attacks against individual businesspeople, probably linked to local disputes. And we are not aware of any large-scale attacks against businesses in recent years. But attacks linked to intercommunal violence frequently occur along roads. Due to the location of these incidents they tend to have at least a brief impact on traffic flows.
The areas with high levels of violence this year have also been consistent hotspots for such incidents over the past ten years. Our analysis of ACLED data shows that out of 47 counties, Baringo, Elgeyo Marakwet, Isiolo, Laikipia, Marsabit, Mombasa, Nairobi and Turkana have historically been the worst affected by violence over the past decade. Compared with 2012-2021, incidents in these areas have increased in frequency this year, most significantly in Elgeyo Marakwet and Marsabit.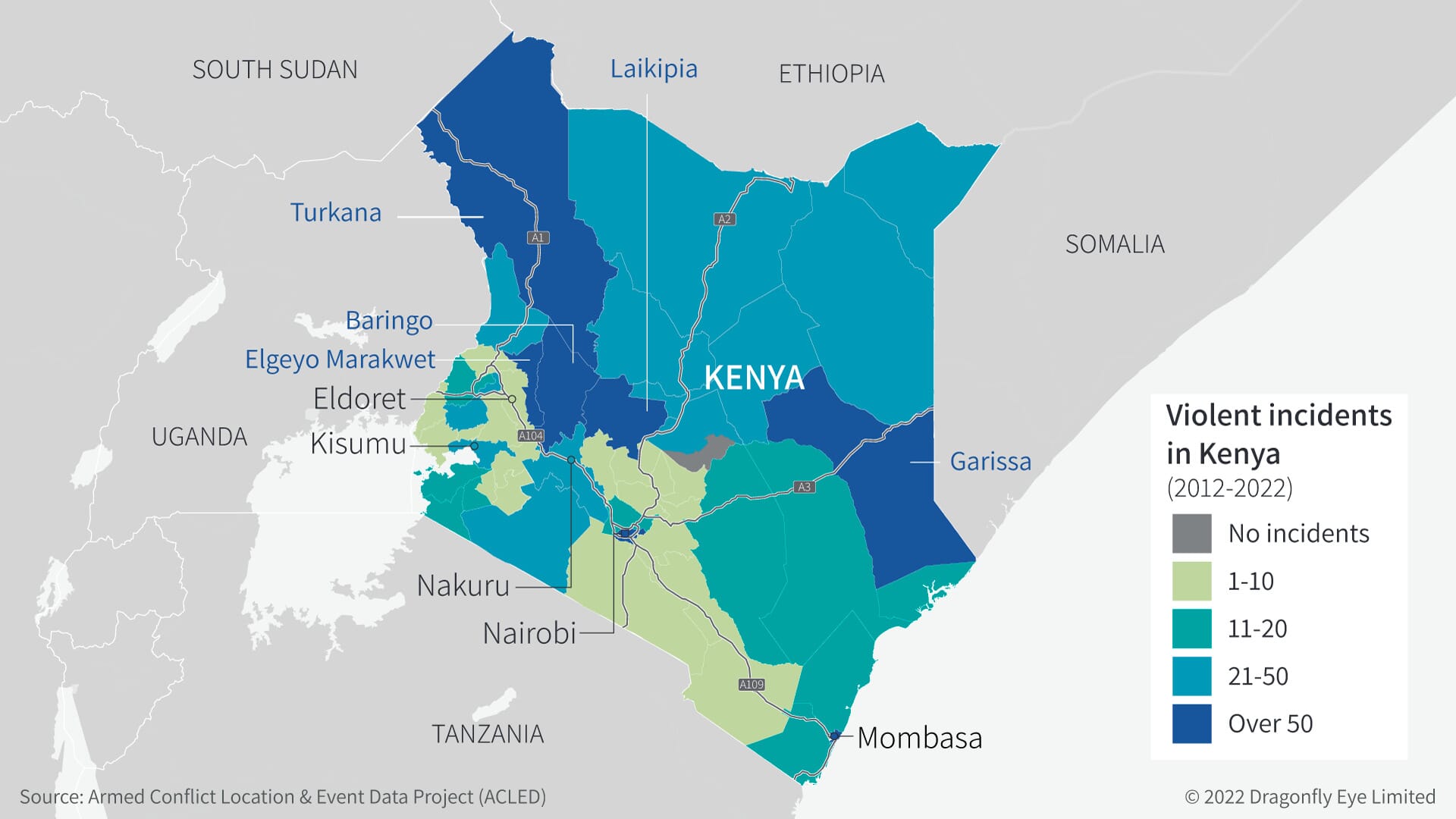 Outlook for 2023
The overall pace of violent incidents is likely to decrease going into 2023. The number of incidents in 2018 decreased by 35% compared with the election year in 2017. And in 2014 this number fell by 40% compared to the previous election year. We anticipate a similar drop in 2023 because barring post-poll violence risks, our overall security outlook for Kenya remains broadly positive. But given the high number of incidents this year, we project that there is still likely to be more than 200 total violent events in 2023, still much higher than in the most recent ten years.
CONTRIBUTORS: TW/LL-SV/MG/TN/JG
Image: Kenya's Deputy President and presidential candidate William Ruto of Kenya Kwanza political party gestures during the rally on the final day of campaigning at the Nyayo National Stadium in Nairobi on August 6, 2022, ahead of Kenya's general election scheduled for August 9, 2022. Photo by MARCO LONGARI/AFP via Getty Images