This assessment was issued to clients of Dragonfly's Security Intelligence & Analysis Service (SIAS) on 20 October 2023.
Overland travel to Amman from Israel and the West Bank is relatively undisrupted; there seems to be significant hotel availability in the city over the coming days
Acts of terrorism are likely to remain infrequent; our threat level for Amman is moderate but we assess there is a heightened intent among jihadists regionally to mount attacks
Amman remains a broadly safe and secure city for travel and operations, in our assessment. Several clients are in the process of, or preparing to, temporarily relocate their staff and/or operations to the Jordanian capital. This is due to the ongoing conflict between Israel and Hamas, as well as risks of a wider regional escalation, particularly involving Lebanon. Pro-Palestine protests of several thousand people in parts of the city are likely to become more frequent, disruptive and potentially violent over the coming weeks. We also assess that, like for much of the region, there is a heightened intent among jihadists to mount attacks against Israeli and US interests.
Amman appears to be one of the most favourable locations for companies trying to extract people from Israel and the West Bank. Travelling to Amman from those locations can be achieved by car. There are limited flight options from Ben Gurion Airport in Israel and few other options by sea beyond a US-government-sponsored ferry that is prioritising US citizens. There are also frequent international flights from Queen Alia International Airport in Amman. There also seems to be availability of hotel rooms in the city in the coming days, based on online hotel booking sites.
Large disruptive protests likely over the coming weeks
Large and disruptive pro-Palestine protests are likely to be one of the main risks for organisations in Amman over the coming weeks. This is particularly in the evenings and after Friday prayers. Based on protests over the past two weeks, several thousand people are likely to attend these in the eastern part of the city centre, such as on Prince Muhammad, King Talal and Quraysh streets, as well as around mosques. Protests are also likely around the Israeli Embassy in Tla Al-Ali in northwestern Amman, the French Embassy in Jabal Amman (downtown), and the US Embassy in Abdoun in southwestern Amman. We have seen renewed calls by activists online for such demonstrations today, 20 October.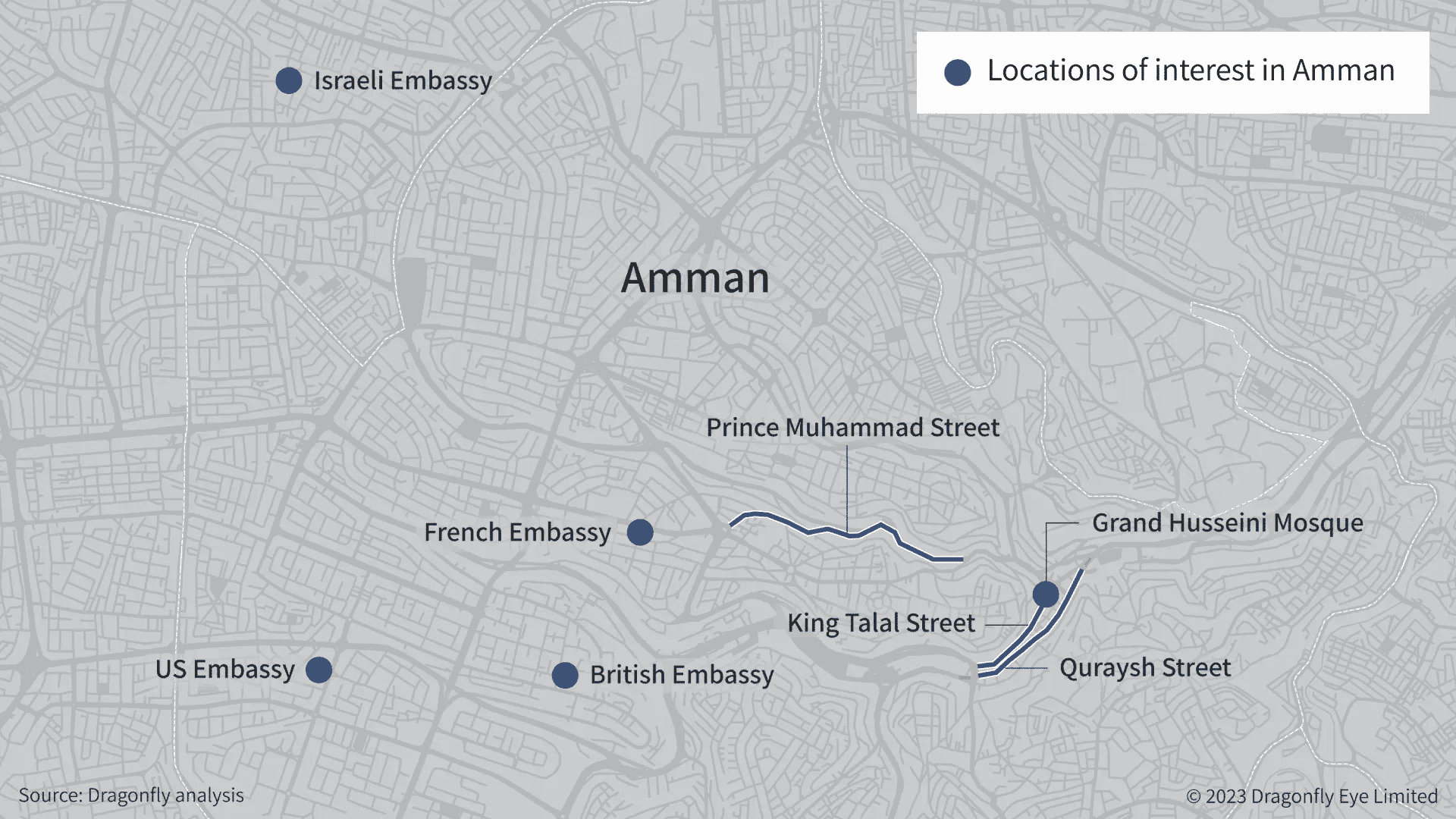 Official road closures implemented at short notice around those areas are highly likely, causing severe traffic disruptions. While the security forces will probably contain any unrest to the vicinity of protest sites, participants are very likely to throw rocks, burn tyres and attempt to breach the gates of diplomatic missions and set fire to such buildings. This would very probably result in officers firing tear gas and other forceful means to disperse protesters.
Heightened jihadist intent
Our terrorism threat level for the capital remains at moderate, but we assess that jihadists have a heightened intent to conduct attacks in the Middle East more broadly and in Amman. Terrorist groups seem to be taking advantage of the conflict to inspire would-be attackers; Al-Qaeda in the Arabian Peninsula (AQAP) on 9 October called for their followers in Jordan to 'support [their] brothers'. The Jordanian authorities have not reported on any terrorist incidents or plots in the capital over the past two weeks.
However, any would-be-attackers in Amman probably do not have much capability to mount attacks. The last incident in the country was in November 2019, when an individual armed with a knife wounded eight civilians at the Hippodrome in Jerash city. No group claimed responsibility for that attack. The last incident in which more than five people were killed was in December 2016: IS-affiliated gunmen killed ten people in an attack in the city of Kerak (90km south of Amman). Islamic State claimed responsibility.
Reflecting these capabilities, the most likely form of an attack in our assessment would be a lone actor crudely executing a stabbing or shooting against Israeli or Western diplomatic sites or staff. But they would also be likely to target the security forces if extremists perceive them to be acting against the Palestinian cause, for example by forcefully containing protests as they have done in recent days. Based on our data, the last attack in the capital was in September 2016 when a gunman killed a person outside of the Supreme Court.
Jordan highly unlikely to get drawn into the conflict
We highly doubt that Jordan would get involved militarily in the Israel-Hamas conflict. Since the 17 October blast at a hospital in Gaza, which killed a few hundred people, the Kingdom has taken a stronger diplomatic stance towards Israel over the conflict. King Abdullah II cancelled a meeting with US President Biden on how to contain the conflict, which was scheduled for 18 October. However, Jordanian responses are highly likely to be limited to the diplomatic sphere, even if the conflict does escalate further. Jordan has always put its domestic security before its tensions with Israel and we have not seen any signs that this is likely to change.
Amman remains broadly safe, despite occasional petty crime
Aside from ongoing disruptions due to protests, Amman is highly likely to remain safe and secure for travel and operations into 2024; our safety and security risk level for the capital is low. The monarchy and government are likely to remain broadly resilient, as they maintain a strong grip on political institutions and the security forces. The latter are capable of maintaining and enforcing law and order, and tackling perceived security threats.
Petty crime is likely to remain the main day-to-day operational risk for travellers in Amman. That includes pickpocketing and bag or phone-snatching. But even that is fairly uncommon and confined to places popular with tourists, such as downtown Amman. The authorities do not routinely report data on criminal activity, but our monitoring of local media reports suggests that crime – whether petty or violent – has not been a major concern in recent years despite a slight increase in 2022, compared with 2021.
Reckless driving is also likely to remain a key concern, though roads are mainly safe. There still lacks a significant punishment for driving errors and law violations, which the local Public Security Directorate cited earlier this year as being the reason for more than 90% of the car accidents in Jordan between 2017–2022. But in a sign that this trend is on a positive trajectory, the number of driving accidents has decreased this year after reaching a record high of 169,409 in 2022. This is based on local media citing the Public Security Directorate following increased legal measures against those who break traffic laws. But a significant improvement would probably require several years at least.
Image: Demonstrators chant slogans near the Israeli Embassy to show solidarity with the Palestinians of the Gaza Strip in Amman, Jordan, on 20 October 2023. Photo by Khalil Mazraawi/AFP via Getty Images.