This assessment was issued to clients of Dragonfly's Security Intelligence & Analysis Service (SIAS) on 23 May 2023.
Flood-related disruption to businesses and overland travel in northern Italy are likely to persist over the coming weeks, at least
Floods have become increasingly frequent and severe countrywide in recent years
The government appears ill-equipped to mitigate compounding disruption from weather-related events
Climate data suggests floods – which have killed 14 people and displaced up to 20,000 in the northern Emilia-Romagna region this month – have increased in frequency and severity. Government resilience plans are seemingly unable to mitigate their impact. So we anticipate floods to disrupt business operations, supply chains, overland travel and public transport over the coming months and years.
Ongoing disruption in Emilia-Romagna
Disruption to business operations and overland travel in Emilia-Romagna will probably persist over the coming weeks, at least. The authorities have maintained a 'red alert' weather warning this month for several provinces in the region, including Bologna, due to unusually heavy rain and floods. These have killed at least 14 people and displaced tens of thousands. And Enel, Italy's electricity provider, said that tens of thousands of users have experienced power disruption. We recently raised our climatic risk rating for Bologna from moderate to high.
Government resilience plans to prevent flood-related disruption appear to be weak. Meteorologists and environmental societies have strongly criticised the authorities' response to the floods. In a sign of this, the Italian Court of Auditors found recently that up to €8 billion earmarked for flood risk mitigation spending in Italy has not yet been used. And, according to the usually reliable outlet La Repubblica, 11,000 planned risk mitigation projects, such as reservoirs, canals and reinforced embankments have stalled since 2018, despite having financing approved already.
The government's lack of proactive measures appears to be compounding disruption from floods. In an investigation into the recent floods in Emilia-Romagna, the Court of Auditors said governments in power in recent years have lacked the project management and technical capabilities necessary to make progress with hydrogeological works. This includes experienced personnel at the municipal level, who environmental societies say are necessary to carry out risk mitigation projects on the scale required.
Worsening overall flooding trend
The stalled investment in infrastructure and mitigation has probably left large parts of Italy vulnerable to changing climatic trends. The frequency and intensity of floods in Italy overall appear to have increased since 2017. According to data gathered by Legambiente, an Italian environmental association, there were 105 floods in 2022; this is more than three times the average yearly number (33) between 2010 and 2020.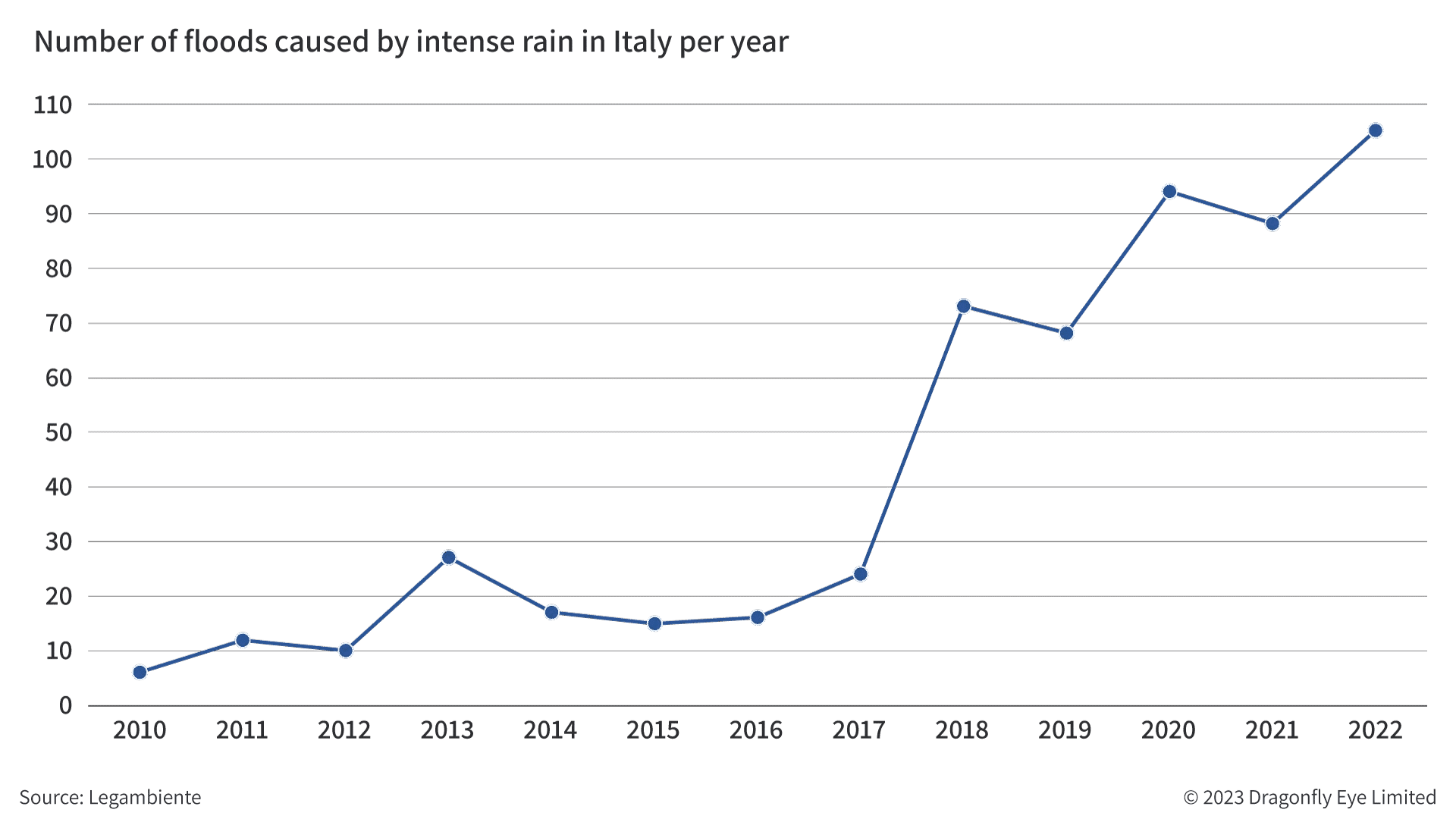 This trend is likely to continue over the coming years, based on climate prediction models. The EU organisation, the Copernicus Earth observation programme, suggests changes in weather patterns in recent years, including more severe droughts and heavier rainfall, are probably behind the increased frequency of floods. Their data shows that low-rainfall periods in Europe are becoming increasingly drier. This leads to under-saturated soil, which increases the accumulation of surface water during periods of increasingly heavy rainfall.
Vulnerability to flooding highest in northern regions
The Emilia-Romagna region seems to be the most at risk of destructive flooding in Italy, according to ISPRA, the government's environmental institute. PreventionWeb, a UN disaster risk reduction platform, says the Po River basin – which includes Emilia-Romagna as well as the regions of Aosta Valley, Liguria, Lombardy, Piedmont, Tuscany and Veneto – is the area of the country most vulnerable to destructive flooding. Data from Legambiente also suggests that Sicily, Lombardy (which includes Milan) and Lazio (Rome), have been prone to more frequent floods since 2010 (see map), with major cities seemingly at higher risk.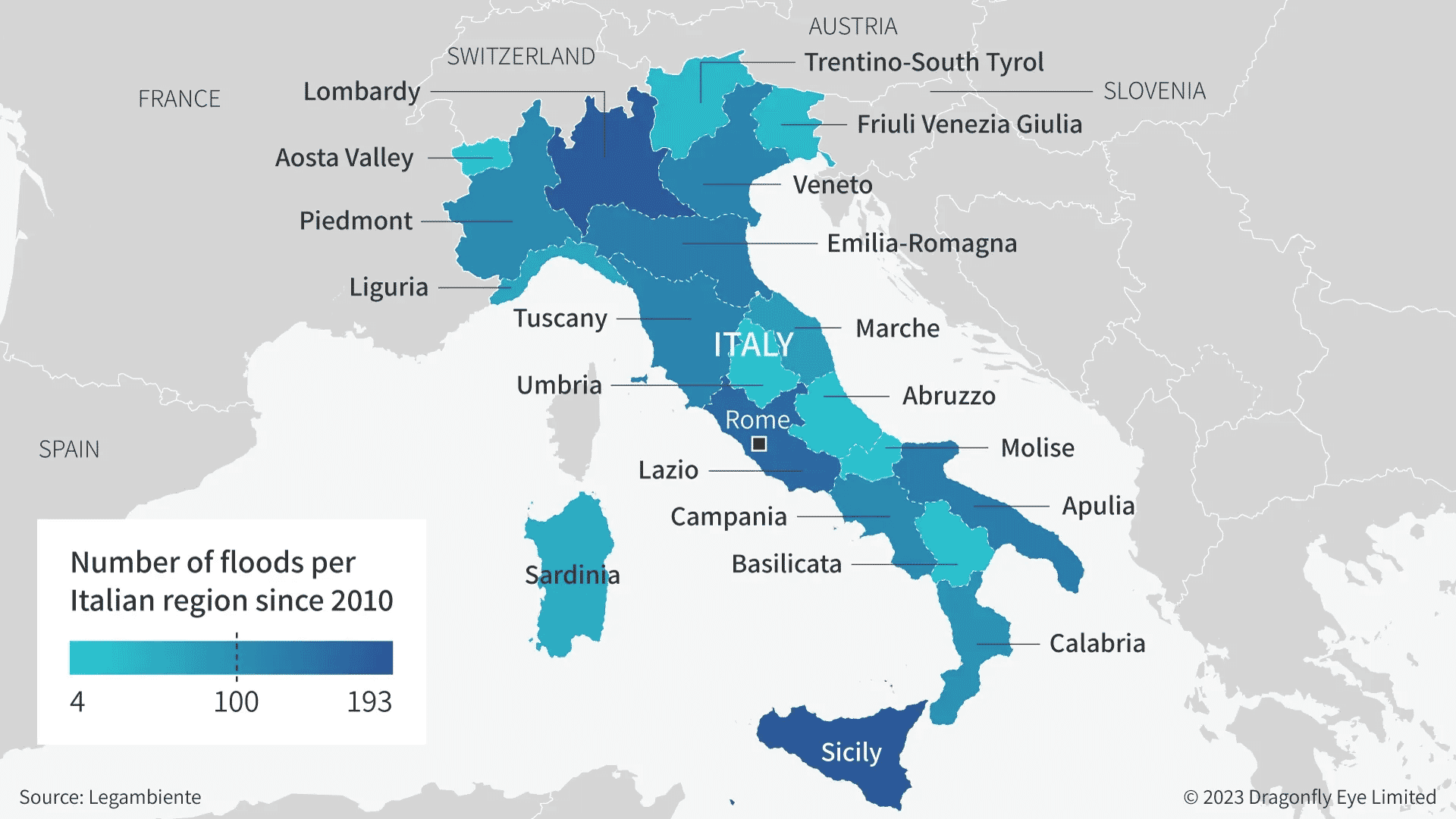 Agricultural production, goods distribution and any business dependent on land supply chains in northern regions – within the Po Basin area in particular – will probably be disproportionately affected by flooding over the coming years. Train services and power networks are also commonly subject to disruption in flood-affected regions; several regional and inter-regional rail services were cancelled or heavily delayed in Emilia-Romagna this month. Air transport appears largely resilient; recent floods have rarely caused significant disruption to roads leading to, or operations at, major airports.
Image: A man wades through a flooded street in Conselice, near Ravenna, Italy, on 21 May 2023. Photo by Emanuele Cremaschi via Getty Images.