This assessment was issued to clients of Dragonfly's Security Intelligence & Analysis Service (SIAS) on 14 July 2022.
This is likely to accentuate already poor socio-economic conditions over the long term with wide-ranging repercussions, including commodity price hikes, resource shortages and inter-communal violence. As a consequence, we have raised our moderate climatic risk ratings for Ethiopia, Kenya and Somalia.
Unprecedented drought unlikely to ease
The region has suffered from four consecutive below-average rain seasons since late 2020, leading the WHO to classify the drought as a grade three health emergency, the agency's highest crisis rating. Harvest levels have dropped 70% below average in affected areas. This has led to shortages of staples and a steep increase in prices. In Ethiopia, the IMF recorded a 42% hike in food prices in April compared with the same time last year. Already low crop yields have also been compounded by external factors such as the rise in fertiliser prices due to the conflict in Ukraine.
There is a very low chance that the causes or consequences of the drought will improve before the end of the year. The FAO recently said that there is a 'concrete risk that the October-December rainy season could also fail'. According to Food Security and Nutrition Working Group figures published in May, around 20m people will face high levels of acute food insecurity by September. Predicted rainfall shortages alongside deeply ingrained security challenges mean that governments will likely continue to struggle to provide adequate assistance.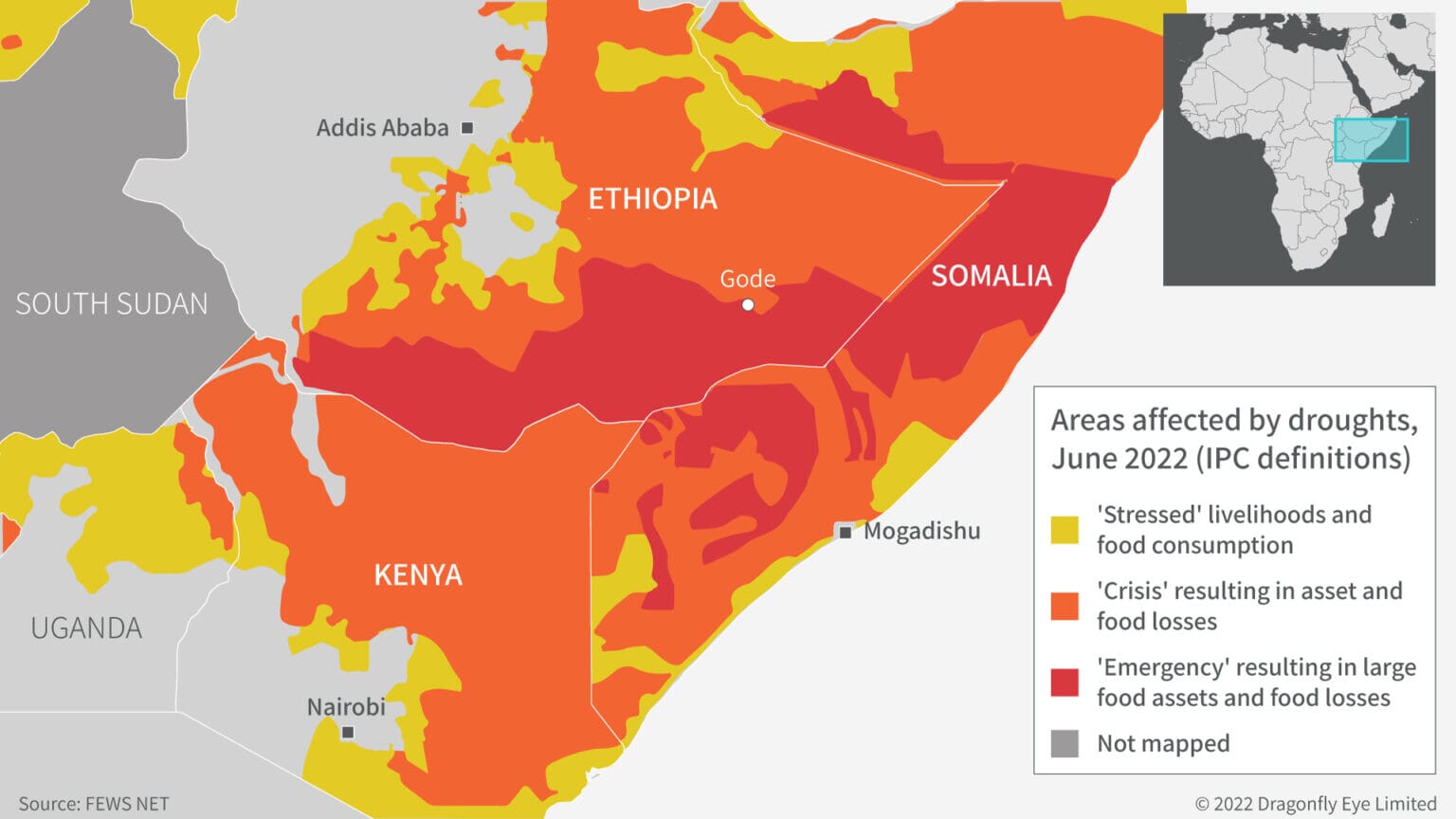 Communal violence affecting road networks
Resource scarcity will continue to be a key driver of inter-communal violence in the coming months, particularly in Kenya. So far this year, the Armed Conflict Location & Event Data Project (ACLED) has recorded 68 conflictual instances involving cattle herders and pastoralist communities in Kenya, compared with 26 recorded between 2018-2021. Ethiopia and Somalia similarly have large pastoral and agricultural communities that are highly dependent on regular weather patterns. Forced migration driven by competition over available water and arable land will likely reinforce long-standing ethnic tensions and violent confrontations in the second half of 2022 at least.
These attacks are no longer confined to rural areas and are already affecting business operations, ACLED data shows. Bandits have recently targeted major road networks in roadside ambushes, such as along the A1 road in Kenya. Incidents have been most prominent in Baringo and Elgeyo Marakwet counties, Kenya, and the Somali region of Ethiopia, where droughts have been more impactful. In a report published in June, the World Meteorological Organisation forecast worsening conditions in parts of eastern Kenya and central Ethiopia, where we would expect such violence to rise in the second half of the year.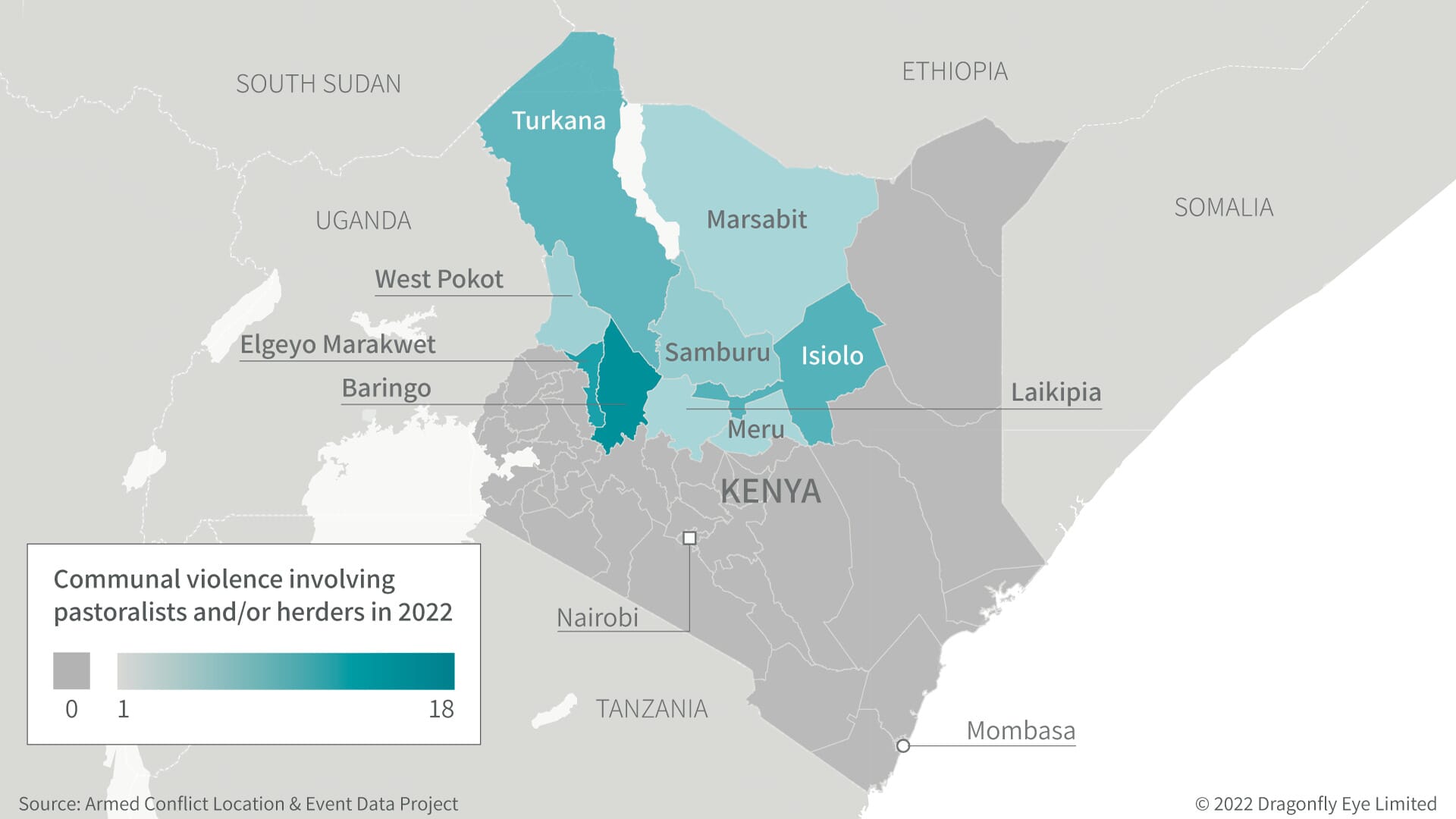 States facing further pressure
In Somalia, Al-Shabaab is likely to take advantage of these issues to further assert its position in southern and central areas of the country. In March, the group formed a committee to visit affected communities and enhance its legitimacy as a service provider, claiming international humanitarian assistance as its own. Somalia received over 90% of its wheat imports from Russia and Ukraine, which are essential in humanitarian procurements. With current shortages, the government will probably struggle to provide assistance of its own, allowing Al-Shabaab opportunities to temporarily fill this gap across rural areas.
We anticipate that other armed groups operating in Ethiopia and Kenya will probably attempt to consolidate their position using similar tactics. But we expect them to be less successful as governance structures there are comparatively stronger. The Oromo Liberation Front in a press statement last year blamed the authorities for deliberately ignoring the drought in a bid to exacerbate anti-government sentiment in Oromia. While it has increased its pace of attacks this year, the government still enjoys widespread public support there, including from large parts of the Oromo population.
The impacts of the droughts will very probably compound existing anti-government sentiment in the region over the long term. This is because there is a high likelihood that the authorities will be unable to provide adequate assistance. The government in Ethiopia is currently engaged in a civil conflict in Tigray while vast areas of Somalia remain under the control of jihadists. Socio-economic grievances, albeit intensified by the drought, are unlikely to lead to widespread unrest in the coming months, however. But isolated protests, particularly over recent price hikes, will likely take place in regional capitals and the worst affected areas.
Image: A girl fetches water at a pond in Moroto, Karamoja region, Uganda, on 23 May 2022. Photo by Badru Katumba/AFP via Getty Images.