This assessment was issued to clients of Dragonfly's Security Intelligence & Analysis Service (SIAS) on 19 July 2022.
The security forces seem unable to prevent or contain gang turf wars in slums there. Such bouts of violence have become more frequent and lethal since April, a trend that we assess is highly likely to persist in the coming months. A critical risk of kidnap and a severe civil unrest risk will probably continue to be the main risks for foreigners in Haiti. And frequent gang-led roadblocks will almost certainly continue severely disrupting overland travel, including to the international airport, during this time.
Gang violence on the rise
Gang turf wars have been driving recurring bouts of violence in Haiti's capital. Between 8-12 July, 234 people were killed during a territorial dispute in the western neighbourhood of Cite Soleil, according to UN estimates. The local authorities have said the fighting involved the country's two most powerful gangs: the G-9 and the G-Pep. This was after a similar – but probably unrelated – dispute from 24 April and 3 May in the northeastern suburb of Croix-des-Bouquets between the 400 Mawozo and the Chen Mechan gangs. The fairly reliable NGO National Human Rights Defence Network estimated that 148 people were killed then.
Periods of gang fighting like these have become more frequent and violent in recent months. Data from the UN Department for Safety and Security show that the number of homicides has gone up 62% in Port-au-Prince from January to May (from 149 to 201) this year. The authorities have not published homicide data for June or July. But based on the UN estimate during the most recent turf war last week, July figures so far (234) will probably be higher than the whole month of May (201). This is shown in the graph above. So have kidnaps, one of the main sources of income for gangs.
The recent fighting has revealed some changes in inter-gang dynamics in Haiti. The country has a long history of turf wars, but its roughly 200 active gangs usually fight against each other. But they seem more willing than before to join one of the two largest groups, the G-9 and the G-Pep, in their territorial disputes. This happened, according to local media, when the 400 Mawozo allegedly joined forces with G-Pep during the April-May fighting; its rival then, the Chen Mechan, has been fighting along the G-9 in the turf war last week, according to the Miami Herald.
Near-term security outlook
With alliances boosting gangs' firepower, bouts of violence are likely to be of similar intensity as the one in Cite Soleil last week. This is also to a great extent due to few indications that security forces will be able to contain inter-gang fighting. The local authorities were reportedly unable to access the Cite Soleil area for several days during the recent fighting, and in June they were also unable to secure a courthouse in Croix-des-Bouquets after it was stormed by the 400 Mawozo gang to stop one of its members from being prosecuted. Gangs also probably have a strong influence within the Haitian police force: high-profile gang members, such as Jimmy "Barbecue" Cherizier, the G-9 leader, are former police officers.
Based on patterns of violence in recent months, future bouts will probably take place in areas disputed by gangs such as Cite Soleil, Martissant, and Delmas. These appear to be where, by February this year, at least two gangs were present. This is according to an investigation published by Insight Crime, an outlet that monitors organised crime in the Americas; as well as our own research, based on local media and Western government reports.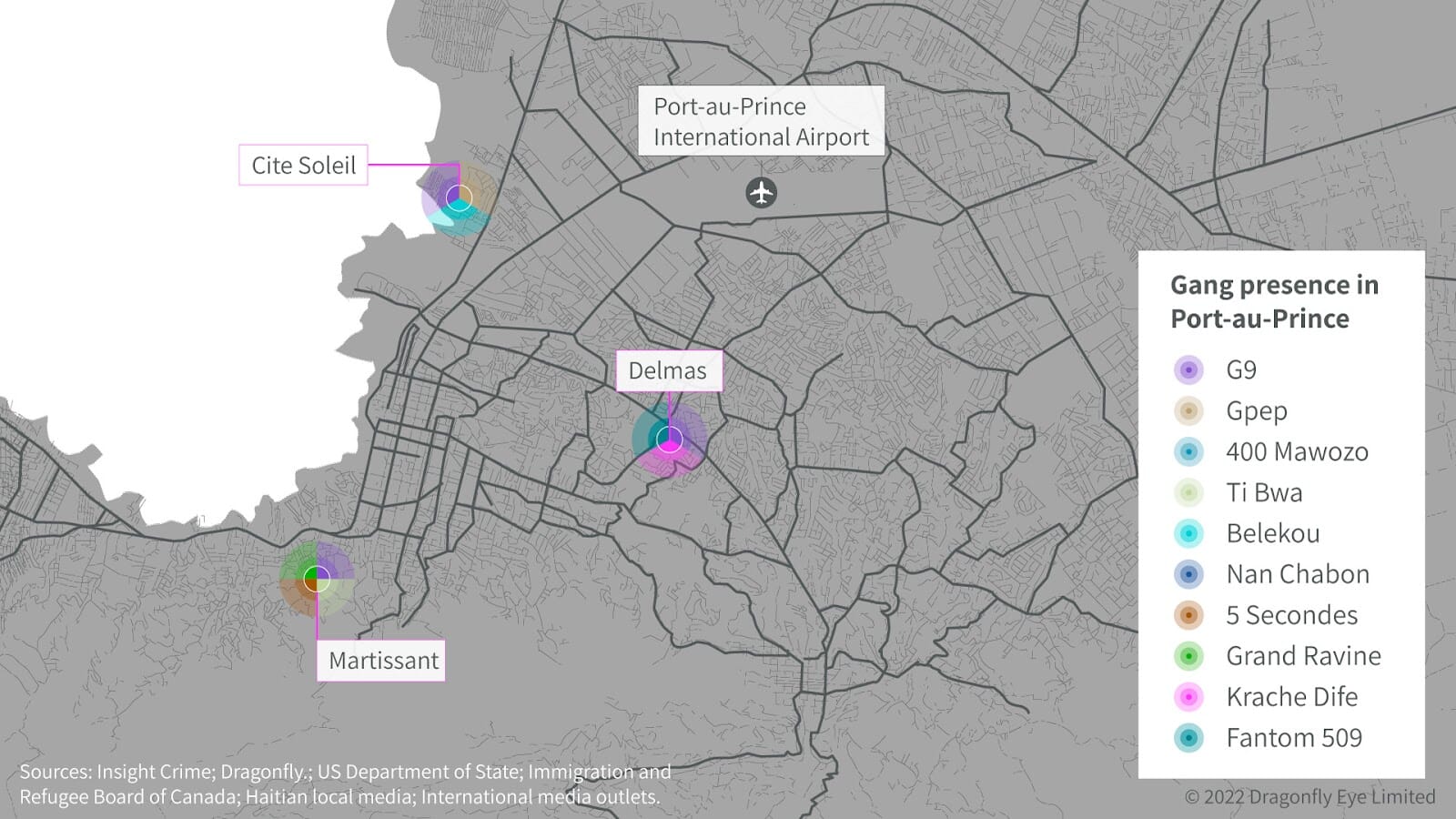 Civil unrest and kidnap risks
Episodes of civil unrest are very likely to occur during or after these bouts of gang violence. This is because the violence adds to the multiple grievances Haitians face. Apart from the deteriorating security situation, living conditions have further worsened since the Russian invasion of Ukraine and local unions have frequently demonstrated in recent months to demand the resignation of President Ariel Henry due to rising living and fuel costs. This happened during the Cite Soleil fighting last week, with the turf wars leading to violent protests around that area.
These protests over insecurity pose, in our analysis, a greater risk for most foreigners and organisations operating in Port-au-Prince than turf wars; foreigners are rarely a direct target of gang violence during armed disputes. Also, the fighting is very much concentrated in the low-income areas that gangs control. But violent protests in response to these have frequently occurred in areas where international organisations operate and along major roads. So we do not anticipate lowering our civil unrest risk for Haiti from severe over the coming months.
However, we suspect that gangs are now targeting more foreigners for kidnap-for-ransom than in previous months. This is probably because turf wars have likely increased their operational costs and demand for weapons. Based on publicly-reported cases, locals still appear to make up the vast majority of kidnap victims, with cases rarely lasting more than a few days. But these are probably less profitable for gangs. There have been several reported kidnappings of foreigners in which they appear to have been specifically targeted while in transit, and who have then been held for several weeks.
In our analysis, the areas controlled by the 400 Mawozo gang, such as the Croix-des-Bouquets area will probably remain the most dangerous for kidnap. In particular, the Haiti 8 route in this area is a reportedly hotspot for abductions, at least based on precedent. Our kidnap risk rating for Haiti is at the highest at critical, and will probably remain so in the coming months.
Overland travel risk
Disruptions to overland travel due to gang roadblocks will probably also continue in the coming months. We have seen local media reports of these groups mounting roadblocks using burning tires within the capital and checkpoints along major inter-city routes. According to a UN report from 8 July, this has led to some staff of humanitarian agencies being held at gunpoint and their vehicles being hijacked. Access to the airport has also been disrupted in recent weeks, according to several news sources, given the proximity of Cite Soleil to the Port-au-Prince international airport.
The same UN report noted that gang-related roadblocks have also disrupted access to major routes that connect the capital with other regions in Haiti. These include the areas of La Saline and Cite Soleil near the port of Varreux, now disputed between the G-9 and G-Pep gang alliances; the N-2 road in Martissant leading to the southern departments, where the G-9 is also present; and the N-1 and N-3 providing access to the north through Croix-des-Bouquets which appears to be a 400 Mawozo stronghold.
Image: Haitian police collect fuel as they patrol in Port-au-Prince on 15 July 2022. Photo by Richard Pierrin/AFP via Getty Images.