This assessment was issued to clients of Dragonfly's Security Intelligence & Analysis Service (SIAS) on 15 September 2023.
The low risk of travellers being caught up in gang violence near the Guatemala-Mexico border is rising
Neither government appears to be prioritising strategies for reducing gang activity; most deployments of security forces are short-term responses to violent outbreaks
The Mexico-Guatemala border is becoming dangerous for travellers. A turf war between two Mexican cartels has led to a drastic rise in incidents of armed fighting in Chiapas, Mexico, and in the San Marcos and Huehuetenango departments, Guatemala, this year. Most attacks target rival gangs or police. But the risk of bystanders being caught up in the violence is rising. The security forces appear capable of quelling violence in urban areas, but neither government appears committed to a deeper strategy to counter gang and cartel activity.
Turf war fueling violence
Violent incidents on both sides of the border have become increasingly common in recent years. Data from our partner, the Armed Conflict Location & Event Data Project (ACLED), shows that the number of armed clashes has increased 132% from 2019 to 2023 (22 to 51). It also shows there have already been as many incidents this year, up to 1 September, as the whole of last year. In a recent high-profile incident in late August, two police officers were reportedly killed by gang members in Ayutla municipality, San Marcos.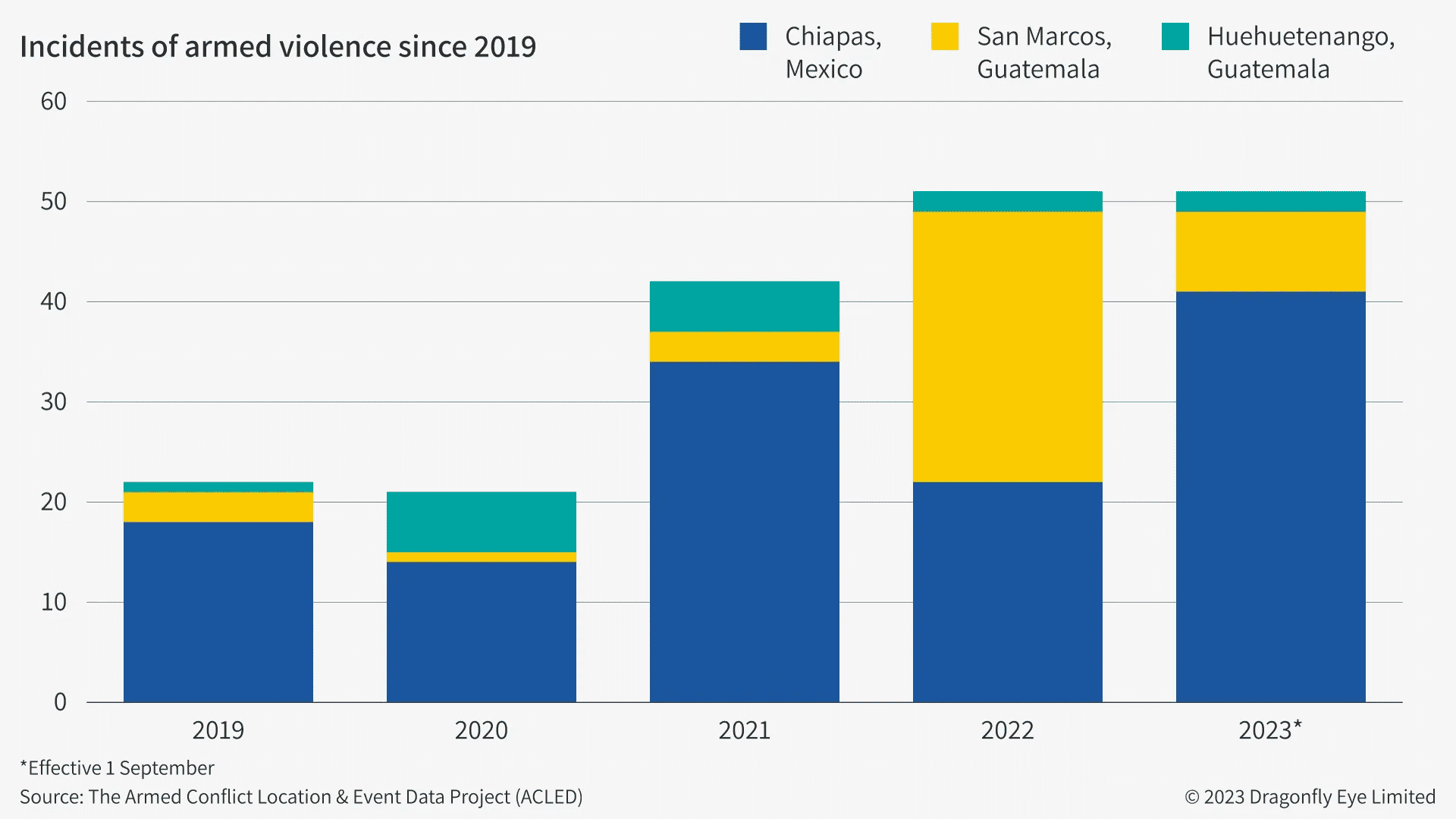 A turf war between cartels appears to be driving this violence. Specifically, the New Generation Jalisco Cartel (CJNG) and Sinaloa Cartel, two of the most powerful Mexican cartels, are competing for control of drugs, arms, and human trafficking routes across the border. In recent years, fighting has taken place between local gang factions associated with these cartels. This violence appears to have become more intense since 2021. As shown in the map, the area is a key site for land and aerial drug-trafficking routes into Mexico.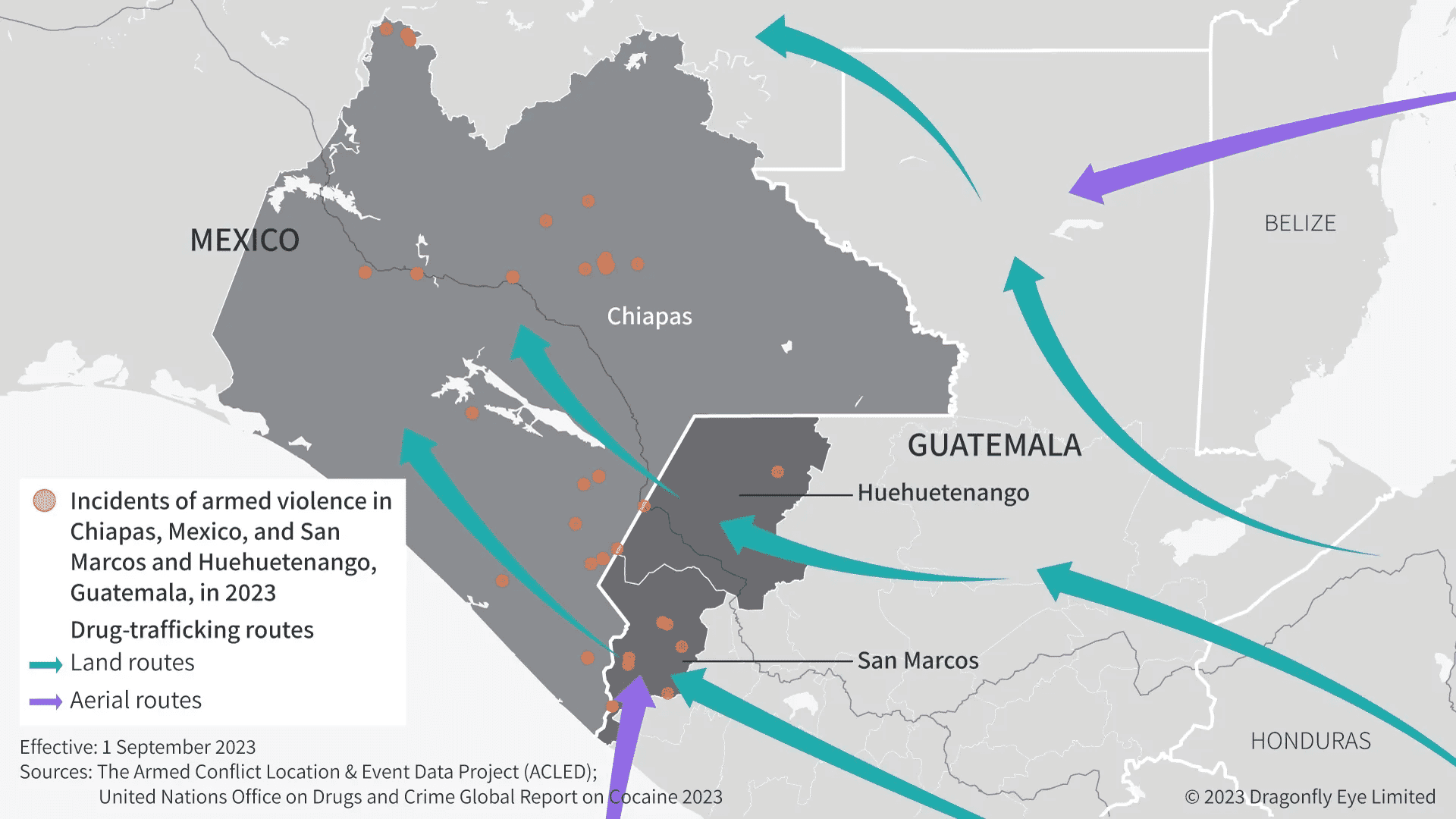 Paramilitary group violence appears to be worsening in parallel. The Zapatista Army of National Liberation (EZLN), a far-left group that controls autonomous territory in Chiapas, has claimed it has been attacked by regional paramilitary groups in the last few months. Earlier this year, the EZLN declared that Chiapas is 'on the verge of a civil war' for that reason. Local press reports indicate that these paramilitary groups intend to challenge the EZLN's territorial control, as the former is reportedly supported by local businesses and the federal government.
Risks to bystanders increasing
Most violence is likely to be highly targeted. Gangs appear focused on fighting each other and the authorities. And we have not seen any sign that intensified violence between the EZLN and paramilitary groups has affected civilians. Local news reports indicate that shootouts, ambushes and drive-by shootings have taken place in towns and cities, including San Cristobal de las Casas in Chiapas. But these mostly involved cartel-linked gangs attacking rivals or the police in rural areas or along roads. In particular, violent incidents are common on highways 190, 211 and 200 in Chiapas, as they are used as trafficking routes.
The low risk to bystanders is nevertheless increasing. The French government recommended in June that travellers seeking to cross into Guatemala do so by air rather than land, citing an increase in violent clashes. Although civilians or businesses have not been specifically targeted, indiscriminate gang shootouts have started to occur in public spaces more often, based on our analysis of incidents reported in the media so far this year. In a sign of the intensity of violence, many of these news reports indicate gangs are using 'heavy-calibre weapons' and 'narco-tanks' (cars with improvised armour).
Limited security force deployments
The security forces appear capable of preventing serious violence in major cities this year. The authorities frequently sent deployments after high-profile outbreaks of violence. Following the recent killing of police officers in Guatemala, the government announced that an additional 100 police and military officers would be sent to San Marcos and Huehuetenango. Similar deployments in April in San Cristobal de las Casas in Chiapas appear to have reduced violence there. But deployments of security forces like this are unlikely to lead to prolonged periods of stability. And longstanding political tensions mean that the Mexican army is unlikely to address paramilitary violence.
Situation unlikely to improve in the coming years
There is little prospect for the situation on the border to improve in the coming years. A Mexico-based security consultant source told us that recent agreements between both governments are 'rhetoric', as neither side appears committed to a deeper cross-border security response. In a sign of this, a recent deployment of forces in Guatemala is only scheduled to stay for one month. This is mainly because the violence has not been seriously disruptive in major urban areas, nor have gangs specifically targeted civilians.
The government in Mexico appears to be downplaying violent incidents on the border for political purposes. Our Mexico-based security consultant source told us a major security operation would mean the current government has to acknowledge the dramatic rise in violence, which it is unwilling to do before the upcoming general elections on 2 June 2024. They also told us that, based on their conversations with a contact in a Mexican NGO focused on security, some local communities are heavily opposed to the presence of security officials. They said this was due to alleged human rights violations, as some locals have sided with criminal groups instead.
Image: Members of the Mexican army and police work at the site of an explosive attack against a police patrol in Tlajomulco de Zuñiga, a suburb of Guadalajara in Jalisco State, Mexico, on 12 July 2023. Photo by Ulises Ruiz/AFP via Getty Images.