This assessment was issued to clients of Dragonfly's Security Intelligence & Analysis Service (SIAS) on 29 November 2021.
More than 20 countries have imposed entry restrictions on international travellers since the new strain was identified in South Africa last week. Others will probably impose similar measures as new cases emerge in the coming days. These restrictions will almost certainly last for at least several weeks while the transmissibility and severity of Omicron are determined. But in our analysis, the latest round of disruption to international travel will probably last into 2022.
Governments in most regions have acted very quickly to introduce what they have said are precautionary measures to limit the spread of the variant. At least 33 countries have so far restricted entry for travellers from southern Africa. Of these, Indonesia, Pakistan, the Philippines and Russia have also restricted entry for travellers from other countries where cases of the new strain have been detected. Israel, Japan and Morocco have imposed new restrictions on all international arrivals. See the map for these, though several other countries have imposed additional entry requirements, such as quarantines and testing.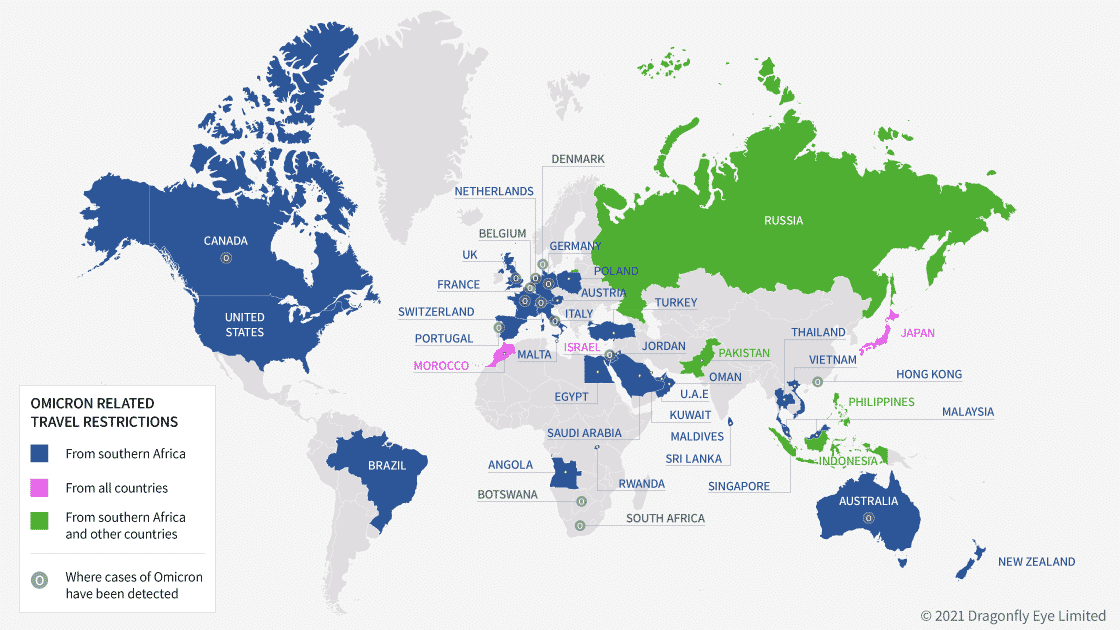 These measures will probably fail to stop cases of the Omicron variant emerging in more countries. Most reported cases in the 12 countries outside of southern Africa seem to have been among people who have recently travelled there. And the variant was first identified in South Africa. But it is unclear whether this is where it originated and how long Omicron has been circulating there or elsewhere. At least one such case was detected in a person who had not recently been in southern Africa; there may already have been community transmission outside of the region.
We doubt that countries that have already imposed restrictions will significantly loosen or tighten them for at least two or three weeks. Comments by US and European officials suggest that this is the amount of time they will require to assess the Omicron variant's transmissibility, the severity of illness it results in and the extent to which it is resistant to vaccines. A British virologist told us late last week that officials will be monitoring the number of hospitalisations associated with the new strain, particularly cases among people who are fully vaccinated or who have previously been infected.
If officials conclude that the Omicron variant is significantly more transmissible and severe than existing variants, we assess that there would be a reasonable chance of tighter and broader restrictions. These would probably affect travellers from places where Omicron cases have been detected, as well as countries where vaccination levels are low. On this basis, any new restrictions are particularly likely to affect people travelling from countries in Africa, and to a lesser extent eastern Europe and Asia.
The emergence of the Omicron variant is also likely to increase the political appetite for new or extended domestic restrictions. This is particularly the case in Europe, where the number of new cases had already been rising rapidly. Belgium, the Netherlands and the UK have already introduced new restrictions over the past few days. Based on other countries where officials have discussed doing so in recent weeks, new restrictions would be particularly probable in Czechia, Denmark, France, Germany and Italy.
Image: Members of the public travel in their cars to a Covid-19 drive-in coronavirus testing centre in London on 18 December 2021. Photo by Daniel Leal/AFP via Getty Images.