This assessment was issued to clients of Dragonfly's Security Intelligence & Analysis Service (SIAS) on 30 June 2023.
Generative Artificial Intelligence (GenAI) is likely to result in major labour market disruption over the next few years
Studies so far have suggested that sectors such as finance, legal services and the media are among those most exposed to GenAI
Growing social anxiety over GenAI and related job displacements are likely to contribute towards insider risks for organisations working within affected sectors
Generative Artificial Intelligence (GenAI) is driving major change across the global economy, and this appears all but certain to continue over the next few years. The World Economic Forum has estimated that approximately 1m new AI-related jobs will be created worldwide by 2027. But the economic benefits brought about by GenAI will very likely be felt unevenly and some jobs will probably be displaced. The net impact is likely to be a deepening of social, economic and digital divisions within and between countries – contributing towards insider risks for businesses and wider stability challenges for governments.
The US, UK, Israel, France and Spain are the major economies that – in our estimation – have the highest exposure to political and social unrest brought about by GenAI-caused job displacement. This is based on our analysis of the labour force and inherent levels of social fragility of countries in the Organisation for Economic Cooperation and Development (OECD).
AI-related job displacements and the widening inequality gap
GenAI – which refers to AI technologies capable of generating text, images or other types of media – will probably create significant labour market disruption. According to a report released by Goldman Sachs in March, the impact could be that 18% of work globally could be automated, affecting 300m jobs. Two-thirds of jobs in the US and Europe, it suggests, are exposed to automation, and around a quarter of all jobs could be performed entirely by AI.
We analysed data compiled in 2021 by researchers at New York University, who measured industry-level exposure to GenAI, to identify which sectors are most at risk of GenAI-induced job displacements. Our findings suggest that the following are the most vulnerable sectors:
Finance and insurance
Professional, scientific and technical activities
Information and communication
Education
Human health and social work
Conversely, sectors like agriculture, construction, mining and manufacturing are amongst the least exposed to GenAI. Advanced economies will probably be more impacted by GenAI-related job losses than emerging markets. The latter generally have a lower concentration of highly exposed sectors.
We have identified Luxembourg, the UK, Sweden, Israel, the Netherlands and Switzerland as the countries most exposed to job displacement. This takes into account employers' tax burden since that incentivises them to adopt GenAI (as it is cheaper than labour).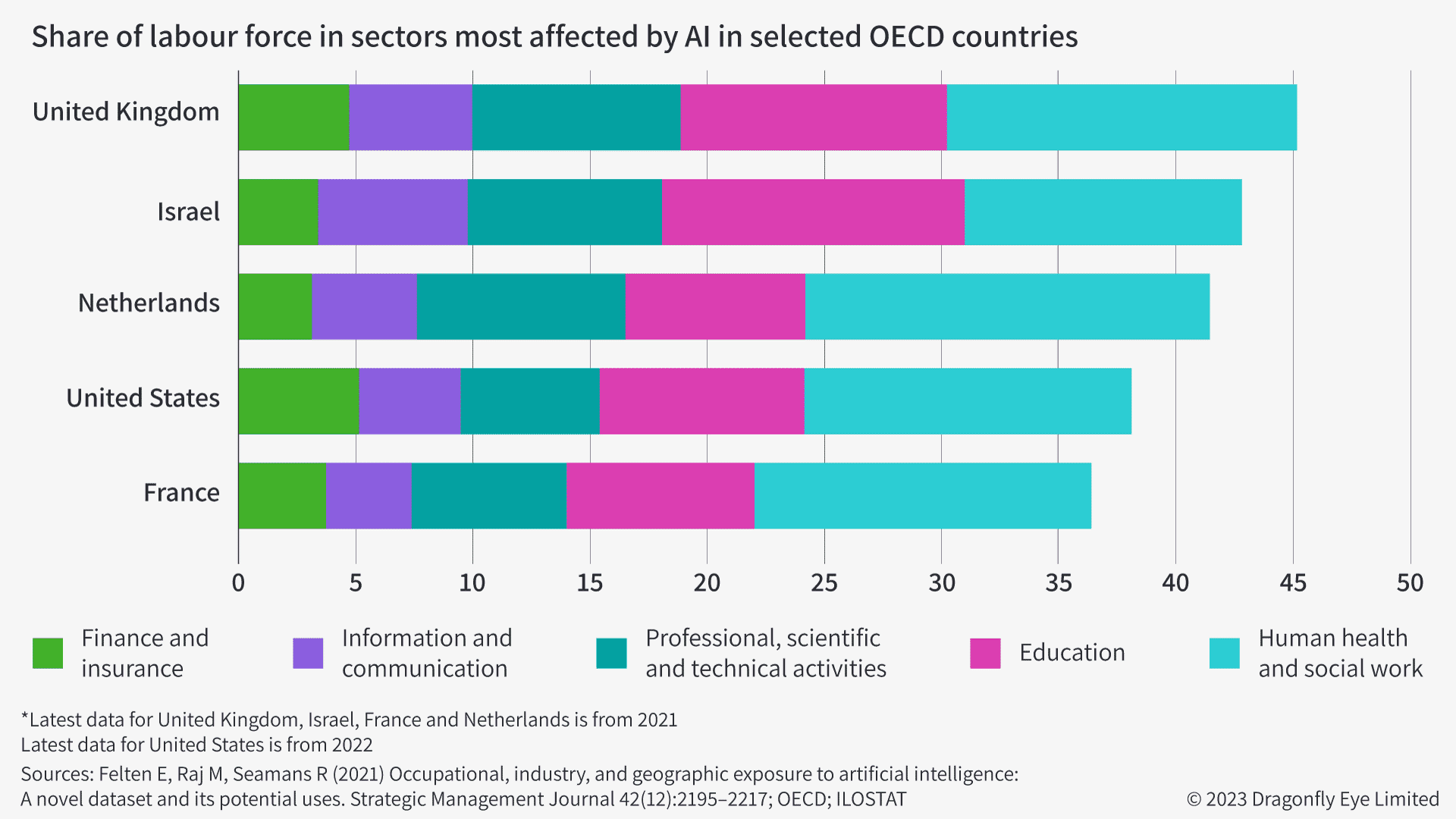 AI-related instability risks
Job displacement is likely to fuel greater economic inequality. Unskilled workers in exposed sectors will be at risk of being replaced by GenAI. And new jobs are likely to be highly concentrated, causing geographical disparities in wealth and income to grow. Within the US, for example, San Francisco and San Jose alone account for about one quarter of the US' AI assets and capabilities, according to a 2021 think tank report.
Unmitigated, GenAI-related job displacements (and anxiety about these) will probably contribute to security and stability challenges in affected countries, and prompt a public backlash against GenAI and related technologies. The risk of social instability is already heightened globally as a result of rising living costs and uneven Covid-19 recovery. We therefore assess that it is possible if not probable that job losses and more workers having to move into lower-paying jobs will act as a catalyst for political and social unrest.
The US, UK, Israel, France and Spain are, according to our findings, the major economies in the OECD that have the highest exposure to political and social unrest brought about by GenAI-caused job displacement. This is based on our indexing of OECD countries, taking into account exposure to job displacement from GenAI and its social fragility. We based the latter on the average levels of unemployment and inequality in the last five years and the average number of violent protests a month.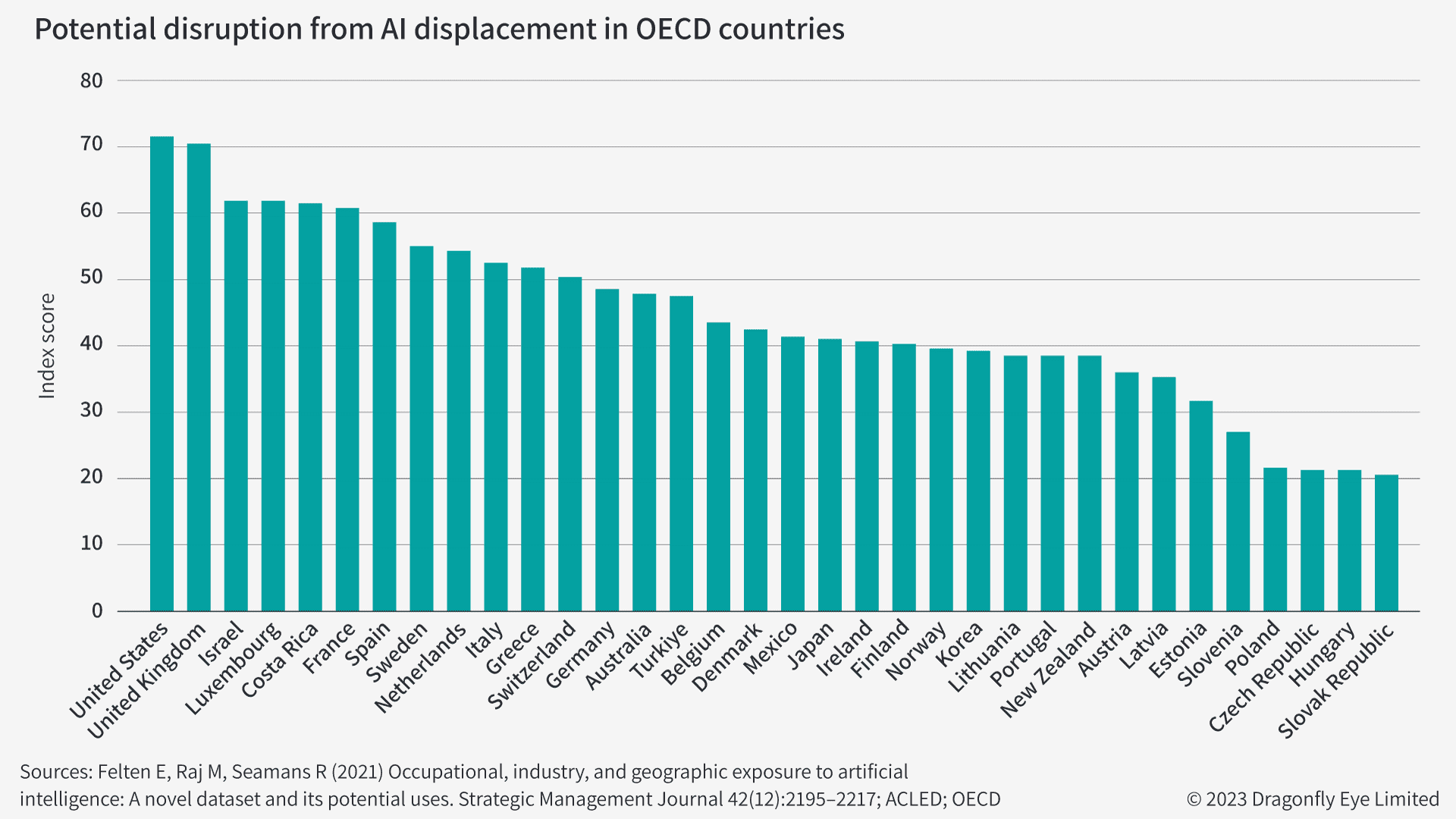 Countries' overall index scores may conceal large variations between their social fragility and exposure to GenAI displacement scores, which we aim to capture in the scatter plot below. Whereas the US and UK have a similar overall score, for instance, the UK appears much more vulnerable to GenAI-induced displacement, whereas the US appears to have a higher level of social fragility.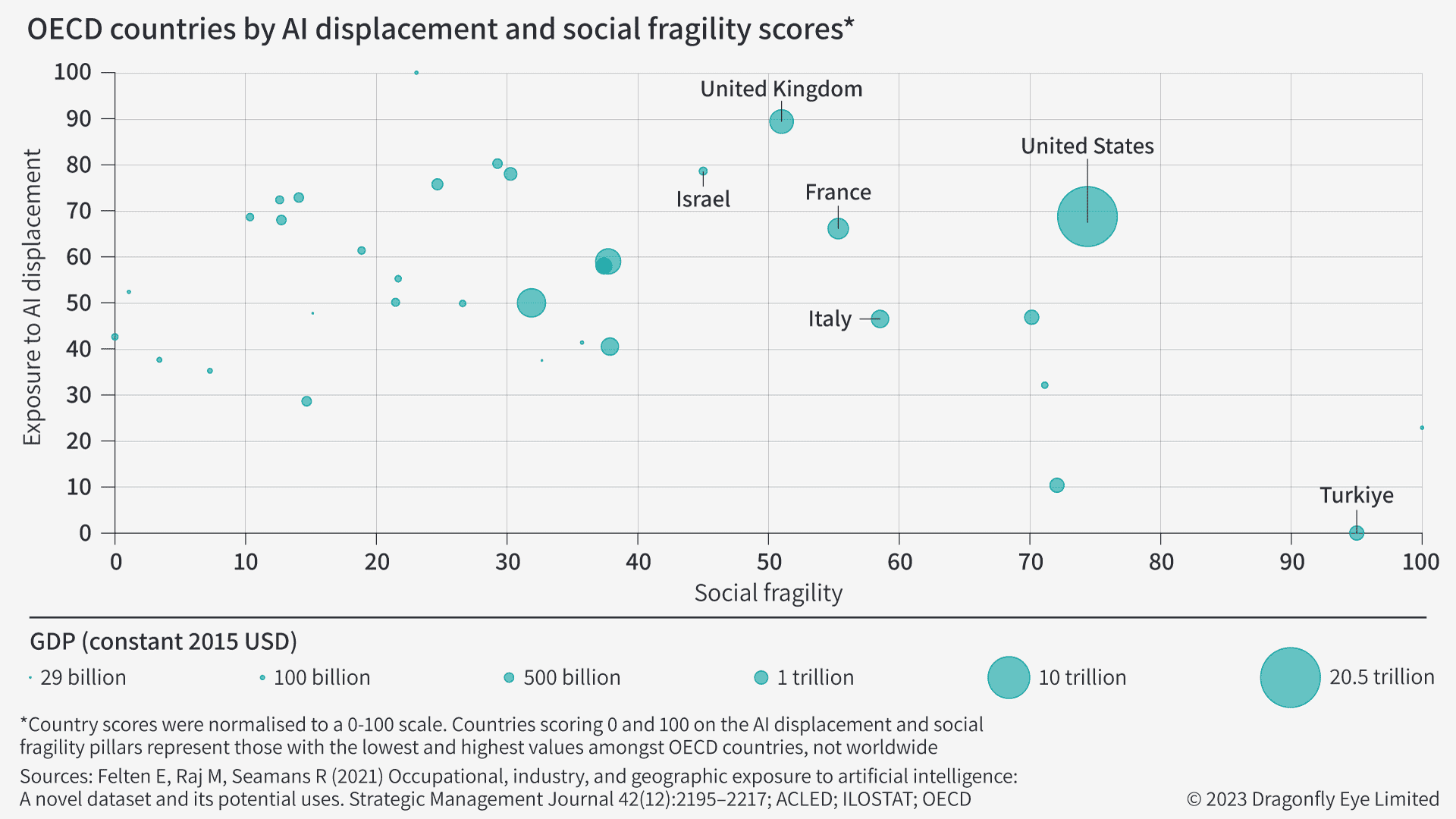 Implications for organisations
Anxiety over GenAI-related job displacements, as well as any future displacement, is likely to create heightened insider risks for businesses, and other potential cyber vulnerabilities. Employees who feel threatened by GenAI-driven job losses, for example, may become less loyal and as a result be more prone to engaging in malicious activities, such as data leaks, or theft of IP and other sensitive information. Some employees may actively resist the adoption of GenAI, making it harder for their organisations to reap the benefits of these technologies.
Image: A computer screen with the home page of the OpenAI website, displaying its chatGPT robot, on 31 March 2023. Photo by MarcoBertorello/AFP via Getty Images.