This assessment was issued to clients of Dragonfly's Security Intelligence & Analysis Service (SIAS) on 11 May 2023.
Artificial Intelligence (AI) and related emerging technologies have, over the last five years, helped to extend authorities' propensity for political repression in more than two-thirds of countries
Digitally capable states with little to no export controls, such as China, will probably be instrumental in enabling governments to surveil their populations at home and abroad and monitor foreign businesses operating within their border
We assess that the authorities in Asia, Eurasia, the Middle East and North Africa are particularly likely to extend their repressive capabilities over the next few years#
Over the next few years, governments in several countries will probably be capable of leveraging Artificial Intelligence (AI) and related technologies to suppress social and political groups. This trend is likely to allow authoritarian regimes to tighten their grip on power and help other autocratic leaders weaken the rule of law in their countries.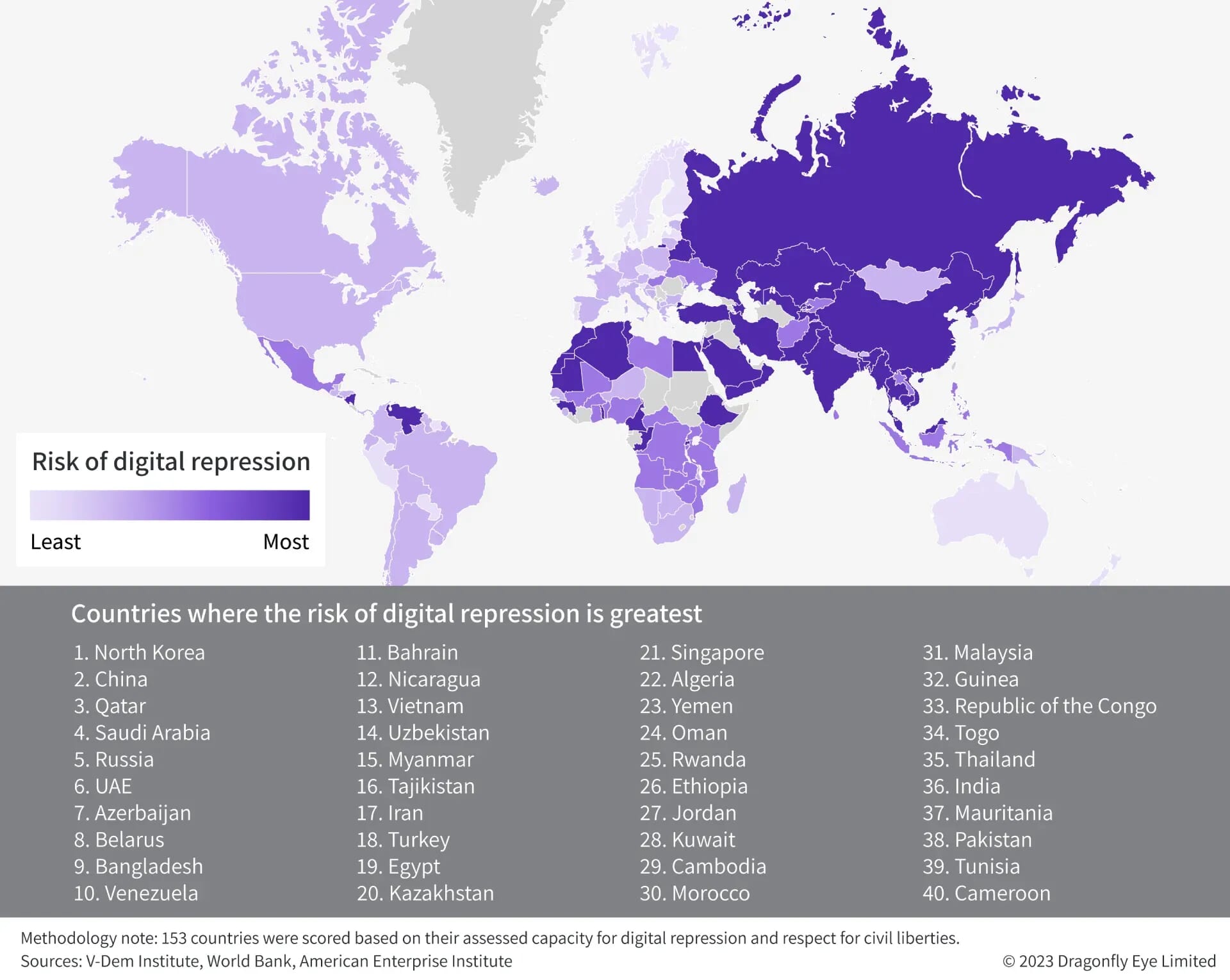 Organisations operating in countries where digital repression is deepening will face new challenges. Personnel will probably be subjected to more online monitoring, harassment and targeting by states seeking greater access to the information held by foreign companies and oversight of their operations. Autocratic states are likely to limit access to politically sensitive information, cover up state abuses and dissent, and prevent scrutiny.
Digital repression likely to rise
Asia, Eurasia and the Middle East and North Africa are the most affected. These are where most countries in which we assess the authorities are particularly likely to use digital technologies to repress their citizens and control businesses, are located. This is based on data from the World Bank and other globally-focused think tanks on the extent to which civil liberties are upheld within countries, and states' relative capacity to deploy digital repression techniques.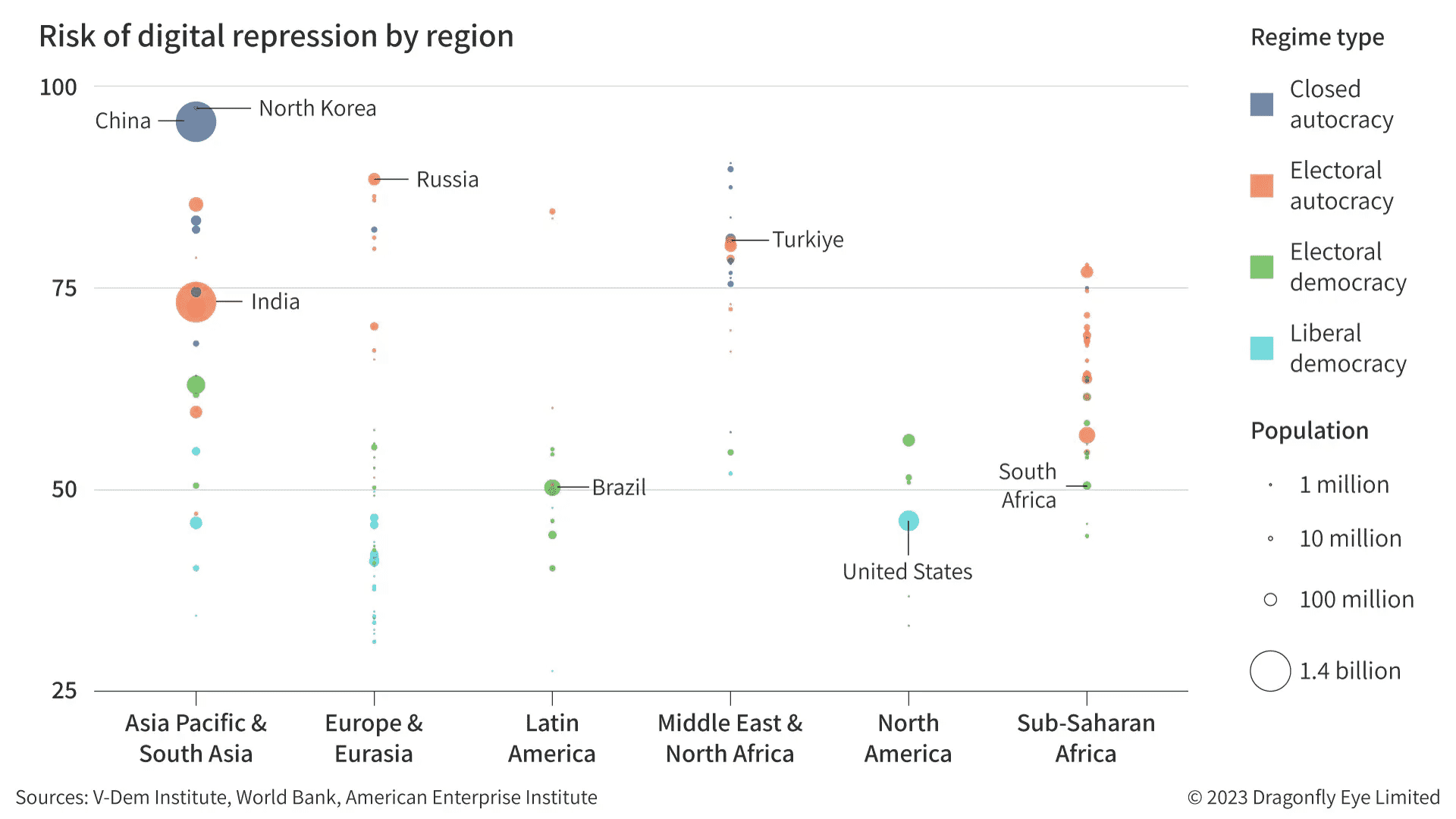 North Korea, China, Qatar, Saudi Arabia and Russia had the highest overall digital repression score. Perhaps unsurprisingly of the 40 countries which we have identified as being most at risk of digital repression, almost half (43%) already have highly repressive governments. But 23 of those countries hold elections. For example, India is introducing a telecommunications law that will probably facilitate the stifling of dissent. The top ten by population size are:
India
Pakistan
Bangladesh
Russia
Ethiopia
Egypt
Turkiye
Algeria
Malaysia
Venezuela
Existing state agencies' risks are a strong predictor of the propensity for digital repression. We already assess that the state agencies' risks in most of those 40 countries are high or greater. Malaysia and Singapore are the exceptions to this; our state agencies' risk levels for both are moderate. For both, their relatively high digital repression score was largely due to their government's high levels of digital capacity. But despite having these capabilities we have seen little to suggest that state agencies in either of those countries are likely to act with greater impunity in the near future.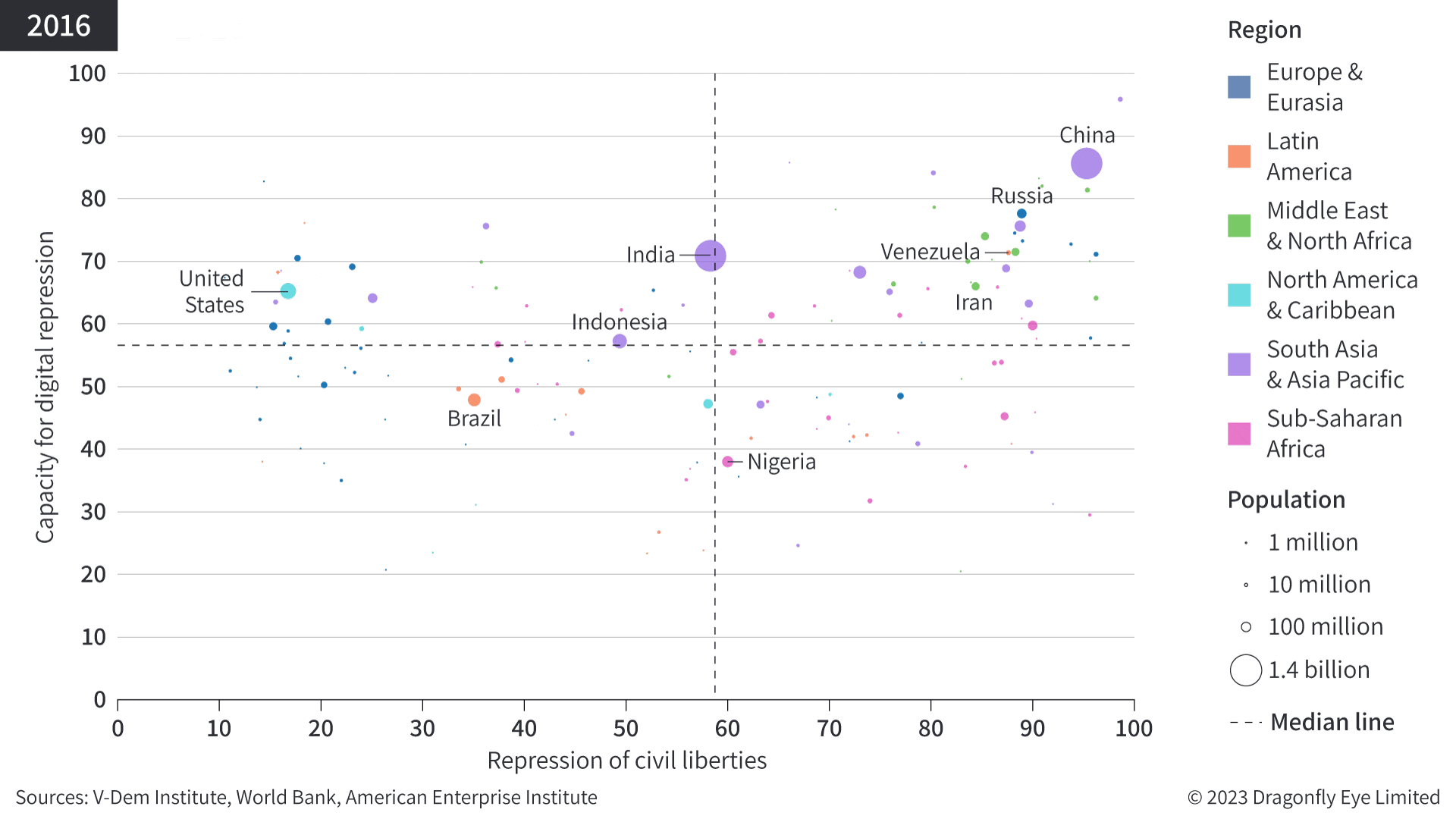 The authorities' propensity for digital repression has been deepening for some time. Over the last five years, this has increased in more than two-thirds of countries globally, with the greatest change being in El Salvador, Tunisia and Nicaragua. The trends underlying these changes point to a further worsening as they too are on a negative trajectory; leaders undermining democratic institutions, accessibility of digital technologies and support from authoritarian states, such as China and Russia.
China's role in augmenting others' capacity for digital repression
Governments and companies within several countries are heavily involved in the development of digital surveillance technologies for domestic and international use. This includes Japan, South Korea, the US and multiple European states, which have implemented export controls to limit the unchecked spread of surveillance technology. It also includes countries, such as China and Israel, which have not.
China has notably made it easier for states to monitor and control their citizens online. According to the US intelligence community, Beijing shares its equipment and know-how with allies and sells them on the open market. Data compiled by researchers at the US-based Brookings Institution shows that Chinese surveillance and public security technology platforms have been adopted in at least 80 countries since 2008. The authorities in Myanmar's capital city Naypyidaw, for example, now reportedly use facial recognition surveillance capabilities purchased from China.
Strong connectivity to digitally capable states with little to no export controls, such as China, is – in our estimation – likely to help some governments to strengthen their own domestic capacity for digital repression. We assess that this will probably be the case for authorities in several countries, including the Solomon Islands, Laos, Mongolia, Cambodia, and Guyana, where economic and diplomatic ties to China are especially high. For example, a bilateral security pact agreed between China and the Solomon Islands in 2022, will more likely than not encompass Honiara, gaining access to Chinese surveillance technology.
AI will further enable digital repression
AI and related technologies will very probably enhance governments' ability to suppress dissent and consolidate power. This is as they become more available and affordable. Over the next few years, this is likely to include:
Surveillance. AI-powered surveillance technologies, such as facial recognition systems, biometric technologies, and commercially-available spyware being used to identify and monitor critics in real time.
Censorship. AI-powered content moderation systems are likely to facilitate censorship, including automatically removing online content deemed sensitive, critical of the government or published by foreign sources
Social manipulation. AI-powered social media bots and AI-generated deep fake videos and images will also provide malign actors options for disinformation and manipulation of public opinion. For example, according to a December 2022 report by Brookings, the Russian state has used media and diplomatic accounts to influence public debate about the war in Ukraine, notably among audiences within Latin America
Transnational repression is also likely to deepen as a result of AI and other technological advancements. We assess that the authorities in Egypt, Iran and Vietnam will very likely be among those that attempt to leverage the spread of these devices to exert control over citizens abroad. According to Amnesty International, they are already using wide-ranging phishing campaigns to infiltrate the communications of exiles.
A polarising issue
Competition between the US and China to shape norms and standards in this area will very likely intensify. Countering digital authoritarianism through greater market regulation and compliance requirements is likely to remain a key policy priority for the US until President Biden's term ends in 2025. In late March, the Biden administration unveiled a new Executive Order prohibiting the use of commercial spyware that poses risks to national security. Yet such efforts are unlikely to fully curtail the spread of digital repression since for now they seem focused on China rather than all suppliers.
Chinese diplomats and companies will probably continue their efforts to advance their own interests in the digital economy. This includes promoting Huawei's 5G equipment in developing countries and advocating for it to be included in international standards. And as China's use of AI to support digital authoritarianism becomes more widespread, this will very probably exacerbate competition with the US in areas such as defence and technology.
Image: A display for facial recognition and artificial intelligence is seen on monitors at Huawei's Bantian campus in Shenzhen, China, on 26 April 2019. Photo by Kevin Frayer via Getty Images.