This assessment was issued to clients of Dragonfly's Security Intelligence & Analysis Service (SIAS) on 28 October 2021.
While infections are likely to rise further regionwide, pressure on healthcare will probably be greatest in central and eastern Europe, where vaccination rates are relatively low. A tightening of domestic restrictions is likely across Europe, but these are unlikely to exceed health passes and work-from-home recommendations in most cases. Any new entry measures are also unlikely to make regional travel significantly more difficult, at least in the EU-Schengen area.
Countries in central and eastern Europe will probably be the hardest hit in the near term by the ongoing surge in new infections. This is as almost all of them are below an EU average of 65% of the fully vaccinated population. While the Baltic states last week reported the highest rates, the Czech Republic and Hungary are experiencing the sharpest rises; the number of new cases there tripled in the past three weeks. But Bulgaria and Romania, with the lowest vaccination rates in the EU, are among the countries struggling the most, reporting shortages of hospital beds and staff.
Pressure on healthcare is also highly likely to rise in most Western European countries in the coming weeks, albeit to a lesser extent. After a weeks-long decline in cases in countries such as France, Luxembourg and the Netherlands, infections have started picking up in the last fortnight. And while many national health authorities have warned that this trend will continue, high vaccination rates seem to make healthcare systems far less vulnerable than last year. For instance, case numbers in the UK have reached the same levels as in January, but hospitalisations remain one fourth of those back then.
The Balkans are likely to remain particularly vulnerable to new outbreaks in the coming months. This is due to persistent challenges to vaccine procurement and widespread scepticism as well as limited healthcare capacities. Albania, Kosovo and North Macedonia managed to contain their respective outbreaks in September. Bosnia and Herzegovina, Montenegro and Serbia are still battling very high cases. But hospitals in the Balkans experienced bed and staff shortages which are likely to recur into 2022 if cases begin to rise again.
Forecast for restrictions
Many European countries are likely to tighten domestic restrictions in the coming weeks. But this is unlikely to exceed the introduction of health passes to access some services and recommendations to work from home. This is what several countries have already done in the past week. We anticipate that more, including the Netherlands and Poland, will follow in the coming days. But the governments in countries with the worst outbreaks such as Bulgaria or the Baltics have so far refrained from imposing lockdowns due to public opposition.
Any tightening or extension of restrictions would most probably feed into protest movements. The presence of active anti-restrictions groups in France, Germany, the Netherlands and the UK makes these countries particularly vulnerable to occasional albeit limited bouts of unrest, in our analysis. The UK government is likely to introduce 'Plan B' measures in England in the coming weeks, which will be a probable flashpoint for protests.
International travel within the EU/Schengen area is unlikely to become significantly more difficult, however. At least a dozen European countries have tightened entry restrictions in the past week and more will probably follow. But this has not so far exceeded quarantine mandates on unvaccinated arrivals and more testing paperwork for vaccinated ones. This will probably not be the case for non-EU/Schengen arrivals who will be susceptible to more stringent bans. This includes the UK now that the tourism high season is over.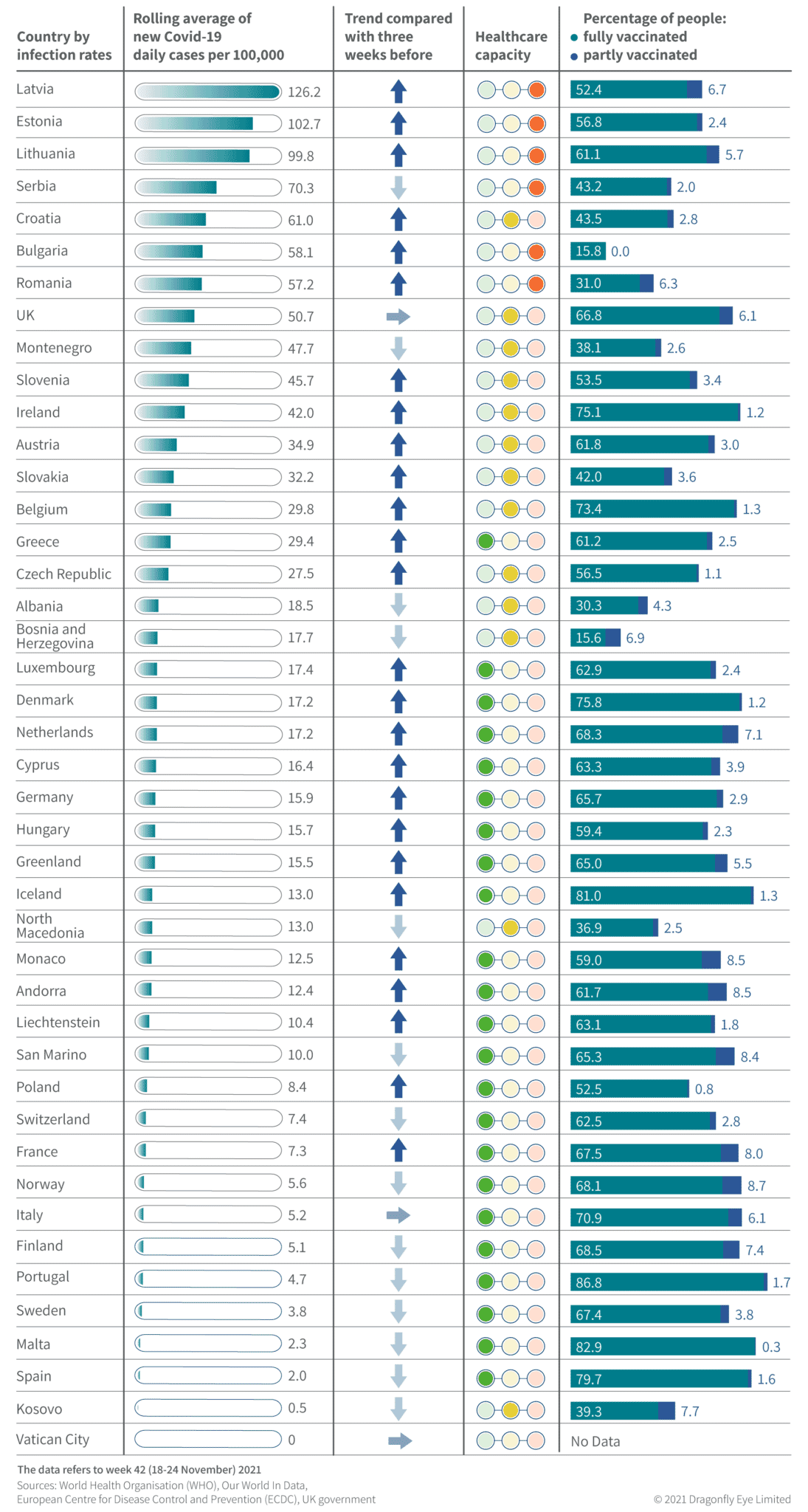 Image: Police officers attempt to disperse a crowd gathering for a demonstration against government lockdown restrictions in Parliament Square in central London on June 14, 2021 (Photo by TOLGA AKMEN via Getty Images).