This assessment was issued to clients of Dragonfly's Security Intelligence & Analysis Service (SIAS) on 13 December 2021.
Lower-than-average temperatures in recent weeks have forced several countries to draw from their gas reserves, which are already limited due to low supplies from Russia and a rise in global demand. This makes much of Europe vulnerable to spikes in domestic demand for gas and thus to blackouts. But unless the particularly cold weather persists into next year, which major weather agencies do not currently forecast, any prolonged or widespread power outages are unlikely.
Gas supply stocks are low across most of Europe. The map below compares the volume of gas in storage this month with the same period in 2019 (we have excluded 2020 due to the impact of Covid-19 lockdowns on the energy market). The data comes from GIE, an association of gas infrastructure operators. Almost all countries covered by GIE have lower supply stocks now than in 2019, with Austria, Slovakia, Hungary and Germany reporting the biggest decreases (21-37%). Secondary sources suggest stocks are also low in the rest of Europe.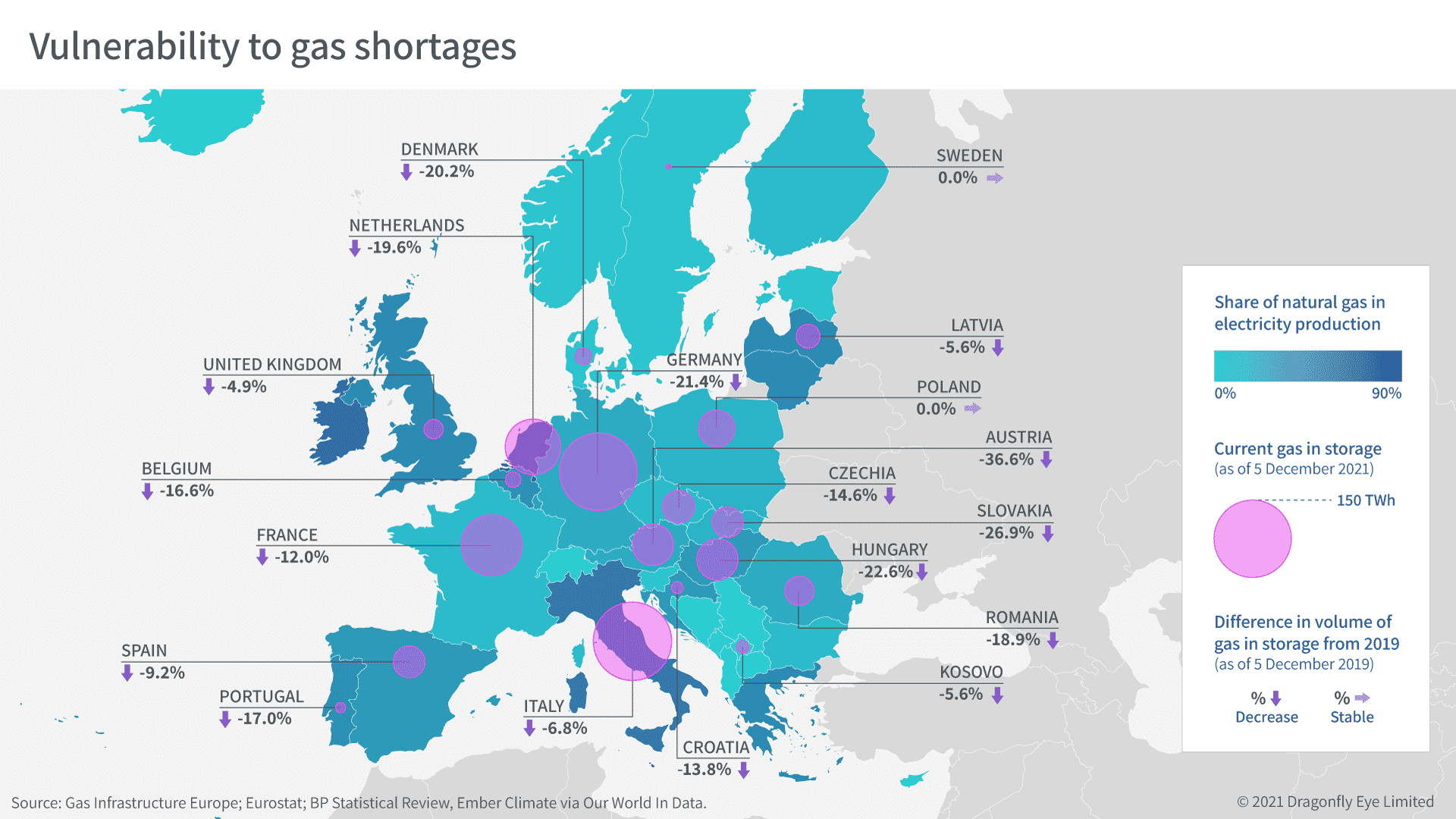 None of the factors leading to low gas reserves are likely to ease anytime soon. These include a particularly cold winter early this year forcing countries to tap into their reserves, a swift rise in global demand for gas as economies reopened after a big drop in 2020-early 2021, supplies of Russian gas failing to keep up with demand, and maintenance works at infrastructure facilities. Poor relations between Russia and Belarus and the West will probably sustain uncertainty around gas supplies.
We assess that temporary and localised blackouts are a reasonable possibility this winter. Technical failures, human error and poor weather events were behind most energy outages in Europe in recent years, most of which affected small regions and lasted up to a few hours. But low gas stores make countries particularly vulnerable to rises in demand. Should these occur, governments would probably need to ration gas supplies to households and non-essential businesses to avoid generalised blackouts. National emergency plans suggest any rationing would be warned in advance.
The main factor to monitor that will affect the demand for gas and so the risk of blackouts in the coming months will be the weather. Lower-than-average temperatures in recent weeks seem to have forced several European countries to draw on their energy supplies. But the latest forecasts by Severe Weather Europe, the Weather Company, the ECMWF and the UK Met Office suggest that most of Europe will experience temperatures slightly above seasonal norms in January and February 2022, making surges in demand unlikely.
Countries most vulnerable
The UK is particularly susceptible to blackouts, in our analysis. This is mainly due to the high dependence on natural gas for electricity generation and limited gas storage capacity. Although most countries in Europe reported far bigger slumps in gas supplies this year than the UK, it has a much smaller gas storage capacity (around 10 TWh, according to GIE) relative to its energy consumption. The countries that are more reliant on natural gas, such as Italy and the Netherlands, have far greater volumes of gas in storage in absolute terms.
Declining gas supplies make blackouts reasonably likely in the rest of Europe this winter. Based on Eurostat data, all EU states depend on energy imports. Malta, the Netherlands, Ireland and Italy are the most reliant on natural gas; this accounts for at least 45% of their electricity generation, making them the most vulnerable to any shortages. The chance of blackouts has also risen in Austria, Hungary, Germany and Slovakia. But their limited reliance on natural gas (15-25%) means that any widespread energy outage is unlikely.
Businesses in the Balkans face a higher chance of experiencing power outages relative to the rest of Europe. But issues related to gas supplies are unlikely to significantly affect this. Based on World Bank data, the number of power outages that firms experience in an average month varies between 3.8 in Kosovo to 0.7 in Serbia, compared to around 0.2 in the rest of Europe. That said, electricity production in most Balkan states relies only 0-5% on natural gas, with the exceptions of Romania (17%) and Croatia (25%).
Image: Liquefied Natural Gas (LNG) storage tanks are seen at the Grain LNG import terminal near Grain, Isle of Grain, southeast England on 21 September 2021. Photo by Daniel Leal/AFP via Getty Images.