When climate change-related events such as the devastating floods in Pakistan in 2022 take place, there are clear and obvious first-order effects – in this case, the risk to human life, damage to property, loss of livestock and food stores, and an increased risk of water-borne diseases. 
One of our clients, an international development agency, was well aware and planning for these.
But like many organisations, they struggled to identify and mitigate the cascading effects of climate events. These can include geopolitical, social and global economic impacts, such as mass migration, social and political unrest, interruptions to supply chains, or changes in global food prices. 
With extensive operations in the country, they realised they needed to understand how the floods might affect both the people that they help and their own team in the coming months and years. 
So they turned to us for help in identifying the second- and third-order impacts of the 2022 Pakistan floods. 
So how exactly does climate change create unexpected and hard-to-predict systemic risks for organisations and businesses? And how do you identify and evaluate these risks so you can plan ahead for them?
Climate change creates direct and indirect risks
You are probably already aware of your own impact on the climate and the steps you need to take to tackle this issue. Many companies are also already seeing the direct impacts of climate change on their own organisation, from unplanned operational downtime to rising insurance premiums. 
Losses from natural catastrophes have soared over the last few decades, reaching $270 billion in 2022, of which roughly 55% were not insured. Climate-related risks and damages are anticipated to continue growing in frequency and severity with every incremental rise in global temperature. 
But it's not just the direct consequences of climate change that will impact the bottom line. The wider and more indirect implications of climate change also create potentially costly threats to profitability over the coming decade, with three key areas of concern: increasing conflict and instability, weakening global resilience and growing geopolitical tensions.
Increasing conflict and instability
Climate change is likely to amplify a diverse set of conflict- and instability-related risks. 
Growing frustration at both the speed and adeptness with which governments are managing climate and environmental crises is likely to lead to further instability, including increased climate activism and protest-related risks. 
It also provides an opportunity for international terrorist organisations and organised criminal groups to grow their base of recruits and to pursue their objectives by incorporating environmental issues into their core narratives. 
Although some parts of the world are particularly vulnerable in this respect, such as countries within South and East Asia and parts of Sub-Saharan Africa, no country or region is immune to climate-related insecurity. Even in regions that are more stable, greater extremes of climate variability and related security challenges will increasingly test coping capacities and resilience.
Weakening global resilience
The impacts of climate change are already weakening global resilience to cope with future shocks because the complexity and interconnectivity of global systems amplifies the ability of localised shocks to cause cascades of disruptions across multiple regions. 
These impacts could be wide-ranging, such as the disruption of supply chains and food and energy production, the creation of stranded assets, and a reduction in the readiness of governments. Later in this article, we'll take a look at an example of this process in action. 
Growing geopolitical tensions
Geopolitical tensions are likely to grow as governments struggle to reach a consensus over how to reduce greenhouse gas emissions and who bears most of that responsibility. There will also be likely competition for the resources needed to deliver low-carbon alternatives to fossil fuels, and some may explore more extreme and potentially harmful alternatives to climate change mitigation activities.
For example, competition for critical minerals used in low-carbon energy technologies – such as cobalt, graphite, lithium, nickel and rare earth elements – will almost certainly grow over the long term. Experts are already warning that there will be an insufficient supply of these critical minerals in the coming years to meet rising global demand. 
This is likely to lead to technology shortages in certain areas, and to greater geopolitical competition as countries jostle for access and to monopolise control over the supply chains for these critical minerals.
Inevitably, this impacts business risk as well.
Systemic effects in action: Water crisis in China
Let's take a look at the example of a water crisis in China, driven by drought over several years. Water crises are a particular concern, as the gap between water demand and supply globally is anticipated to reach 40% by 2030. 
This would cause disruption to water-intensive critical infrastructure and industries, leading to reductions or interruptions to power generation, extractive industries, agricultural production and manufacturing, as well as reducing the capacity of water transport networks within the country.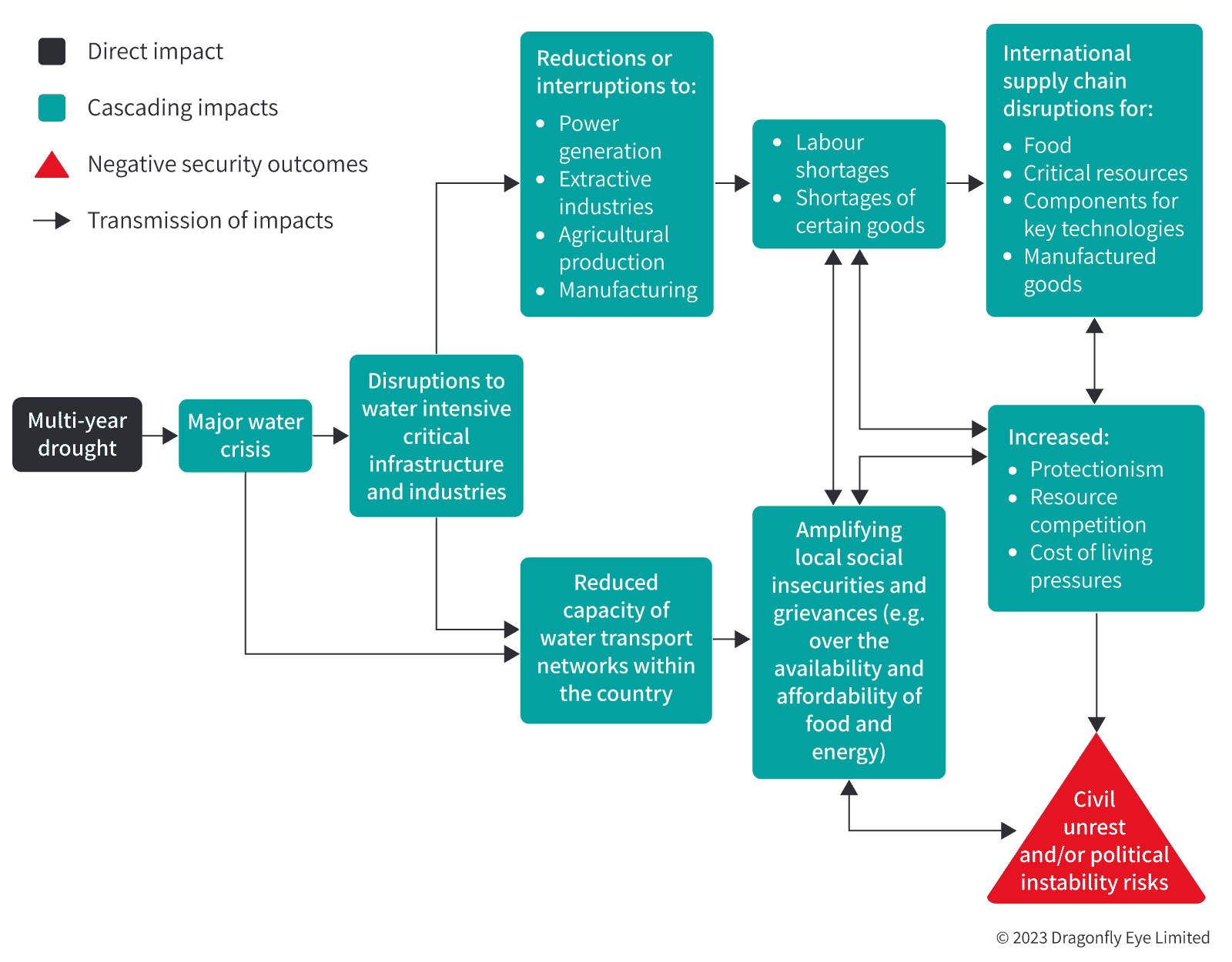 It would also most likely contribute towards shortages of labour and of certain goods within China, as well as amplifying local social insecurities and grievances. 
But because of the complex and interconnected nature of our globalised world, the consequences of these cascading impacts are unlikely to be limited to China. 
Instead, they would reverberate across the global economy, causing international supply chain disruptions for food, critical resources, components of key technologies and manufactured goods. 
We might then see increased levels of protectionism, competition to secure access to resources and additional cost-of-living pressures that could translate into civil unrest or political instability.
Every organisation faces different risks
Depending on your organisation's specific combination of sector, business model, supply chain, geographical presence and goals, the potential risks and consequences of this scenario will be completely unique – even if you operate in similar sectors and geographies to other organisations. 
The effects could be wide-ranging and unpredictable, from interruptions to parts of the supply chain and shortages of raw materials to loss of revenue in particular markets, or needing to evacuate staff from conflict areas. 
This means that generic, non-bespoke intelligence has limitations when organisations are planning to mitigate these kinds of future risks. 
How Dragonfly can help you pin down the risks and plan ahead
This is where Dragonfly's advisory service comes in. 
Our expert team works closely with you to gain an in-depth view of your organisation, your risk profile, your operational methods and your geographies.
We use that information, along with the regional and geopolitical expertise of our specialists, to model the potential scenarios and outcomes that your particular organisation might experience from climate-related incidents so that you can plan accordingly. 
Our intelligence is comprehensive, bespoke and forward-looking – and here's why that matters. 
Comprehensive
Because climate change represents a systemic risk, it's extremely challenging to anticipate the potential impacts on your organisation. Finding the time, resources and expertise needed to identify all of the ways in which your organisation could be affected by cascading climate-related incidents can be almost impossible. 
Our wide-ranging research and expert analysis create a comprehensive picture of the direct and indirect effects you might face. Our intelligence describes in rich detail how the potential scenarios might unfold, allowing you to clearly understand the consequences for your organisation. 
Bespoke
With a bespoke, strategic view of the risks and potential implications for your particular situation, you can focus your planning more effectively on the threats that could have the greatest impact on your organisation.
Whatever you need to know for your planning – whether it's the situations you are most likely to face or the worst-case scenarios – we provide relevant, high-value intelligence with answers to your most pressing questions, in the format that's most useful for you and for your C-suite.
For example, the board might find graphic visualisations of risk data easiest to consume. Or you might need data dashboards, threat heatmaps, or travel or site location assessments. It is all designed to be easily shareable with senior stakeholders and decision-makers.
Forward-looking
The impact of climate change events that are taking shape now may not be fully felt for months or even years – by which time it may be too late to mitigate these effects. That's why forward-looking intelligence is so critical.   
With specific, far-sighted and actionable intelligence, you can confidently engage senior stakeholders in discussions about how to make these shocks easier to absorb and create greater resilience to climate change.
Case study: Mapping out the likely indirect effects of flooding in Pakistan
That's exactly why our international development client turned to us after the catastrophic 2022 floods in Pakistan. 
Experts believe that climate change was responsible for the early arrival and unusually heavy nature of the monsoon rains. More than 1,700 people were killed, almost 8 million people were displaced and around a third of the country was underwater at the height of the crisis. 
The immediate, direct impacts were clear, such as food shortages from the loss of food stores, agricultural land and livestock, and disease caused by contaminated water sources. 
With an extensive presence in the country, however, our client needed to understand what scenarios they might be facing in the months ahead from the more indirect effects of the flooding. 
What would the loss of livelihood, food shortages, lack of access to essential infrastructure and mass migration mean for a country already gripped by a worsening economic situation and political instability? What would it mean for social unrest and safety and security? With so many children out of education, would poverty worsen? And might increasing unrest and economic hardship increase the appeal of terrorist groups such as Tehrik-e Taliban Pakistan (TTP)?
Our team of analysts prepared a bespoke assessment of political, social and security risks in Pakistan in the short and medium term, along with three scenarios exploring different risk trajectories over the coming six months. 
Given the client's focus on development, our team explored a mix of macroeconomic, political and security risk indicators to assess the likely impacts triggered by the floods, using a comprehensive set of sources (open source, human sources and large data sets) to deliver robust findings.
Thanks to our analysis and forecasts the client was able to quickly gain insight into the emerging connected crises in Pakistan triggered by the devastating floods and to adapt their approach locally to target aid and assistance in the most adversely affected areas. 
To find out how our advisory team could help you identify the unique threats that climate change poses to your organisation, please get in touch with our specialists today.  
Image: Flood-affected people wade through floodwaters to board a Pakistan Navy boat in Dadu district, Sindh province, on 7 September 2022. Photo by Aamir Qureshi/AFP via Getty Images.