This assessment was issued to clients of Dragonfly's Security Intelligence & Analysis Service (SIAS) on 17 August 2022.
Prior to recent military escalations, there had been some indications that the US was considering lifting some of the current tariffs on Chinese imports. Washington will now probably refrain from doing so, at least in the coming months. But we doubt that it will impose further tariffs for now. We also assess there is a heightened risk of consumer boycotts in China of foreign companies whose policies are not in line with Beijing's position on Taiwan.
US economic response
Following Chinese military drills around Taiwan, the US no longer seems to see lifting tariffs on Chinese imports as being in its interest. Some senior US officials, including the Treasury Secretary, had publicly indicated that the Biden administration was considering doing so in recent months, mainly to ease inflation. Such a move was also probably motivated by the upcoming midterm elections in November. However, subsequent to the visit by the US House of Representatives speaker to Taiwan senior officials have struck a very different tone.
The US will probably maintain the status quo rather than implement new economic measures against China. The tariffs under the current administration have already been more expansive than those under Donald Trump; President Biden only extended tariff exemptions on some of the goods exempted under the Trump administration. Biden also said on 10 May that reducing inflation is his 'top domestic priority' and so is likely to refrain from moves that would have the potential to increase the cost of consumer products, particularly ahead of the midterms.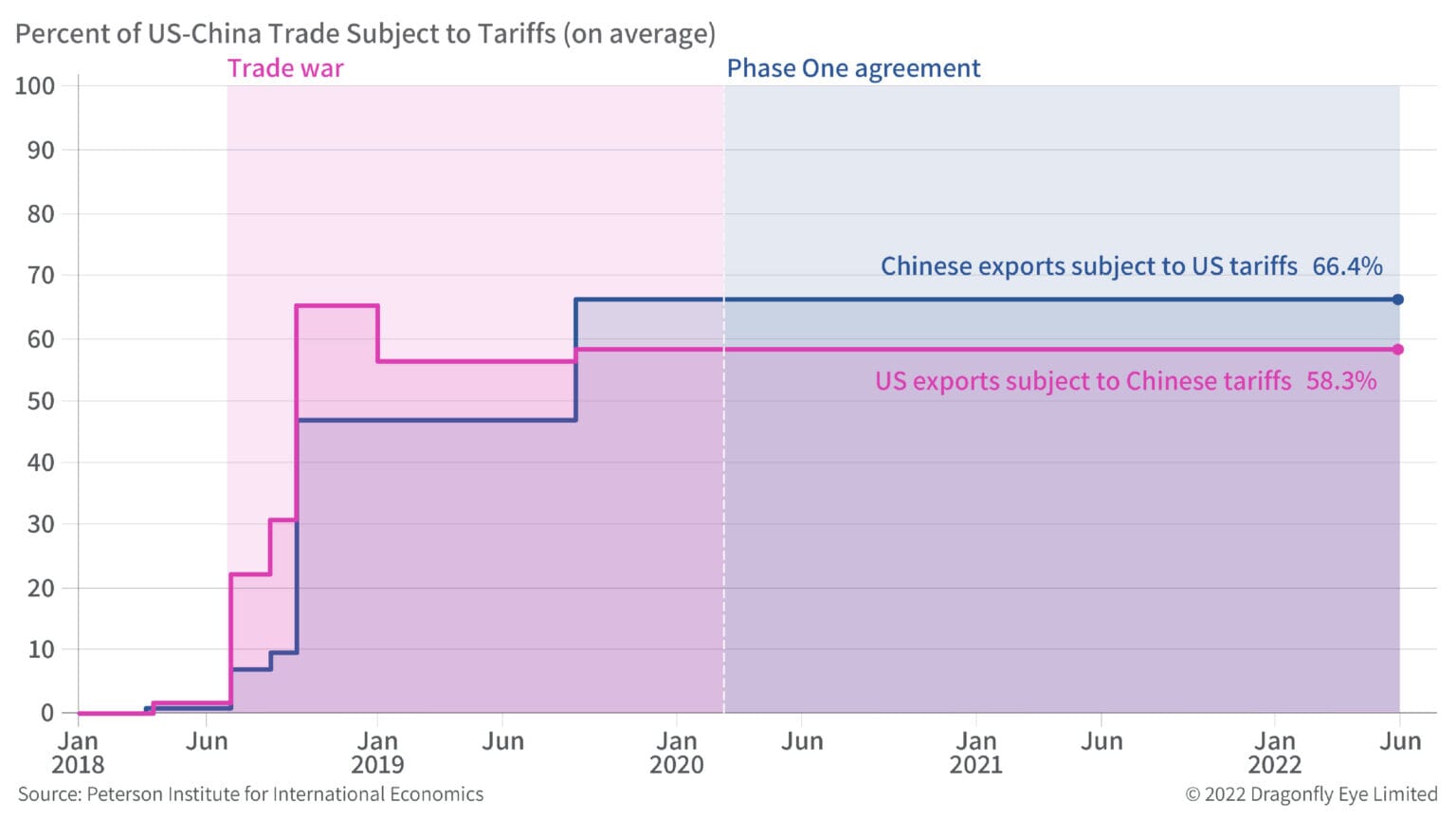 In our analysis, the US would be likely to impose new comprehensive sanctions and tariffs were there to be a major military escalation over Taiwan, such as a Chinese blockade of the island. This is because there would probably be more public backing for doing so, and President Biden would also likely have more political space to do so after the elections. In such a scenario, this would most likely take form as one or more of the following policies:
Adding more Chinese companies to the 'entity list', which requires US firms to obtain a government licence to conduct business with these.
Broadening the already-existing Uyghur Forced Labour Prevention Act.
Making the process of vetting Chinese companies investing in the US stricter.
Implementing more restrictions on data protection for Chinese tech companies operating in the US, such as TikTok.
Further delisting Chinese companies from the US stock market.
Introducing more export controls on US technology.
We also anticipate that as anti-China sentiment across the US political spectrum hardens over the long term, the Biden administration will become increasingly prepared to take stronger economic steps against China including the above. But it will continue to balance these with domestic economic and political considerations.
China's policy toward US companies
We do not forecast that the operating environment for Western businesses in China will significantly worsen in the coming months. Based on our monitoring of statements by the Chinese government and state media, we doubt that Beijing intends to implement sanctions or restrictions on US companies operating there; the Chinese official response to the US has stopped short of economic retaliation, aside from economic sanctions targeting Pelosi and her family. China also probably still has strong impetus to maintain its economic ties with the US as shown by the levels of US investment in China in the graph below.
We assess that there continues to be an elevated risk of consumer boycotts of foreign companies. This had already been the case in recent years; based on a study by the Swedish National China Centre, there were at least 90 such boycotts between 2008 and 2021, which were in response to company statements around China's 'territorial integrity'. And with the current tensions making the subject even more sensitive, firms will probably come under more pressure, including to proactively adhere to China's position on Taiwan. In a seeming sign of this, Apple on 5 August reportedly instructed manufacturers in Taiwan to label components bound for China as made in 'Chinese Taipei' or 'Taiwan, China'.
Image: Chinese Foreign Ministry spokesman Wang Wenbin gestures during a press conference at the Ministry of Foreign Affairs in Beijing on 8 August 2022. Photo by Noel Celis/AFP via Getty Images.