This assessment was issued to clients of Dragonfly's Security Intelligence & Analysis Service (SIAS) on 6 July 2023.
Travel and operation disruptions are highly likely across China in the coming weeks
The authorities have issued flood warnings for dozens of areas in central and southwestern China, as well as heatwaves alerts for northern provinces including Beijing
Recurring blackouts are likely in parts of China during July due to infrastructure damage and disruptions to coal supply
There are ongoing floods in central and southwestern provinces at the same time as heatwaves in the north. This has already led to widespread travel disruptions, the collapse of critical infrastructure and strain on local electricity grids. As a result, more than a dozen provinces are currently under government-issued warnings. In a sign that further disruptions are probable, President Xi Jinping warned on 6 July that all seven of China's major rivers are at risk of flooding. Our countrywide climatic risk level is high.
Extreme climate across China
Heavy rainfall and resulting floods are forecast in several areas of central and southwestern China for the coming days. The authorities said on 5 July that 11 of China's 31 provinces are preparing for heavy rains this week. Chongqing, Hunan, Shaanxi, Sichuan and Yunnan provinces in the southwest appear to have been the most affected in recent days. The authorities have begun evacuations in parts of these. We have now raised our climatic risk ratings for Changsha, Chengdu, Chongqing and Kunming in the southwest to high. In addition, flood warnings are now in place in northeastern Jilin, Heilongjiang and Liaoning provinces.
In northern China, ongoing heat waves have also triggered government warnings for the coming days. This includes parts of Beijing (the city has been under the highest red alert since late June, with temperatures exceeding 40 degrees Celsius) as well as areas in Hebei, Henan, Inner Mongolia, Shaanxi and Shandong provinces (all on orange alert, meaning that temperatures are expected to exceed  37 degrees Celsius). There have already been four heatwaves in China in recent months. These started earlier and are more widespread than usual, according to the meteorological authorities. The number of hot days has reached a record high since official data began in 1961.
Disruptions due to floods
Travel and operational disruption from flooding are likely to persist in Sichuan and Chongqing in the coming week at least. Heavy rains there have damaged infrastructure including bridges, road and rail networks and have led the authorities to evacuate tens of thousands of people from affected areas. According to local press reports, more than 20 cities recorded flooding in the southwest region this week. And footage shared widely on social media suggests that many rural motorways and city centres are submerged or impassable due to landslides.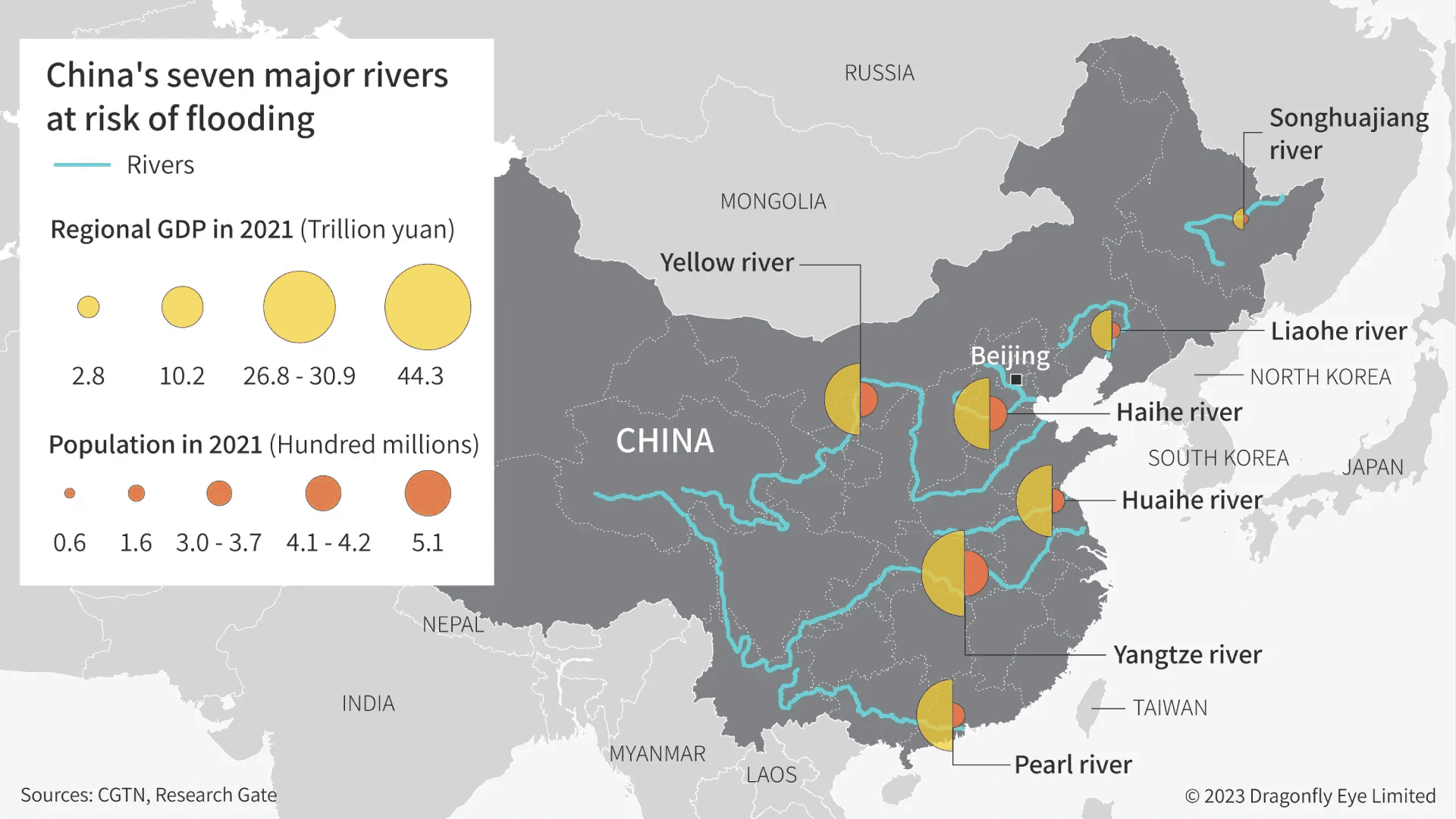 All seven major rivers in China are also at risk of flooding this month. President Xi Jinping warned of this on 6 July and urged coordinated efforts to address this. The graphic below shows that such flooding would highly likely lead to disruption to several provinces in southern, central, northern and eastern areas of the country. Local government officials warned earlier this week that China is likely to face more extreme weather events in July including 'floods, typhoons and high temperatures'.
These ongoing extreme weather events are likely to lead to acute operational disruptions in China in the coming weeks. Multiple extreme weather events in quick succession, which the authorities are forecasting, would probably strain the ability of the authorities to respond effectively to restore infrastructure and operations to normal. That said, any disruptions to overland travel and infrastructure are only likely to last up to a week at a time. The Chinese authorities are highly capable and well-resourced to deal with extreme weather events.
Blackouts due to heatwaves
Severe weather and flooding will probably lead to recurring power shortages for parts of southwestern China, the Yangtze River basin and the Pearl River delta. Consistently high temperatures have increased the demand for electricity in the past few weeks. And local governments have issued guidance to residents and businesses to curb their electricity usage. Flooding is likely to compound this problem. Power lines in China have previously been disrupted by flooding and landslides. And sustained flooding of several regions is likely to disrupt the transportation of coal, its main source of power, throttling power generation.
Image: Paramilitary policemen evacuate a resident after flooding caused by heavy rains in China's southwestern Chongqing on 4 July 2023. Photo by STR/AFP via Getty Images.