This assessment was issued to clients of Dragonfly's Security Intelligence & Analysis Service (SIAS) on 28 March 2022.
In particular, they have asked us what the likelihood is of Russia invading Estonia, Latvia or Lithuania, and to a lesser degree what the likely knock-on effects are on these countries from a prolonged conflict in Ukraine.
Our top-line forecasts for the Baltic states are as follows:
It is highly unlikely that Russia will initiate an invasion of any of the Baltic states in the coming months, particularly while its military is engaged in Ukraine.
At more than 300km at their closest, it is very unlikely that the fighting in Ukraine will lead to any inadvertent military escalation or accident in the Baltic states.
There is a reasonable chance of a military accident in countries directly bordering Ukraine involving NATO and Russian forces, but we anticipate that both would seek to de-escalate quickly in this event.
In the longer term, citizens in the Baltics are highly likely to feel the brunt of Western sanctions and Russia's economic retaliation, with high gas prices and drops in trade volume directly impacting businesses and households.
Military implications
Our interstate conflict risk ratings for the Baltic states are low. All three are NATO members, and so the rest of the alliance is bound to them by Article 5 on collective defence. Russia has shown little to no aggressive intent or presented any kind of genuine military threat towards the Baltics in recent years nor since the invasion of Ukraine. And with a significant proportion of its forces now inside Ukraine (and sustaining major casualties), Russia probably lacks the resources to commit an invasion-scale force to the Baltics, at least any time soon.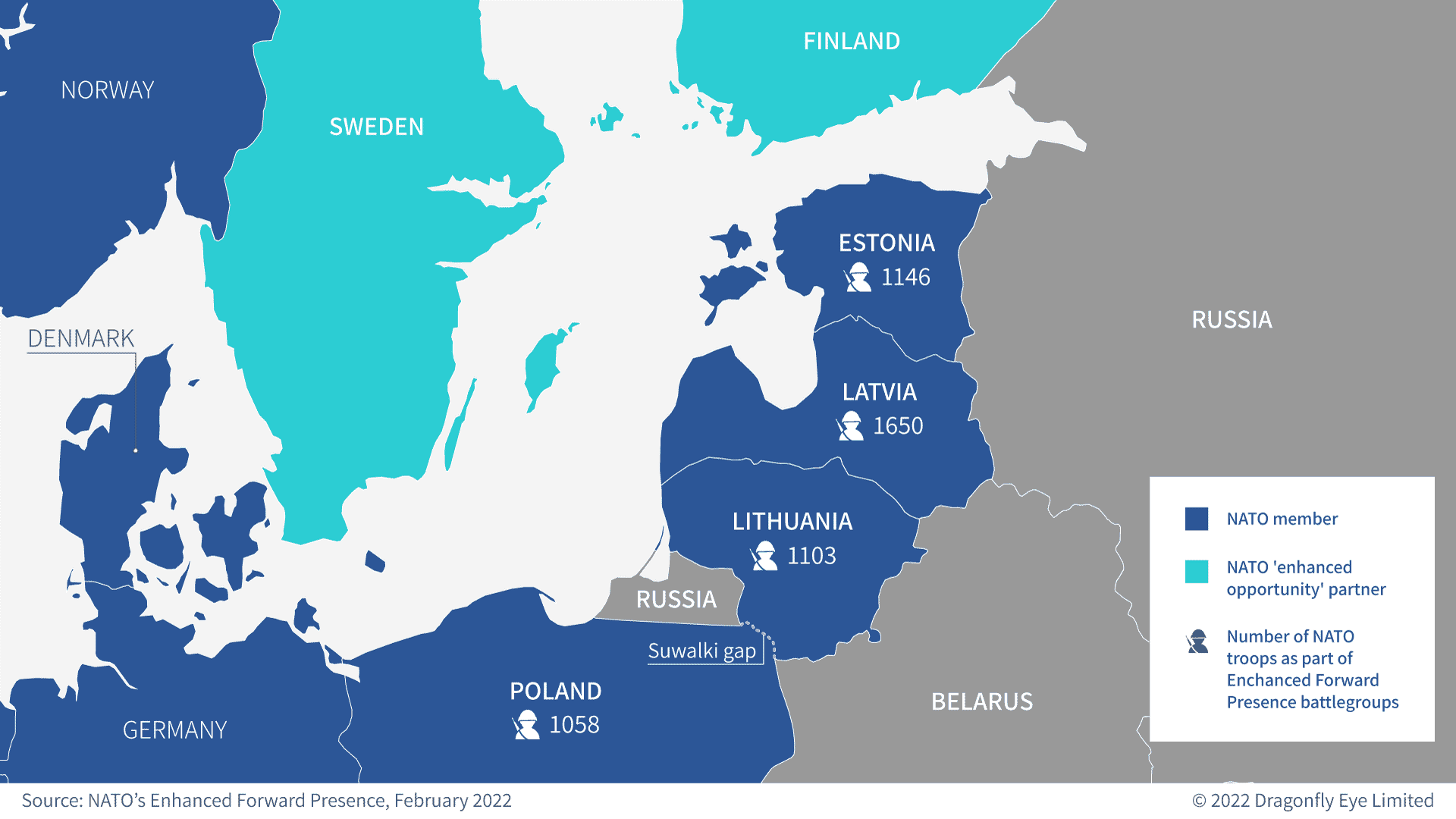 The proximity of Russian airstrikes and anti-aircraft fire to Ukraine's borders with Hungary, Poland, Romania and Slovakia (all NATO members) means there is a risk of a military accident there, albeit a low one. Our three main scenarios for such an event include a Russian military aircraft violating NATO airspace, Russia striking a NATO country-flagged vessel in the Black Sea, and Russian projectiles firing in Ukraine and landing in NATO territory.
Of these, a Russian aircraft crossing into NATO airspace is the most likely to affect the Baltic states. Russian jets often made such incursions prior to the conflict, prompting NATO to start the Baltic Air Policing initiative in 2004. We have not seen reports of any incursion there since the invasion. But even if such an incident happened, we anticipate that their militaries would refrain from shooting a Russian aircraft down and only scramble their jets to escort it away. This is what Hungary did when an unidentified military drone from Ukraine crossed its airspace on 10 March.
Even if any of these scenarios occurred, we still anticipate NATO and Russia would very probably try to prevent tensions from escalating into a wider conflict. But it is likely that NATO would deploy more forces on its eastern flank and member states in the region adopt some emergency measures, with potential operational impacts for organisations based there. In the absence of precedent, we assess that this would plausibly range from military deployments temporarily disrupting operations at airports, increased checks on goods and people on the borders, up to national states of emergency and closures of airspace.
One outlier scenario that clients have raised with us relates to Moscow alleging violations of the rights of ethnic Russians in the Baltics to justify a military intervention. This is what it did ahead of the invasion of Ukraine in February, as well as in Crimea in 2014. Russian speakers account for around 34% of the population in Latvia, 30% in Estonia, and 8% in Lithuania. But we assess that this scenario is extremely unlikely at this stage. Russia's influence over Russian ethnic minorities in the Baltics has declined in recent years, particularly after the authorities shut down several Russian-language media outlets after 2014.
Economic and energy knock-on effects
Aside from the low likelihood of a military escalation involving the Baltics, the conflict in Ukraine will probably have significant impacts on the Baltic economies in the near to medium term. In particular, we forecast damage to their export revenues and increasing costs for businesses and households alike. This is because all three states are heavily exposed in terms of trade and energy dependency to the knock-on effects of Western sanctions on Russia, as well as any resulting Russian economic retaliation against them.
We assess the Baltics are the most exposed countries in Europe to the Russian economy. UN data suggests that the value of total trade exchange with Russia accounts for around 5% of each country's GDP. By comparison, this accounts for less than 1% of most other EU countries. Lithuania is probably the country that has the most to lose from EU sanctions; its foreign direct investments into Russia make up almost 8% of Lithuanian GDP, according to Eurostat data.
The Baltics are also particularly vulnerable to disruptions to oil and gas flows from Russia, and resulting hikes in energy prices. Russia accounts for between 40-90% of natural gas imports, and between 20-70% of oil imports for the three countries. According to an analysis by Statista, a database company, as a result of the rise in oil prices, people in the three Baltic countries need to pay the highest share of their monthly wage for fuel (4.5-5%) in Europe. Persistently higher-than-average energy prices in the near term are highly likely to contribute to pressure on households and businesses in the region.
Despite this, we do not anticipate that the economic repercussions of the war in Ukraine will raise what we currently assess to be a low risk of civil unrest in the three Baltic states in the coming months. Unions and activist groups in each are reasonably likely to mobilise against the rise in energy prices and more broadly costs of living in the near term. Similar protests have taken place in recent weeks in several European countries, including Estonia. But recently-approved compensation and subsidy measures will probably mitigate the pressure on low-income households.
Image: Lithuanian President Gitanas Nauseda speaks during a welcome ceremony for the incoming NATO Baltic Air Policing Mission support at the Lithuanian Air Force Base in Siauliai, Lithuania, on 28 January 2022. Photo by Petras Malukas/AFP via Getty Images.