We still assess that an open military conflict between Algeria and Morocco over Western Sahara's autonomy is unlikely this year. This is despite worsening diplomatic relations in recent months.
This assessment was issued to clients of Dragonfly's Security Intelligence & Analysis Service (SIAS) on 10 March 2023.
Algeria and Morocco are unlikely to engage in an open military confrontation this year, but border skirmishes are reasonably probable
Diplomatic tensions between the two have been worsening since 2020 with both sides expanding their military activities
Business risks for companies operating in both countries include arbitrary regulations and trade restrictions
A focus on military build-up, particularly along the border area, is still increasing the moderate risk of a localised and short-lived accidental escalation or miscalculation. Foreign businesses with operations in both countries, particularly those from Spain and France, are also likely to face arbitrary regulations and trade restrictions. Arbitrary travel restrictions for Moroccan and Algerian nationals are also likely.
Military confrontation limited to border skirmishes
Limited and isolated armed skirmishes between Algeria and Morocco are reasonably probable over the medium to long term. This is largely because of the military build-up particularly along the border near the berm – a sand barrier separating areas of the Western Sahara controlled by Morocco and the separatist Polisario Front. Since a 30-year ceasefire between Morocco and the Polisario Front collapsed in 2020, there have been several security incidents along the tri-border area of Mauritania, Algeria and Morocco. Those include unverified reports of Moroccan airstrikes in the area on 25 February.
Both sides appear committed to further militarisation. Algeria doubled its defence budget for 2023 and continues to publicly support the Polisario Front. It has been increasing the frequency of its military drills in the area. Some of those were at the Hammaguir testing ground in Bechar province near the border with Morocco. Meanwhile, Morocco appears to be expanding its own military activities and security ties with foreign partners, particularly the US and Israel. Parts of last year's Morocco-led African Lion military drill took place between the southern city of Agadir and the Algerian border.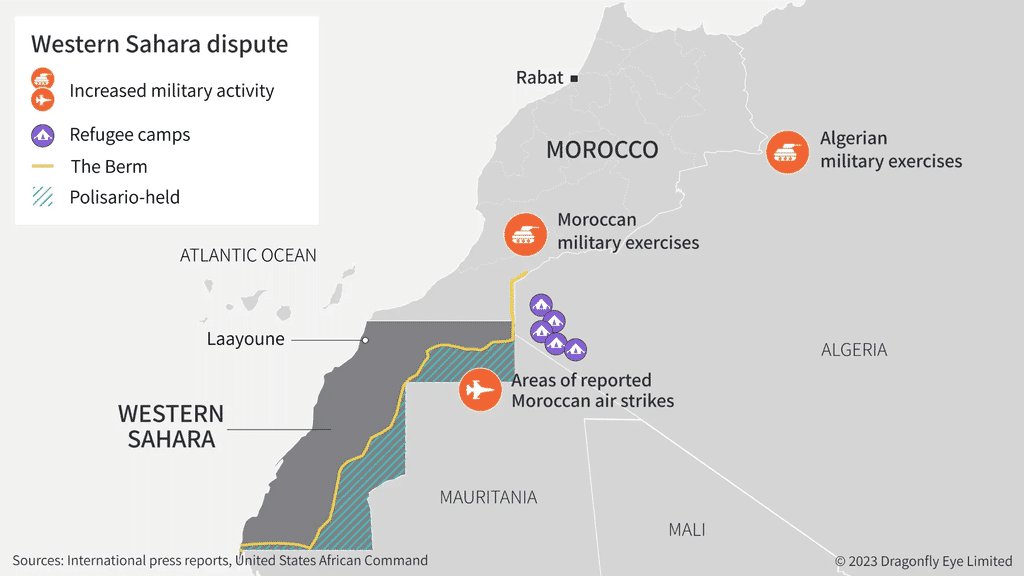 Not all of this military build-up directly relates to Western Sahara however. There have also been media reports in recent weeks that the US is planning to build military production facilities in Morocco. That appears to be tied to US objectives of limiting Russian influence in Africa. For example, some of the Algerian military drills will be conducted with Russia. Still, these additional resources and shows of force will very likely contribute to sustained moderate inter-state conflict risks between Algeria in the long term.
Any military actions this year are likely to remain limited to border skirmishes and sporadic Moroccan air strikes. These will be particularly pronounced in the gold-mining region in Mauritania, near the Western Sahara berm area. There have been at least five reported drone and air strikes by the Moroccan army there since 2020. These mostly targeted Polisario fighters, but anti-Moroccan Western Sahara activists often say such attacks have also targeted civilians, particularly truck drivers. The Polisario Front also often claims attacks against Moroccan positions there, although most of these are not independently corroborated.
Military posturing by Morocco and Algeria more broadly and specifically along the border area will probably drive up the high risk of unintended escalation over the medium to long term. This would not be a direct result of military drills there, but rather increasing border patrols by both sides. The risk stems from soldiers along the border retaliating without direct orders in the event of unverified attacks from the Polisario Front. And also in the event of Algerian soldiers being caught up in Moroccan air strikes that target civilians or Sahrawi refugee camps along the border area, many of which are inside Algeria.
Cyber operations in the absence of military action
Hostile cyber operations – primarily DDoS – between Morocco and Algeria will probably occur over the coming year. For both sides lower-cost and sometimes deniable cyber operations seem to be a preferred option. In February, Algiers accused Rabat of a DDoS attack on its state news agency. In our analysis, the extractives, defence, and public sectors are particularly likely targets, because of their economic importance. However, we have not seen any evidence of groups linked to either side seeking to mount significantly disruptive or sabotage attacks.
Arbitrary sanctions and treatment at airports likely
Foreign businesses from countries that do not support the host nation's position on the Western Sahara are likely to face arbitrary restrictions and sanctions. This is especially for companies from Spain and France that operate in both Algeria and Morocco. Both countries have taken a strong position on the Western Sahara issue. Morocco has long warned strategic partners that it will take action against those that do not adopt its position. Algeria halted most Spanish imports in mid-2022 after Madrid publicly recognised Morocco's autonomy plan for the disputed territory. We have not seen any evidence of individuals being targeted under the same guise.
Moroccan and Algerian business travellers are also likely to be exposed to this dynamic. There are no formal entry restrictions on Moroccan or Algerian nationals – both have reciprocal visa-free entry rights. However, there have been several reported incidents of travellers being harassed or delayed at airports, and some have even been denied entry. Several of our Moroccan contacts, who frequently travel abroad for business, told us last week they would not want to travel to Algeria at the moment due to the perceived risk of harassment at the airport and elsewhere in the country.
Image: Displaced Sahrawis arrive to attend a Polisario congress at the refugee camp of Dakhla, Algeria, on January 13, 2023. Photo by Ryad Kramdi via Getty Images.